Get Your Floors Cleaner With These Mops, Sweepers and Vacs

By
SheSpeaksTeam
Oct 19, 2022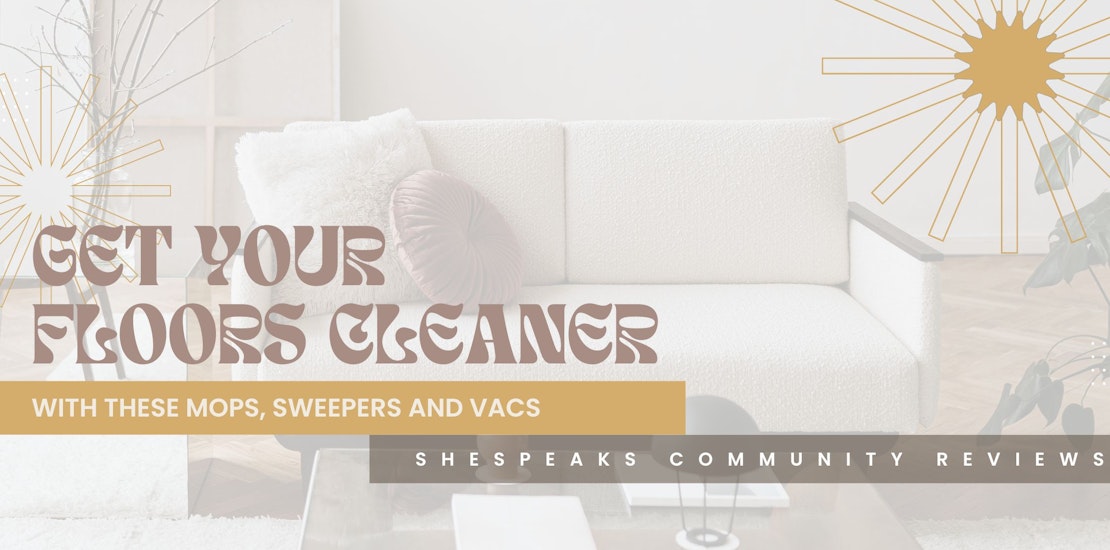 UnSplash/No Revisions
Shopping for a new vacuum or floor cleaning system? Got pets, kids, carpeting or hardwood floors? Finding the right gadget for your needs can be a chore made even more difficult by all of the different brands and reviews to sift through. Here are a few brands SheSpeaks members trust and have shared rave reviews about.

Dyson Animal Vacuum Cleaner

In terms of suction and power, this vacuum is truly an animal, especially helpful for parents of small children or pet parents. Newer "Animal" models have come out though the years, each one claiming to be better than the last. But SheSpeaks member Heather1980 still loves her older model DC17 Dyson Animal and says, "We have this vacuum at our vacation home. Bought one that cost more for the house and now I may trade the two because this is the best and easiest to use vacuum. Even my husband loves to vacuum using it."




Shark Steam Mop
Fans of this steam mop love that it is so lightweight and cleans floors without the use of chemicals. The steamed water and mop work to easily lift dirt and grime caked into hardwood or tile floors. And with just the use of water there's no need to keep buying refills of cleaning solution. SheSpeaks member athomewithjenna says, "I HATE mopping our floors because they still look dirty even after I'm done. I decided to try this instead and my floors look SO much better! Plus, for some reason, it's way more fun to use a steam mop and ithe floor dries so much quicker."


Bissell CrossWave Cordless Max Multi Surface Wet Dry Vac

If you want something extremely versatile that can really get the job done, you may want to consider this Bissell Wet Dry Vacuum for all your carpet, tile or hardwood floors. Fans of this product like that it's an all-in-one type of system that can both mop and vacuum well. SheSpeaks member FurBabies is beyond happy she found this vacuum and says, "Oh my gosh if I could give this 10 stars I would! This product makes my life so much easier. It vacuums and mops at the same time, words! It does not get clogged. It picks up pet fur very well and has a non-clogging catchall in the tank that you just take out and all of the hair comes with it! It has three or four different kinds of rotating brushes for different types of flooring. It's very very easy to use. That's what I love about it! It has a self-cleaning mode that works phenomenally. Just push a button and It cleans the brush so you don't have to. I am amazed at this Bissell Crosswave Cordless Max Multi Surface. It does what it says it does and does it well. Where have you been all of my life?!"

Swiffer SweeperVac

When considering Swiffer, most people probably think of it as a handy way to get a quick mop of your kitchen floor. But the Swiffer SweeperVac picks up dust and debris with both its Swiffer sweeping dust cloth and a suctioned vacuum. The sweeping vacuum is cordless, lightweight and easy to use for both hardwood and tiled floors. SheSpeaks member nola807 is a parent and gets great use out of her Swiffer SweeperVac. She says, "My family loves this, it is so lightweight and very handy and even my kids love using it."




What type of floor cleaning system works for you and your family?

Share your reviews with us here!