Texas Mom Ordered To Stop Breastfeeding at the Mall

By
SheSpeaksTeam
Jan 04, 2013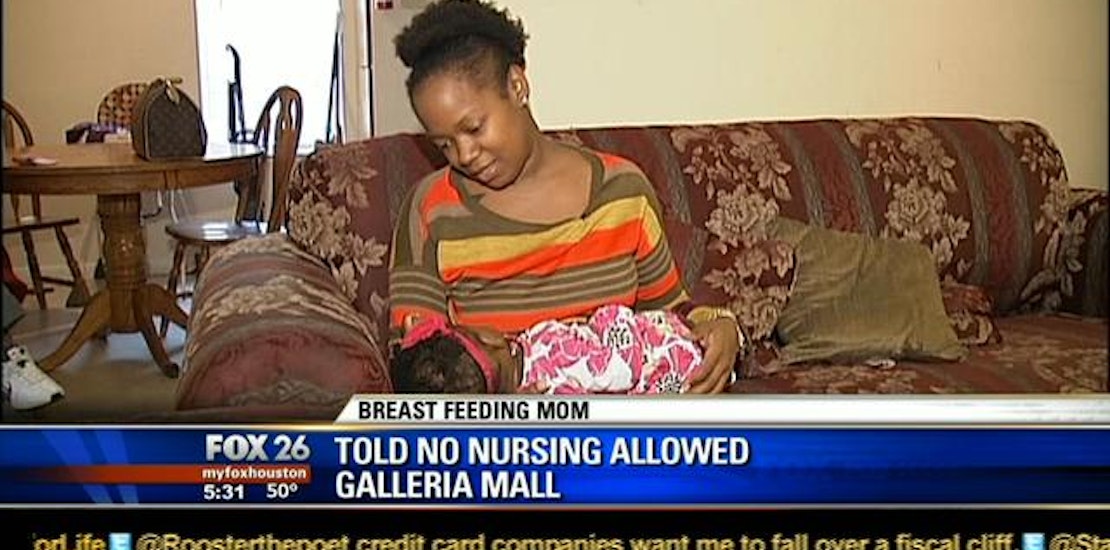 Whether your infant is formula fed or breastfeeding, all moms know that when our little ones are hungry there's not a lot of time before the dreaded baby meltdown happens. Babies can go from being perfectly happy and satisfied one minute to hungry and inconsolable the next. One Texas mom found herself in just this type of situation while at a shopping mall with family recently, but was soon ordered to stop breastfeeding when a store official spotted her on a mall bench.
Houston's local KHOU reports about Brittany Warfield's experience while breastfeeding her 7-month-old on a bench outside of one of the stores her family was shopping in. The mother of three claims she was accosted by the manager of Hollister while she was peacefully breastfeeding her baby under the cover of a jacket. Warfield reports to FoxNews that she was careful to cover up saying, "I laid her in my lap. I took her hooded jacket and draped it around her head and I covered myself. That way, no one could see me nursing."
Warfield explains what happened next, "He came out and he was yelling. He said, 'You can't do this here. This is not where you do that. You can't do that on Hollister property. We don't allow that.' I said, 'It's Texas. I can breastfeed anywhere I like.' He said, 'Not at Hollister. Your stroller is blocking the way. You have to go.'"
Though the topic of breastfeeding in public has always been a hot button issue for both those who oppose it and those who are for it, Warfield was right when she told the manager that according to Texas law she is entitled to breastfeed anywhere she is authorized to be. But there may be some loopholes in the law that allow private businesses to ask breastfeeding customers to leave due to dress code violations or conduct. Warfield says she feels she was humiliated and wants nothing more than an apology, but has not yet received one from any Hollister store officials.
What do you think of this mother's ordeal while breastfeeding at her local shopping mall?
Do you think private businesses should be forced to comply with the law allowing mothers to breastfeed wherever they are authorized to be?