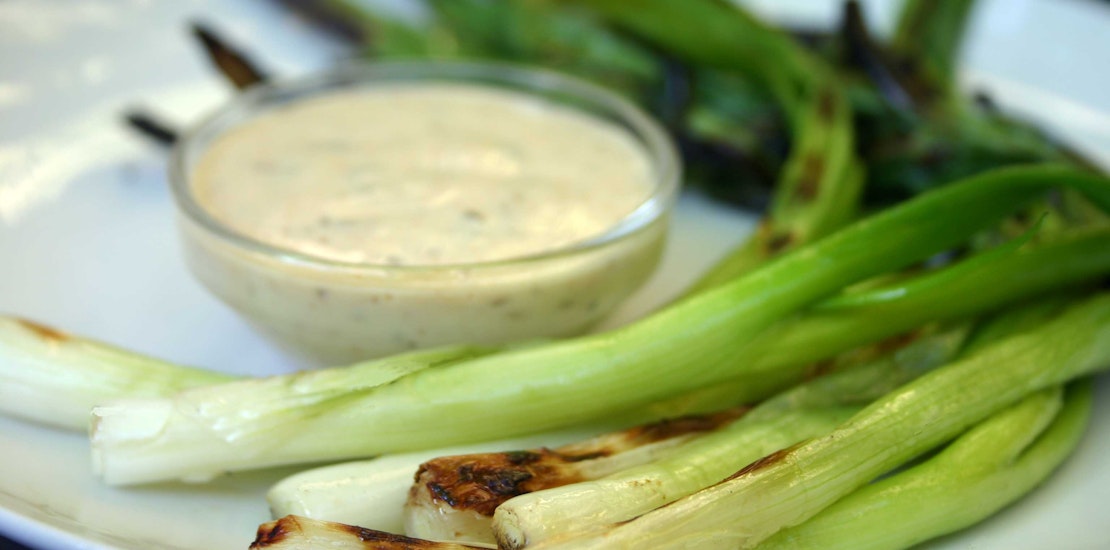 Well there's no escaping it, even in rainy Seattle, we're officially in grilling season. Here are a few of my favorite tips and recipes to kick things off!

A new grilled veggie idea!
Grilled Spring Onions - My husband is a professed onion hater but even he loves these tasty, caramelized bites. Start by cutting about 1/2 inch off the root ends of a bunch of green onions. Next lay the onions on a rimmed sheet pan and drizzle with olive oil. Toss to thoroughly coat the onions and then sprinkle them with a little salt. Grill over medium heat until the whites soften and the greens begin to get grill marks, about 3 to 5 minutes. Serve with garlic aioli (1 cup mayo, 1/2 tsp crushed garlic, 1 tsp Dijon mustard, and 2 tsp lemon juice blended together) or your favorite ranch dip. So yummy as an appetizer or alongside a steak!
A sweet treat!
Mock Cobbler - This is a simple one but so delicious! Mix 3 cups of your favorite berries or stone fruit with 1/4 to 1/2 cup of sugar, 1/4 tsp of cinnamon and a squeeze of lemon. Spoon 3/4 cup of fruit each onto 4 squares of heavy duty aluminum foil and fold together like a hobo's pouch (make sure the foil is sealed so there are no leaks) and toss on a medium high grill for 5 to 10 minutes. Carefully open the pouches and pour the contents over ice cream or short bread! The fruit will be jammy and intensely flavorful.
Just say no to dried out meat!
I love to grill skinless chicken breast and pork tenderloins but if you aren't careful you can end up with an ultra-dry piece of leather. That's because both item are very lean. To combat this, I brine them. A few hours before you barbeque combine 8 cups of water with 1 cup of kosher salt and 1 cup sugar in a large Tupperware container. Stir to combine and then add 2 pounds of boneless, skinless chicken breasts or pork tenderloins. Brine in the refrigerator for a couple hours and you are ready to grill! You'll be amazed how juicy the result is!
Get your family to eat more veggies!
Luscious Lettuce Wraps - Combine 3 cloves of garlic, the pulp of a large lemon, 2 tsp cumin, 2 tsp paprika, and 1/2 tsp kosher salt in a food processor to make a paste. Scrape into a gallon size zip-lock bag. Add 2 lbs of lamb or chicken cut into 1/2" x 3" strips. Toss to coat the meat. Grill a few vegetables like zucchini strips, red onion slices and strips of bell pepper. When the veggies are done, grill the meat for 5 to 10 minutes turning once over high heat. Serve the veggies and meat buffet-style with leaves of butter lettuce. Then let your family build their own lettuce wraps! I like mine with a little yogurt dressing and some cilantro.

Happy Grilling! What's your favorite grilling recipe? Any tips you'd like to share?