Rising From The Ashes - A Story of Grilling Gone Wrong and Tasty Redemption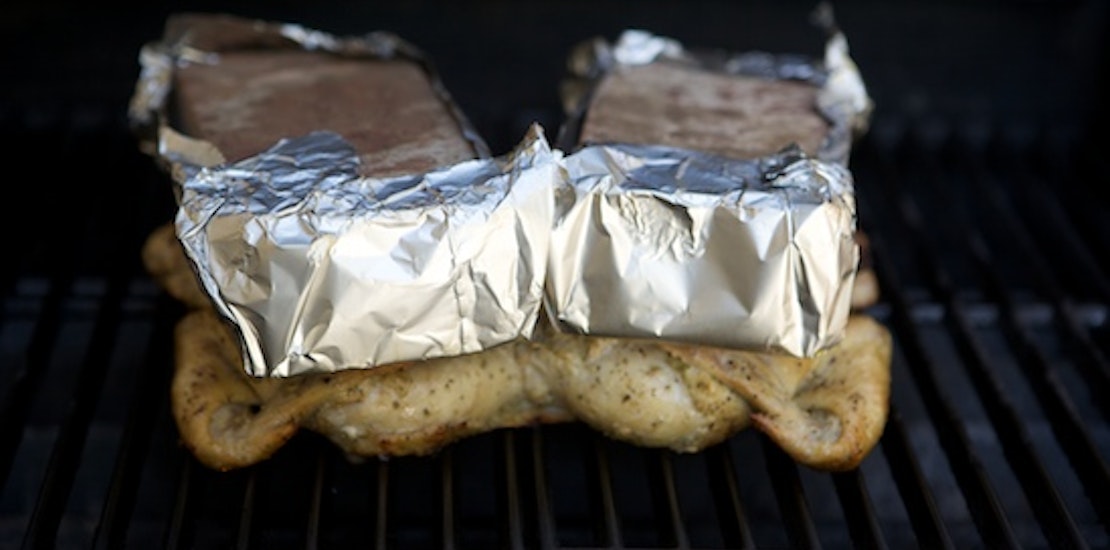 You know, I've debated for a couple years now about whether or not to include personal stories on this blog. Initially, I thought it should be about the food - just informational - because really, do you care about my story? But, when it comes down to it, I'm just like you. I make plenty of mistakes in the kitchen. That's how I learn! With that in mind, I am going to tell you the story of a grilling class gone wrong, very wrong.
I love to grill. Vince, my husband, and I used to grill about 4 nights a week when we lived in California. A little less when we lived in Arizona because who wants to stand in front of a blasting grill, under a blistering sun, on a white hot concrete slab but that's another story. In any case, I'm not a grill virgin. So, when the owners of Chefshop.com and I talked about a grilling class, I thought, cool! I got this.
I should mention that I usually grill on a gas grill. When I proposed the class, I anticipated using my own grill but we'd run into some transportation issues so I agreed to use the battered old Weber from the Chefshop warehouse.
I planned to grill a whole chicken using indirect grilling, where the coals are pushed to the sides of the grill instead of resting under the food. We'd lite the grill using a chimney and mesquite coals. When we dumped the coals out on the grill base, I felt there weren't enough so we shook on more. After about 30 minutes of introduction and demonstration, I brought the class over to the grill to show them how to move the coals for indirect grilling. I threw an aluminum pie pan into the center to collect drippings and got ready to flop the chicken onto the grill. If you've never grilled on mesquite, I should tell you that they run hot, very hot. However, I thought I'd be safe pushing them out to the edges of the grill.
After coating the chicken with rice bran oil, I placed it in the center of the grill, added a couple bricks wrapped in foil, and took the class back to the outdoor kitchen where the demonstration was centered. Moments, perhaps seconds, later I was prompted to address the flames engulfing the chicken behind me. By the time I reached the chicken it was covered in soot. It had the look of a ravaged, firefighter - flesh smeared with dust and ash. Of course, as the Pro in the Grill Like a Pro class I had to play it off as though all was good.
I pushed on, explaining that the coals were a little too hot and that we'd put the chicken back on shortly. In the meantime, I made an herb sauce, hoped that my rhythm was back on track, and returned the chicken to the grill. Still too hot - but I had little choice but to press on to try to stay on time line.
Well, long story short, the coals went from blazing hot to out, leaving me with a charred, but under cooked chicken. I eventually finished the bird on a portable Coleman gas grill. Despite the horrendous cooking method, the chicken was delicious. A true testament to brining! So, here's the recipe and proof that you too can rise from the ashes - especially if you brine first.
Grilled Chicken Under a Brick
Serves 4 to 6
Ingredients
1 whole 3- to 4-pound chicken, trimmed of excess fat, split, backbone removed
3 qts water
1 cup plus 2 tbsp Morton's Kosher Salt
1 1/2 cup sugar
rice bran oil or grape seed oil
freshly ground black pepper to taste
2 bricks wrapped in heavy duty aluminum foil
Garlic Herb Sauce, recipe below
Directions
The day before you plan to grill:
Rinse the chicken and set aside. In a large bowl or nonreactive pot, dissolve the salt and sugar in water. Submerge the chicken in the brine. If the chicken tends to bob above the surface, set a plate on top to weight it down. Refrigerate for 2 to 4 hours.
Remove the chicken from the brine, discard the brine, quickly rinse the chicken and pat dry with paper towels. Place chicken on a platter in the refrigerator and allow to air-dry overnight.
The day of:
Prepare Garlic Herb Sauce.
Prepare the grill: To grill by the Indirect Method on a charcoal grill, arrange hot coals evenly on either side of the charcoal grate. Place a drip pan in the center of the charcoal grate between the coals. Place the cooking grate over the coals and place the food on the cooking grate, centered over the drip pan or empty space.
To grill by the Indirect Method on a gas grill, preheat the grill with all burners on High. Then adjust the burners on each side of the grill to medium temperature and turn off the burner(s) directly below where the chicken will rest.
Brush chicken with oil and season lightly with freshly ground pepper. Place chicken, skin side down, on grill. Place foil-wrapped bricks atop chicken ( position 1 brick over top half of chicken and 1 brick over bottom half or side by side lengthwise). Cover and grill until skin is crispy and brown, about 15 minutes.
Remove bricks or skillet. Using tongs or 2 large spatulas, turn chicken. Replace bricks or skillet and cook, covered, until chicken is cooked through, about 20 minutes longer. Let chicken rest 10 minutes.
Serve hot or at room temperature, with Garlic Herb Sauce.
Garlic Herb Sauce
Ingredients
12 garlic cloves, peeled
1 1/2 cups (packed) fresh Italian parsley sprig tops
1/3 cup Katz Late Harvest Viognier Honey Vinegar or rice wine vinegar
1/4 cup (packed) fresh mint leaves
1/4 cup (packed) fresh basil leaves
1 tsp dried oregano
1/4 tsp dried crushed red pepper
1 cup extra virgin olive oil
salt to taste
Directions
Cook garlic cloves in boiling water 2 minutes. Drain garlic. Place in a food processor and cool. Add next 6 ingredients. With machine running, gradually add oil, blending until thick sauce forms.
Season with salt. Transfer to bowl; cover and chill.