One Breast Cancer Survivor's Unique Way To Stop the Criticism About Formula Feeding Her Newborn

By
SheSpeaksTeam
Nov 05, 2018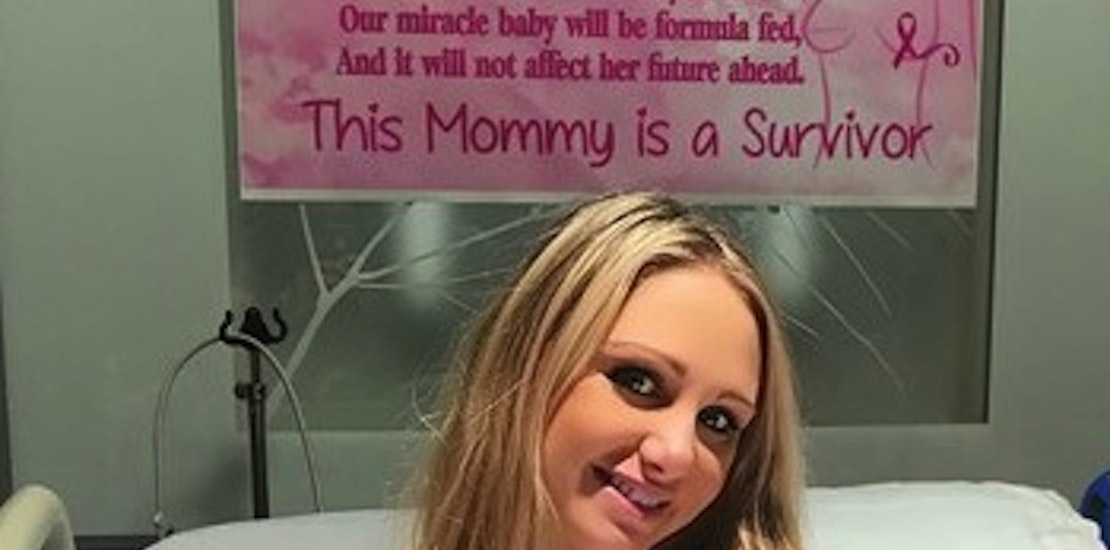 For moms who choose not to breastfeed or can't breastfeed for whatever reason, facing the comments and questions from family, friends and stragers can be an uphill battle. Breast cancer survivor Meghan Koziel decided she would stop the comments before they begin by posting a "No Breastfeeding Zone" sign above her bed in the hospital after giving birth to her daughter.
People reports about Koziel's decision to quell the criticism about not breastfeeding by posting a big beaitiful pink sign with a poem above her bed. The sign reads: "No Breastfeeding Zone. Though breastfeeding is a very special task, Please be aware before you ask, Our miracle baby will be formula fed, And it will not affect her future ahead. This mommy is a survivor." And the pink ribbon next to the poem says it all.
Koziel's message works to educate people about all the good reasons mothers may have to not breastfeed their baby. She explains, "Got the banner raised just in case people are confused at why we are NOT going to be breastfeeding our little bundle of joy."
After being told the devastating news that she had breast cancer, Koziel underwent a double masectomy 3 years ago at age 26. She also made the decision to preserve her fertility through an egg retrieval process. She explains the big decision she had to make by going off hormone blocking cancer meds to get pregnant and have a healthy baby girl. She writes on her Instagram, "After two years on hormone blocking medications (because my cancer is so aggressive and highly affected my estrogen and progesterone), I made the decision to go off of my medications to fulfill my lifelong dream of being a mom!"
Though Koziel considered purchasing breastmilk from the hospital milk bank, she found out insurance would not cover any of the steep fee of between $3 and $5 per ounce. After turning to Facebook milk donations, she was turned off by the lack of testing and regulations. She explains her decision to go with formula for her baby saying, "Yes, breast milk is fabulous and filled with utmost nutrition … however, it can also carry disease!" Koziel noted. "I am not willing to risk my daughter's life simply to use breast milk when formula has been used for years and there is no known difference from a breastfed to formula-fed baby."
Do you often hear new moms being criticized if they have chosen to formula feed their baby?
What do you think of this brave mom's decision to alert people about why her baby is formula fed?