Nine West's "Starter Husband" Shoe, Are These Ads Funny or Offensive?

By
drodriguez
Aug 11, 2014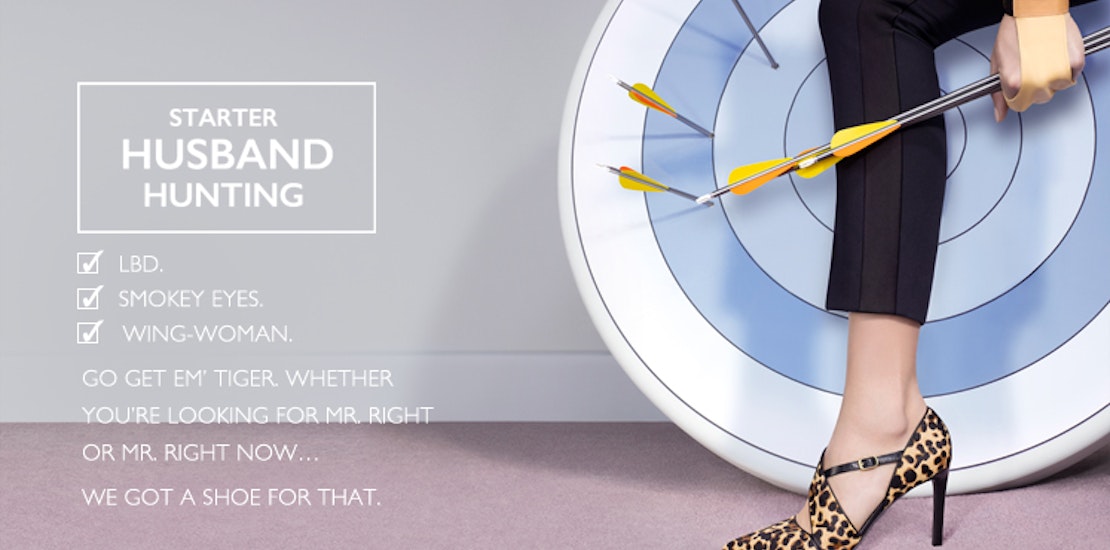 For women who live by the philosophy that your shoes say a lot about who you are, Nine West's new ad campaign may ruffle some feathers. The shoe company has released a few of their new fall ads displaying different shoes or accessories for unique occasions, like the shoe you might want to wear when hunting for your "starter husband."
Mashable quotes Facebook user Julie Bohacek's response to the starter husband ad Nine West recently debuted. She says, "Stupid campaign 9W. Love your shoes but don't patronize your customers by an outdated ideal. Women are hunting success and goals, dreams and visions. Not husbands." The Facebook ad she is responding to showed the leopard print heel and an arrow on a target with the caption, "It's hunting season. Whether you're looking for Mr. Right or Mr. Right Now, we have a shoe for that."
But if you happen to already be married with kids in tow, don't fret. The shoe company has a shoe for moms sending their child off for their first day of kindergarten. (And yes, that's a 4 and a half inch open-toed heel.) This particular ad and high heel shoe are apparently made for stay-at-home moms, encouraging them to wipe the tears away because "Mommy now has the weeks off." Because, you know how stay-at-home moms love wearing stilettos when running their kids to school in the morning.
Other ads in the campaign focus on the "Anticipatory Walk of Shame" handbag/flip flop combo and an upcoming "Drunch" shoe (a drunken lady lunch). Though the ads are most likely a tongue-in-cheek attempt to attract younger customers, assistant professor of marketing at Northwestern University's Kellogg School of Management Kelly Goldsmith is quoted in Business Week explaining why she thinks Nine West missed the mark. She says, "I just don't understand what Nine West is doing. As a woman and a wearer of shoes, this is patently ridiculous to me. As someone who works in marketing, I'm 100 percent positive there is a strategy here, I'm just not sure what it is. It feels like Nine West is trying to make a joke, but that's just not funny."
What do you think of the new Nine West ad campaign?
Do you find it funny or do you think they missed the mark here?