Keep Warm and Cozy With These Winter Throws

By
SheSpeaksTeam
Nov 15, 2022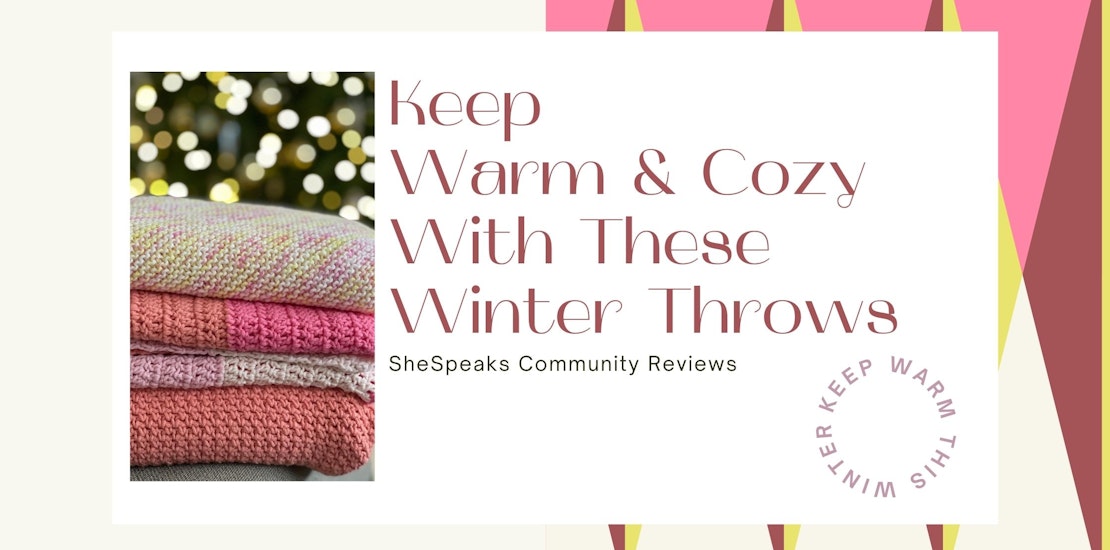 Every couch needs a nice snuggly throw, especially in the fall and winter months. Which will keep you warm and cozy is all up to personal taste, but here are a few throws SheSpeaks members love to snuggle up to.

Target Microplush Blanket

These supersoft plush blankets can be used on your bed or for an extra large couch throw. They also come in a large variety of colors and patterns to match any decor. SheSpeaks member Majestas loves how durable these throws are, even through many washes. She says, "My husband and I have been using this blanket for a few years now, and it's held up very well. It's still soft and comfortable, and has gone through several washings. We have it on our bed all year, and it can be used alone or over a regular sheet. Perfect for cold weather, if you cover your entire body with it when it's cold, or just your legs if it's too hot."



Vivian & Vincent Blanket Scarf
This one gets an A+ for versatility, you can go right from wearing it all day as a scarf to curling up on the couch with it after work. You can also fold this scarf to wear as a poncho or spread it out in the grass as a picnic blanket. SheSpeaks member rychepet loves that its "light yet super warm." She says, "My husband got me my first blanket scarf for Christmas a few years ago. I absolutely love it! Not only does it look great as a scarf, but it keeps me warm. It's incredible that such a thin piece of fabric can give you so much warmth. I've used it as a scarf, a blanket, a shawl, and even a head wrap. It's so versatile! It's also very easy to wash & dry so if you accidentally spill something, you can clean it right away. You can also find one to match your style---they sell both solid and plaid scarves in many colors."

Snuggie Classic Blanket

As long as there are people who wish to be as cozy as possible, there will be Snuggie blankets. The Snuggie blanket with arms is always on trend because its just about the most comfortable you can be while lounging around the house. This fleece blanket comes in a variety of colors and even has pockets! SheSpeaks member mgs1997 loves that she can stay warm while reading in her Snuggie. She says, "If you've ever tried to read in bed during the winter, then you know what a struggle it can be. You either have to suffocate under the blankets with your Kindle, or let your arms freeze off outside the blanket. I love wearing my Snuggie to bed, so that I can read comfortably! But don't limit the Snuggie to bedtime reading, it's a blanket on the go! Watching movies? Use the remote without taking off your blanket. Vacuuming the house? Do it with a blanket on. Working from home? Type emails WHILE *WEARING* A BLANKET. They even come in a sherpa variety! They're inexpensive and make great gifts. And yes, you guessed it, I AM writing this review with my Snuggie on!"


Sunbeam Fleece Heated Throw
For those that are serious about staying warm this winter, this electric heated throw could be the answer. The throw has an adjustable heat control as well as a timed shutoff for safety reasons. Imagine how wonderful your sheets would feel if you warmed them with this before crawling into bed at night. SheSpeaks member chrazyb loves to relax with her heated throw on the couch. She says, "The Sunbeam Fleece heated throw is a portable electric blanket that keeps you warm on your couch. It has temperature settings that can adjusted according to your preference. I own one and also gave one to my "always cold" mother for Christmas last year. My mother and I both Love this blanket in upstate New York where it gets so cold."

How do you keep warm in the winter?

Do you have a favorite throw to snuggle up to on the couch? Share your reviews with us here!