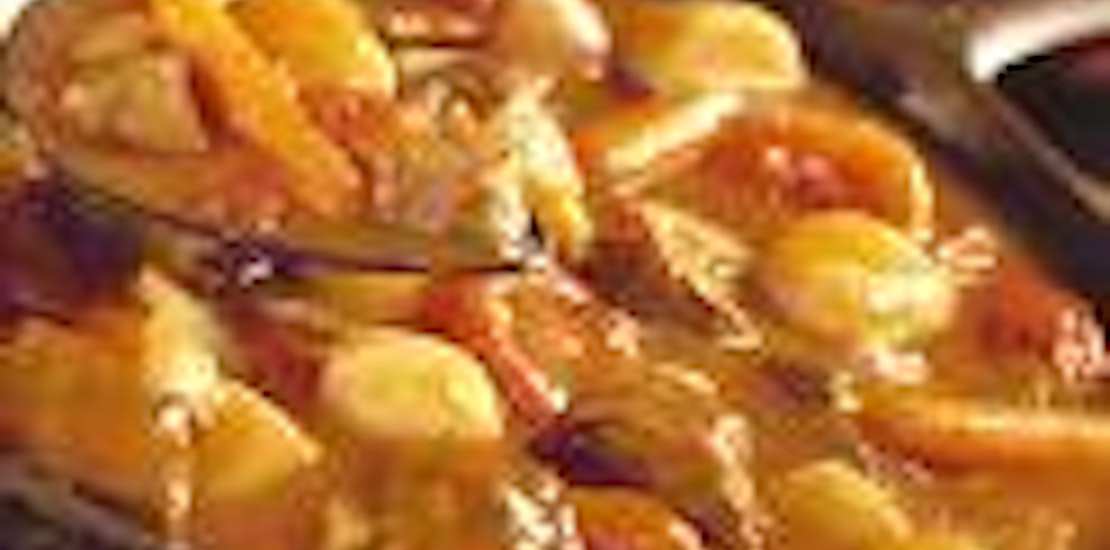 Fall and winter are the perfect time to try a little Slow Food. The Slow Food Movement originated in Italy in the mid 1980's as kind of rebellion against fast food. Slow food is food prepared the old fashioned way, slowly - a meal made with care, attention to detail and tradition.
One slow food cooking method is braising ? browning larger pieces of meat and then cooking them in a small amount of liquid over low heat. Remember mom's pot roast? That's braising.
Stewing is another wonderful slow food method. Stewing is very similar to braising but is typically associated with smaller pieces of meat and requires more liquid.
One of the nicest things about braising or stewing is that dishes take a little preparation in the beginning then you more or less forget about them for several hours and dinner's ready. On top of that, some of the less expensive cuts of meat work best when cooked slowly. I love using pork shoulder, beef short ribs, and chicken thighs, in particular.
You can take a cue from the Slow Food Movement to create belly-warming, economical dinners. The results are mouthwatering. Here are some ways for you to try them.
Chile Verde ? Mexican Green Chile Stew
Brown ¾ pound of pork shoulder cubes and some diced onion in a little oil. Add a clove of minced garlic, 1 teaspoon of ground cumin, 7 oz can of green chiles, 28 oz can of diced tomatoes, ½ cup dry red wine or beef broth, and simmer over low heat for about three hours. When the pork is fork-tender, it's done. Season with salt and pepper to taste. Serve with rice and tortillas.
Braised Short Ribs
Lightly dredge beef short ribs in flour seasoned with salt and pepper. Heat a small amount of oil in a heavy pan or Dutch oven. Sear the meat on all sides. Remove from the pan. Add ½ cup sliced shallots and sauté until translucent, about 3 to 5 minutes. Return the ribs to the pan and add enough red wine or beef broth to the pan to come about halfway up the sides of the meat. Cover the pan with a tight-fitting lid and simmer over low heat for 5 to 6 hours. The meat should be tender and falling off the bone. Serve with roasted garlic mashed potatoes.
Chicken Thighs with Olives and Tomatoes
Season 1 pound of chicken thighs with salt and pepper. Heat a small amount of olive oil in a heavy pan. Brown the chicken on all sides. Add ½ cup white wine to deglaze the pan. Then stir in a 28 oz can of diced tomatoes, two cloves of minced garlic, ½ cup sliced green olives and a tablespoon of dried parsley. Add a little crushed red pepper if you like spice. Bring to a boil, cover and reduce heat. Simmer covered for 1 hour. Serve with noodles or rice.

What's your favorite slow food?