By
savvyjulie
Sep 19, 2011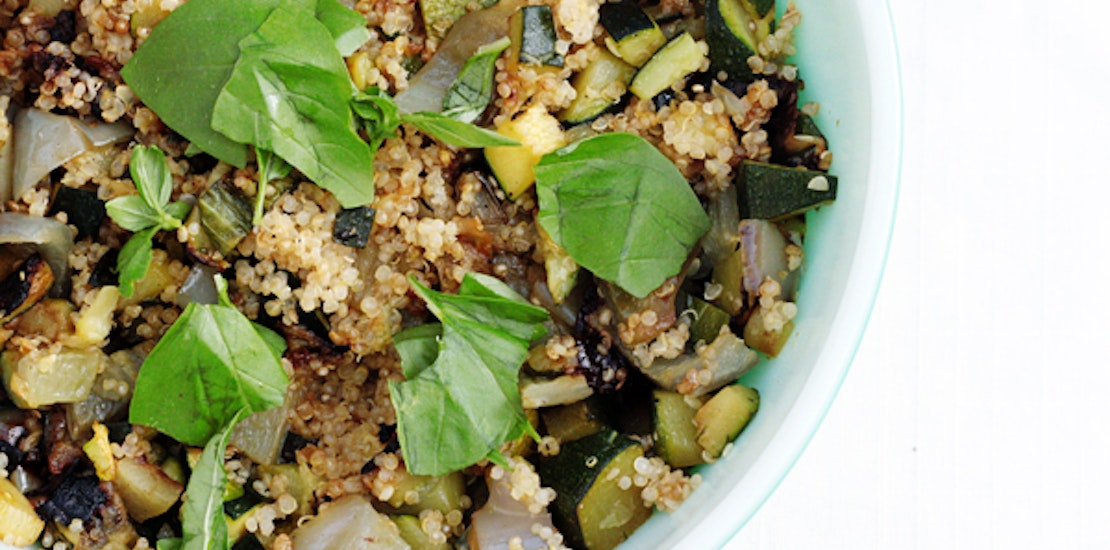 I keep a collection of glass canning jars, filled with dry bulk ingredients, lined up on a shelf in my kitchen. Not only is it functional, making it easy for me to remember what I have on hand and what I need to buy more of, but it also looks nice.
One of my largest jars is devoted to quinoa, and I always make sure I have plenty because it is a great source of protein. I try to limit myself to cooking with meat only once or twice a week, and as a "complete protein," eating quinoa is a great option for the rest of the week. Quinoa also comes packed with plenty of fiber, phosphorus, magnesium, and iron.
A few quinoa cooking tips:
Always rinse the quinoa before cooking to remove the bitter outer coating on the seeds.
Like rice, quinoa should be cooked in a 1 part quinoa to 2 parts liquid ratio.
Simmer quinoa on the stovetop until most of the liquid is absorbed
There are so many great ways to prepare quinoa. Here are a few of my favorite recipes:
BBQ Chicken Quinoa Salad from What's Gaby Cooking
Breakfast Quinoa On-the-Go from Savvy Eats
Caprese Quinoa with Homemade Basil Oil from How Sweet Eats
Fresh Cherry and Pecan Quinoa from How Sweet Eats
Lemon-Scented Quinoa Salad from 101 Cookbooks
Mediterranean Quinoa Salad from Daily Garnish
Quinoa Black Bean Mango Salad from Joy the Baker
Quinoa Pudding with Macerated Strawberries and Pistachios from Cannelle et Vanille
Quinoa Salad with Fava Beans, Pine Nuts, and Feta Cheese from Dana Treat
Quinoa Tabbouleh Salad from Kalyn's Kitchen
Summer Vegetable Quinoa from Savvy Eats
Sweet Potato Quinoa Cakes from Eating Bird Food
Vanilla Rooibos Quinoa Pudding with Cherry and Pistachio from Healthy Delicious
Warm and Nutty Cinnamon Quinoa from 101 Cookbooks
Have you tried quinoa? Which of these recipes sound the most intriguing to you?