End of Summer Salad with Corn, Tomatoes and Black Beans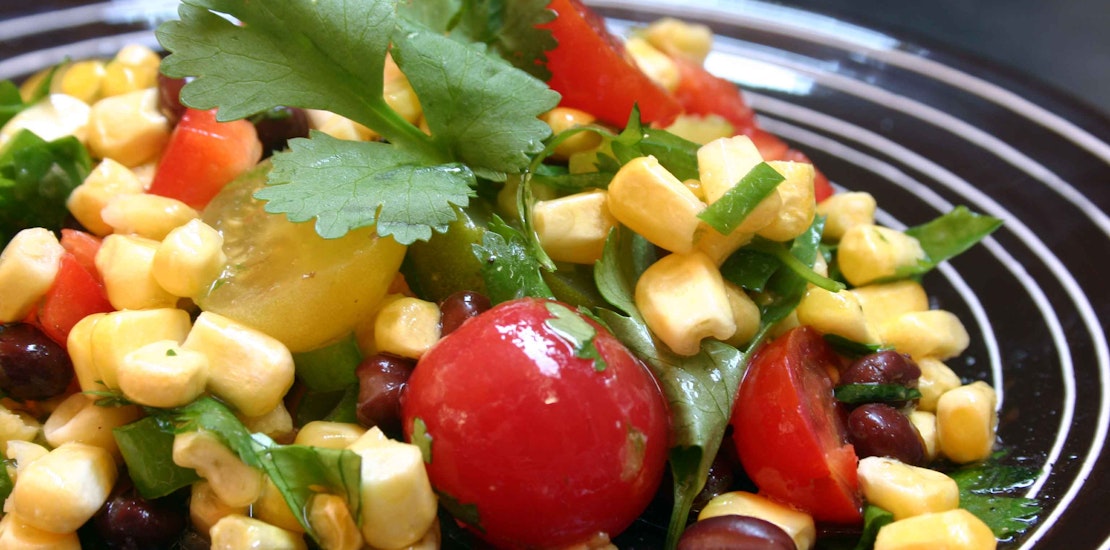 As summer comes to a close, I thought it would be fun to create a simple salad with some of the ripest ingredients still available in the market. We're just at the tail end of sweet corn season so if your market doesn't have any fresh corn you can substitute frozen corn kernels. However, tomatoes are still at their peak! Grab a pint of sweet cherry tomatoes, snack on half, and save the other half for this zesty, colorful salad.
Until next year, dear Summer, we'll miss you!
End of Summer Salad with Corn, Tomato and Black Beans
2 tbsp lime juice
1 tbsp white wine vinegar
1 tsp sugar
1/4 tsp ground cumin seed
1/4 garlic powder
6 tbsp extra virgin olive oil
salt and ground black pepper to taste
6 ears corn, husked and cleaned or 1 16-oz bag of frozen corn niblets
1 cup cherry tomatoes, halved
1 14-oz can black beans, rinsed and drained
1/2 cup red bell pepper, seeded and diced
3 green onions, thinly sliced
1/4 cup coarsely chopped cilantro
1 fresh jalapeno, seeded and minced (optional)
Directions In a small bowl, combine lime juice, vinegar, sugar, cumin, garlic and olive oil. Whisk together the dressing and season with salt and pepper to taste. Set aside.
If using fresh corn, place the corn in a large pot with enough water to cover, and bring to a boil. Cook 5 minutes, until kernels are tender but crisp. Drain, cool slightly, and use a knife to scrape kernels from the cobs. If using frozen corn, allow to thaw for 1 hour in a colander.
In a large bowl, mix the corn kernels, cherry tomatoes, black beans, red bell pepper, green onions, cilantro, and the jalapeno, if you are using it. Add the dressing and toss to coat. Season with a little more salt and pepper. Chill 15 minutes before serving.
Did you try any new salads this summer? What was your favorite?