Delicious Duo: Rack of Lamb with Goat Cheese Custards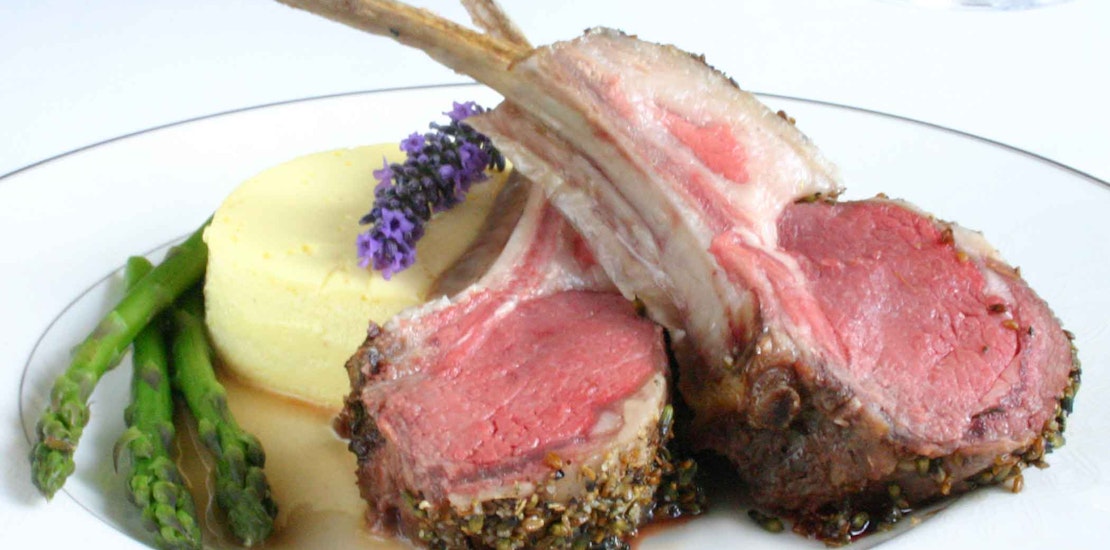 Sometimes inspiration strikes at the most unexpected moments. That's what happened when I was trying to develop a recipe for a Grenache for a small California winery. I had been experimenting with berry infused sauces and spicy dishes but hadn't happened upon that "ah ha" moment I was looking for. With just a tiny bit of wine in the bottle and the afternoon drawing to a close, I decided to call it a day. I went to my refrigerator and pulled out a tiny wedge of Rollingstone Creamery's Anise and Lavender Goat Cheese, smeared it on a cracker, took a sip of the remaining wine and - Blamo! - discovered my muse.
The next day I created this Lavender and Anise Seed Crusted Rack of Lamb with a Goat Cheese Custard. The lavender highlighted the floral qualities in the wine while the acidity of the goat cheese balanced the dryness and tannins of the wine.
Grenache on it's own is not a common wine. It's typically used in Rhone-style blends. If you are interested in learning more about Grenache, check out my Grapes of Grenache blog post.
As we creep toward Fall, I envision a dinner table with candles, a cozy autumn meal. I find myself craving roast meats and creamier side dishes. This recipe fits the bill. Trying pairing it with a Grenache or another Rhone-style dry red wine.
Lavender Anise Seed Rack of Lamb with Goat Cheese Custards
4 teaspoons dried culinary lavender
1/2 teaspoon freshly ground black pepper
2 1 1/4 -1 1/2 pound racks of lamb, trimmed
Combine all ingredients in small bowl. Smear paste over meat portion of lamb.
Place lamb, paste side up, in small roasting pan or baking sheet. Roast lamb until thermometer inserted into lamb registers 135°F for medium-rare, about 25 minutes. Transfer racks to a cutting board, lightly tent with aluminum foil and let rest 10 minutes.
Cut lamb between bones into chops and serve with Goat Cheese Custards (recipe below).
1/8 teaspoons white pepper
1/4 teaspoon garlic powder
Add milk, cream, salt, pepper and garlic powder to a heavy sauce pan. Crumble in goat cheese. Bring mixture to just a boil, stirring constantly. The goat cheese should be melted and smooth. Remove pan from heat.
Whisk the eggs and egg yolk in a medium bowl until smooth and creamy. Slowly whisk in hot milk until well combined. Strain mixture into a pitcher and then divide among 4 ramekins.
Place ramekins into a roasting pan and pour in enough boiling water to come halfway up the sides of the ramekins.
Bake custards for 25 minutes until set. (To confirm, insert a sharp knife into the center of one custard. If the knife comes out clean, the custard is cooked.) Remove from roasting pan and let cool while roasting the racks of lamb.
To turn out, run a sharp knife around the edge of the ramekin to loosen the custard. Gently invert the ramekin onto the serving plate. Custard should slide out, if not, lift one edge and use a knife to coax the custard loose.