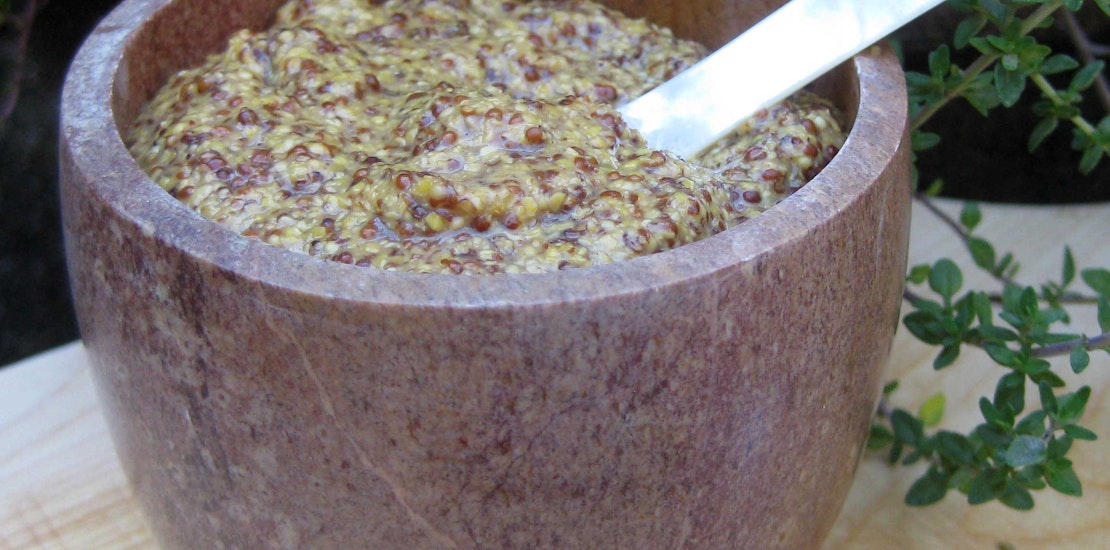 Several years ago, I discovered that I was sensitive to grains - not just wheat, rye and barley but even rice, corn and oats. Since that time, I've been an avid label reader. It's surprising what's hidden in many foods. Mustard is a good example. Do you know that it's not uncommon for commercial mustard to contain wheat flour. Do you know why? Because flour is cheaper than mustard powder, and cheap means more money to the bottom line.

Mustard doesn't need cheap thickeners. When mixed with the right amount of water, it sets up perfectly. I've been experimenting with making my own mustard.

I've learned a lot. For example, did you know that mustard is hottest when it's made with cold liquid? The cold liquid creates an enzymatic reaction that causes that nose-clearing spiciness. Time will lessen pungency, especially if the mustard remains at room temperature. Another way to tone down the fiery flavor, is to warm the mustard over medium-low heat.

Spicy heat is also dictated by the type of mustard seeds used. There are three main types - white or yellow, brown, and black. White or yellow mustard seeds are the mildest, but still pack a punch. They are used in most commercial yellow mustard. The hotter brown and black seeds are used for Dijon-style and Chinese-style mustards.

In its simplest form mustard is a combination of liquid (water, wine, vinegar etc.), mustard seed and salt but of course, the variations are endless. Intrigued? Try this recipe for yourself.

Old World Mustard
Old World Mustard is reminiscent of French country mustard. It's wonderful as the base of a mustard sauce for roast beef or steak, great in vinaigrettes and delicious on sausages and hot dogs.

Ingredients
1/2 cup yellow mustard seeds (for more heat try adding some brown mustard seeds)
1/2 tsp coarsely ground black pepper
1/2 tsp kosher salt or sea salt
2 sprigs thyme
1 clove garlic
1 tbsp white wine vinegar
1 tsp honey
1 tsp olive oil
cold water, approximately 1/2 cup

Directions
Pulverize the mustard seeds, pepper, salt, garlic and thyme using a food processor, spice mill or mortar and pestle. Scrape the crushed seed blend in a small glass bowl. (Note: Do not use a metal mixing bowl. The mustard can pick up metallic flavors.) Add the vinegar, honey, and oil and mix until you've created a coarse paste. Slowly add water, one tablespoon at a time, until the mixture reaches your desired thickness. Cover with plastic wrap and let the mustard rest on your counter for 1 to 2 days. Transfer to a clean jar, cover, and refrigerate. The mustard will last up to 12 months.

Remember, the longer it sits at room temperature the milder it will become (some recipes suggest 2 to 8 weeks), but you can speed the process by heating it in a sauce pan over low heat for 30 to 45 minutes. Don't simmer, just warm it.

Like the idea of making your own condiments, salad dressings, nut butters and more? My cookbook, Staples from Scratch: How to make your own pantry essentials, will be published in August of next year, 2013. I've got more recipes to create, so it's back to the kitchen for me!

Chef Erin Coopey
Your Friend in The Kitchen