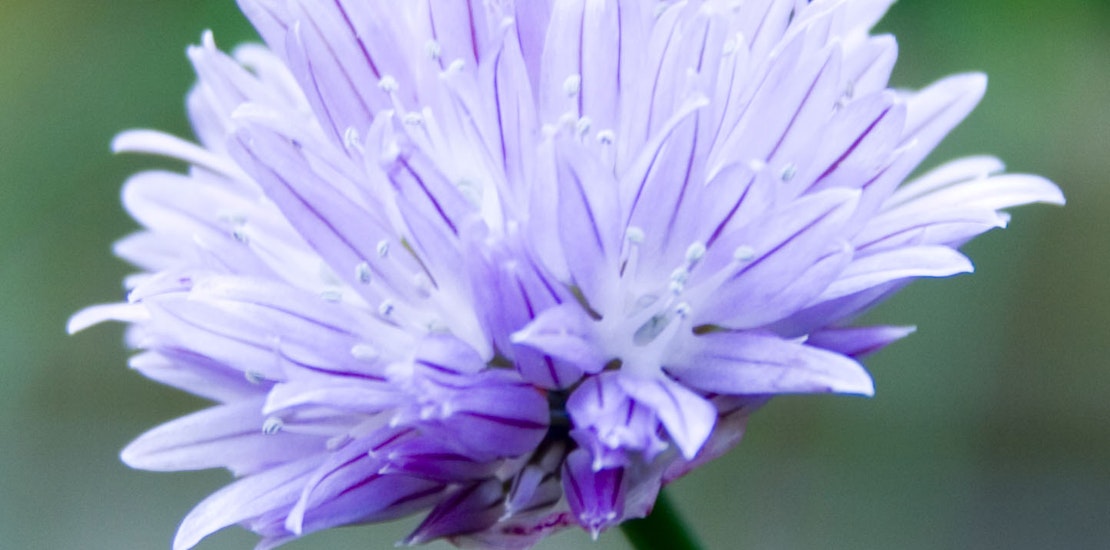 I thought it would be nice to take a closer look at some fresh herbs this spring and summer. I am going to be focusing on a new herb every week or so. Since I have beautiful purple chive blossoms in the back yard, I thought it would be nice to start with them.

Chives are some of the most under utilized herbs, don't you think? I bet many of you don't consider chives beyond snipping them onto a baked potato, but they are quite versatile. Their flavor is a cross between onion and garlic, without being as assertive as either of their cousins.

Chives are exceptionally easy to grow and they are perennial so they'll keep coming back year after year. You can even grow them on your windowsill. For those of you who've only seen chives in plastic cases at the grocery store, chive blossoms look like delicate lavender pompoms. To keep your chives growing happily, you should divide the bunches every couple of years by digging them up, chopping them in two, and replanting them. (Early spring is best for this.) Harvesting is easy too. Simply snip off as many stems as you need with a sharp pair of scissors.

Even if you don't grow your own chives, there are plenty of reasons to purchase them. Here are some ideas to try:

Use the chive blossoms in salads. They are pretty and edible. Or, submerge the blossoms in a jar of vinegar. Store the vinegar in a dark place for two weeks until the flowers have turned white and the vinegar is pink. Use the infused vinegar for homemade vinaigrettes.

Tie small bundles of vegetable sticks (carrot, zucchini, yellow squash) together with a long chive and then steam them.

Make chive oil by pureeing a large bunch of chives (about 1 oz) in a blender with 1/4 cup of olive oil. Strain through a fine size and season to taste with salt. This bright green oil can be used to garnish appetizers and soups, or as part of a homemade vinaigrette. Store in the refrigerator up to 5 days.

Snip chives over buttery corn on the cob.

Toss a teaspoon or two of minced chives into beaten eggs. Use them to make an omelet with a cream cheese filling.

Make your own chip dip. Simply mix a tablespoon of minced chives and a teaspoon of grated onion into a cup of sour cream, season to taste with salt and maybe a squeeze of lemon juice for zing. You'll have a delicious dip that's not filled with artificial flavors.

Smash yukon gold potatoes with chives and butter for a flavorful alternative to your regular mashed potatoes.

No time to bake from scratch? Top refrigerated biscuits with minced chives and shredded cheddar cheese (or roll inside crescent rolls) and bake according to manufacturer's directions. Your family will think you went out of your way for them.

Can you think of any creative ways to use chives? What other herbs are you interested in learning more about?