Celebrate March Madness With Us & Win a Basket of Prizes We're "Mad" About! #SheSpeaksMadness

by
SheSpeaksTeam
is this the date @ED : BlogVO [categoryId=70165, blogId=145331, blogTitle=Celebrate March Madness With Us & Win a Basket of Prizes We're "Mad" About! #SheSpeaksMadness, publishingDate=March 14, 2018 12:00 AM, maxResponses=null, noOfComments=null, fileId=30895, blogClosingDate=null, blogCommentClosed=null, blogCategoryId=70165, queryId=0, blogCategoryIdIndex=0, sharedCategoriesList=null, blogStatusId=34, commentsClosedFlag=false, categoryIdForLog=0, blogModuleCategoryId=0, blogFileVo=null, latestCommentsList=null, verticalCatSeoURL=null, currentDate=01/24/2022, blogLink=null, authorName=SheSpeaksTeam, authorLognId=SheSpeaksTeam, authorAcctId=67580, vosTypeid=3, searchTestId=0, searchStatusId=0, searchAuthorType=0, authorBlogNumber=0, surveyData1=null, surveyData1Desc=null, surveyData2=null, surveyData2Desc=null, pullQuoteMemberId=null, filePath=null, fileName=null, vosType=0, subhead=null, offerSubhead=null, description=null, creationTime=null, authorFname=SheSpeaks, verticalCategoryId=null, sectionId=0, imageFileVO=FilesVO [fileId=30895, filePath=null, fileName=null, fileLength=0, fileWidth=0, createdBy=0, createByUser=null, creationTime=null, lastModifiedBy=0, lastModifiedByUser=null, lastModifiedTime=null, mimeType=null, fileRef=null, fileSize=0, extension=null, title=null, body=null, completeFilePath=/pages/img/redesign/blogs/march_03142018164213.png, height=350, width=350, maxHeight=480, maxWidth=360, displayWidth=350, displayHeight=350, fileStatusId=0, searchKeyword=null, searchFlag=false, queryId=0, isExists=true], seoURL=Celebrate-March-Madness-With-Us-Win-Basket-of-Prizes-We-re-Mad-About-SheSpeaksMadness, seoTitle=null, pullQuotesList=null, pullQuote=null, pullQuoteId=0, searchFlag=false, authorByLine=SheSpeaksTeam, authorDesc=Powered by women who love to share what's HOT in reviews, deals & recipes., authorLink=null, authorFileVO=FilesVO [fileId=42371, filePath=null, fileName=null, fileLength=0, fileWidth=0, createdBy=0, createByUser=null, creationTime=null, lastModifiedBy=0, lastModifiedByUser=null, lastModifiedTime=null, mimeType=null, fileRef=null, fileSize=0, extension=null, title=null, body=null, completeFilePath=/pages/img/membersnaps/SheSpeaks_Logo_Symbol_Only_10182021080530.jpg, height=1777, width=1777, maxHeight=50, maxWidth=50, displayWidth=50, displayHeight=50, fileStatusId=0, searchKeyword=null, searchFlag=false, queryId=0, isExists=true], authorFileId=42371, authorType=0, storyImgFileVO=null, storyImgFileId=0, videoHtml=, authorImageFileId=0, authorImageFileVO=null, previousCategoryId=null, previousBlogStatusId=0, fromBlogDetails=0, blogCategoryName=Living, blogCategoryUrl=null, blogCategoryDesc=null, defaultImage=false, tags=null, optionIds=null, tagOptionId=null, tagId=null, tag=null, tagID=0, tagDetails=null, tagIds=null, testId=0, extBlogURL=null, extBlogStatus=0, bloggerSince=null, extBlogLimit=0, authorTestsList=[], blogURL=, blogName=, bloggerProfileId=0, sliderBlog=false, eventonHome=false, vosonHome=false, partyAndGiveawayDate=04/01/2018, imageCredit=null, pullQuoteMemId=null, offerSubHead=null, subHead=null, displayOrder=0,includeInGoogleSearch=false]
Mar 14, 2018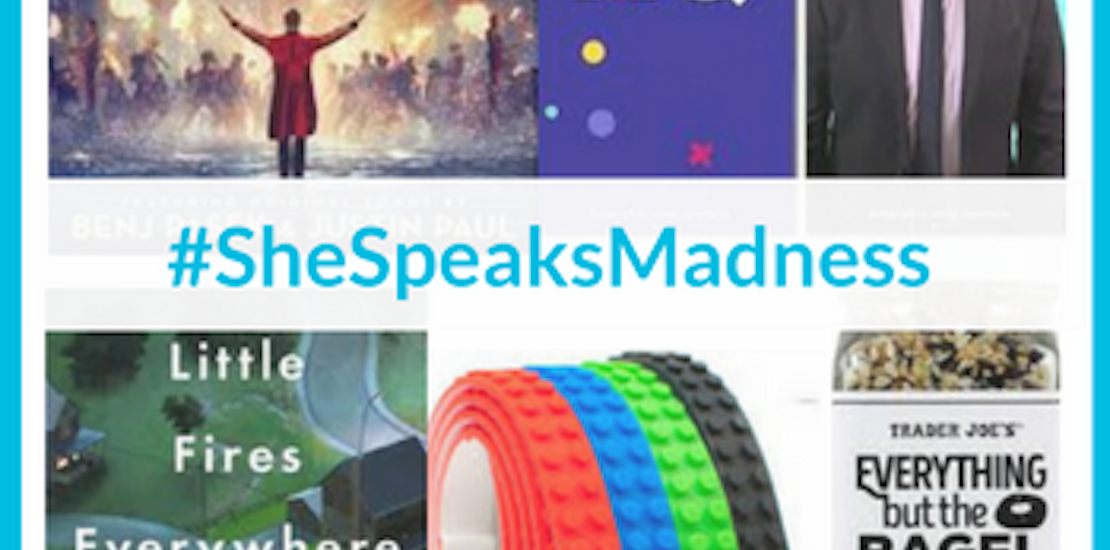 The March Madness NCAA Basketball Tournament has just begun. Though we are nervously watching our brackets, there's lots of things we're even more "mad" about this month.
Check them out. Then tell us what you're "mad" about to win a basket full of these items, valued at approximately $75!
We admit it, we are addicted to this popular app. At 9 p.m. every night, we sit down with the kids and see how many trivia questions we can get right. Our highest is seven, but we are determined to win it all. If you haven't played yet, it's worth a try. It's free to download and you can win real money.

This best-selling book is so good, Reese Witherspoon's company Hello Sunshine snatched up the rights to it, and just announced it will produce the TV series starring Witherspoon and Kerry Washington. The family-focused story is about the events after a controversial adoption of a Chinese-American baby divides wealthy Shaker Heights, Ohio. We couldn't put this down and can't wait for the series. Win your choice of hard-cover or Kindle version!
This has been a hugely-raved-about product recently and we can see why. Using this as a mask and a spot treatment, as needed, has improved our skin greatly. Also, the tub is inexpensive and lasts for months. Win a tub to try it yourself!
We love the taste of this seasoning, we barely even miss the bagel. You can shake it on anything. We've tried it on roasted veggies, salmon and avocado toast. If there' s not a Trader Joe's near you, you can order it from Amazon. Or win a jar right below!
If there's someone in your life who loves LEGO (it could be you!), then this is the perfect gift for them. Just stick it to your wall and have fun. Attach mini-figures, or any lego pieces. It can be peeled easily off the wall without leaving a mark, and yet it is surprisingly strong. It even held a lego helicopter from the ceiling, so it looked like it was flying. A must buy for any builder - or win it here!
We l
oved the movie, but the music is even better. It's so uplifting, it's hard not to sing along. We especially love playing this in the car, it makes the ride fun and energetic. And our teenage kids don't even complain! Win your choice of Audio CD or MP3.
I
f you have young kids, you know that the transition from a bottle to a regular cup isn't easy. That's why we love these cups. They are very hard to spill and have proved essential for our little ones. We're not sure who loves this one more - moms or the toddlers. Win one for the little one in your life!
What are you "mad" about right now? Tell us for the chance to win a basket of these prizes!
There are three ways to enter:
Comment below and tell us what you are loving right now.
Write a Member Review HERE (worth 5 entries.) You can either add a new product or comment on one that's already there!
Tweet about the giveaway: Click HERE to Tweet: "Celebrating March Madness with the #SheSpeaksMadness giveaway & entering to win a basket of items to be "mad" about, thx to @SheSpeaksUp bit.ly/2FF00yY"
*One lucky commenter, Tweeter, or Reviewer will be chosen at random to receive a variety of items mentioned above. Total approximate value: $75. Giveaway is open through April 1, 2018 to U.S. residents at least 18 years of age. Entrants must be a member of SheSpeaks. If you are not a member, click here to join. Winner will be notified by email.
Update: Thanks to everyone who entered! Congrats to our winner, SheSpeaks member maradra1983.