Are Leggings Inappropriate For School? One Teen Sends A Message After Being Told To Change

By
SheSpeaksTeam
Jan 01, 2016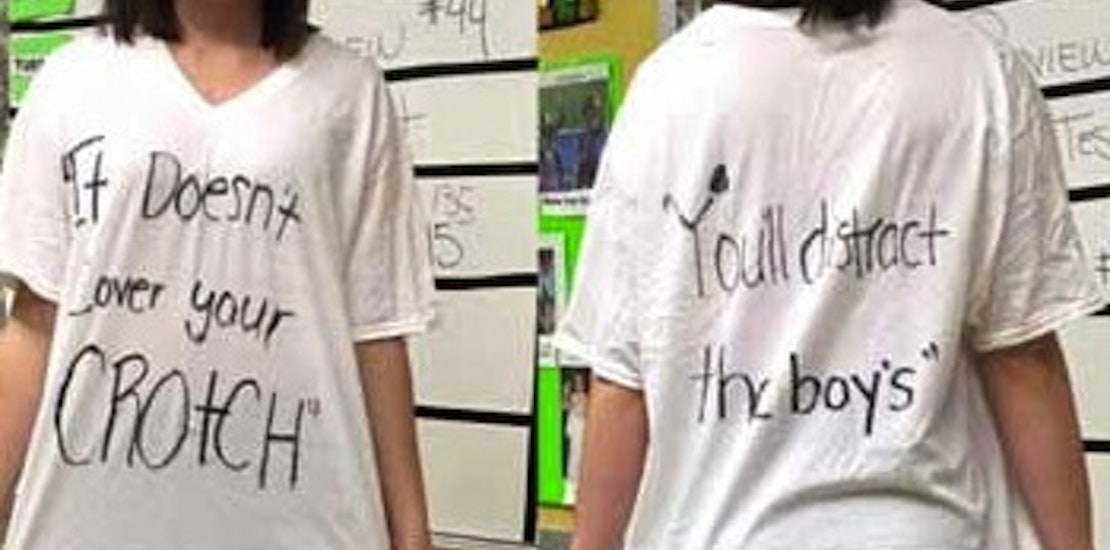 With every week that passes, it seems there is a new story of how a teenage girl feels she was body shamed when sent home for violating her school's dress code. Most of the time we hear about a skirt deemed too short or a top that shows too much shoulder. But one Oklahoma teen was literally covered from top to bottom when she was told her outfit was not appropriate for school and sent home by teachers.
Today reports about 17 year old Rose Lynn's ordeal with her school's dress code and what she did to fight back and make a statement. On the day she was sent home for violating her high school's dress code she was wearing black leggings, a white top and an oversized cardigan. Before sending her home to change teachers told her that the outfit was too distracting and inappropriate for school.
Lynn felt that how she was treated was unfair and instead of keeping quiet she decided to send her school a message, literally. The 17 year old returned to school wearing a long baggy white shirt over her leggings with the words, "If it doesn't cover your crotch, you'll distract the boys" scrolled across her top.
This incident in Oklahoma is definitely not to first time a teenage girl has been chastised for wearing the ever-trendy leggings to school. The creation of the hashtag #FreeTheLeggings was started after 40 high school students were pulled out of their classrooms in Tennessee for wearing the snug pants.
Rose Lynn subsequently took to social media to sound off about her school's dress code and what she feels is a double standard. She posted a photo of what she wore to school that got her into trouble and the shirt she created after being sent home." Lynn writes, "Because I'm developed farther than the average girl my age, I am required to go home and change. Yet, if I was skin and bones or over weight, (not to offend anyone) I would be over looked and no comment would be made, (AT MY PARTICULAR SCHOOL.)" The teen was shocked upon learning that her post went viral receiving close to 20,000 shares and over 20,000 likes.
Lynn's mom, Misti Evans Delgado, explains how she feels the school is in the wrong here and she stands by her daughter. Delgado says, "She wasn't doing anything wrong. The only thing the school could tell me is that my daughter was mocking them. All of the girls are wearing these clothes. I stood up for her and said that they started it with her so they have to expect a reaction. Everything on her was covered, so why are they sending her home and causing her to miss class? What kind of message does that send?"
What do you think of this teen being sent home for violating her school's dress code?
Do you think leggings are inappropriate for school?