Vegan Spinach Artichoke Dip
submitted by Cake_Girl {5 Recipes}
Prep Time:
10 Mins
Cook Time:
20 Mins
Total Prep + Cook Time:
30 Mins
Level:
Easy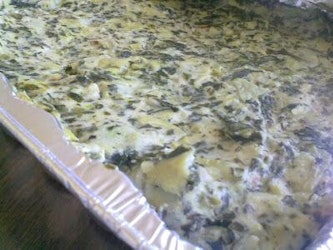 Makes: 4 cups
Description: Vegan Spinach Artichoke Dip just like the real thing. Super easy dip, that is great for game day or a casual dinner party.
Ingredients:
1 8 oz Tub of Vegan Cream Cheese (I used the Trader Joe's Brand)
1 1/2 cups Vegan Mayonnaise
3 Cloves of Garlic (finely minced)
3 Tablespoon Fresh Lemon Juice
1 16 oz bag of Frozen Chopped or Whole Spinach (thawed & drained)
1 teaspoon dried basil
1 teaspoon dried chili flakes

Instructions: Pre-Heat oven at 350 (if you are baking the spinach artichoke dip)

In a large bowl add in your vegan cream cheese, vegan mayo, garlic and lemon juice. Mix with a spatula or fork until fully incorporated. Then chop & mix in your artichoke hearts and spinach (don't have to chop if bought chopped kind). Add in the dried basil, chili flakes and salt & pepper to taste.

For baked version
Bake in the oven for about 15-20 minutes until bubbly. Serve hot, warm, or cold the day after with your favorite chips.
Other recipes in appetizers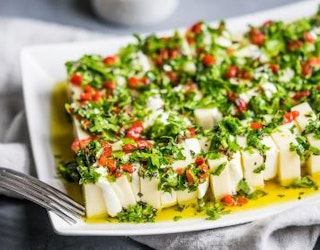 By
wooabm26
Nov 07, 2018
This is from Southern Living Magazine. It's a little time consuming but so so worth it! There is nothing better than tons of different cheeses!
Read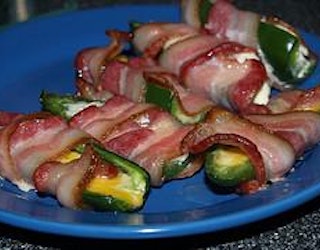 By
Tricias-List
Mar 07, 2012
I host parties. A LOT of them. It's one of my favorite things because it allows me to have friends and family over and it makes me happy. Sometimes I j…
Read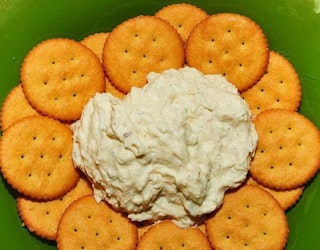 By
seashoreseller
Feb 03, 2012
Looking for a delicious cheap dip? This will impress your guests and so simple.Prep time is just minutes!!!
Read