The #SheSpeaksReviews 2020 Holiday Gift Guide is Here! Win 2 Items!

By
SheSpeaksTeam
Nov 05, 2020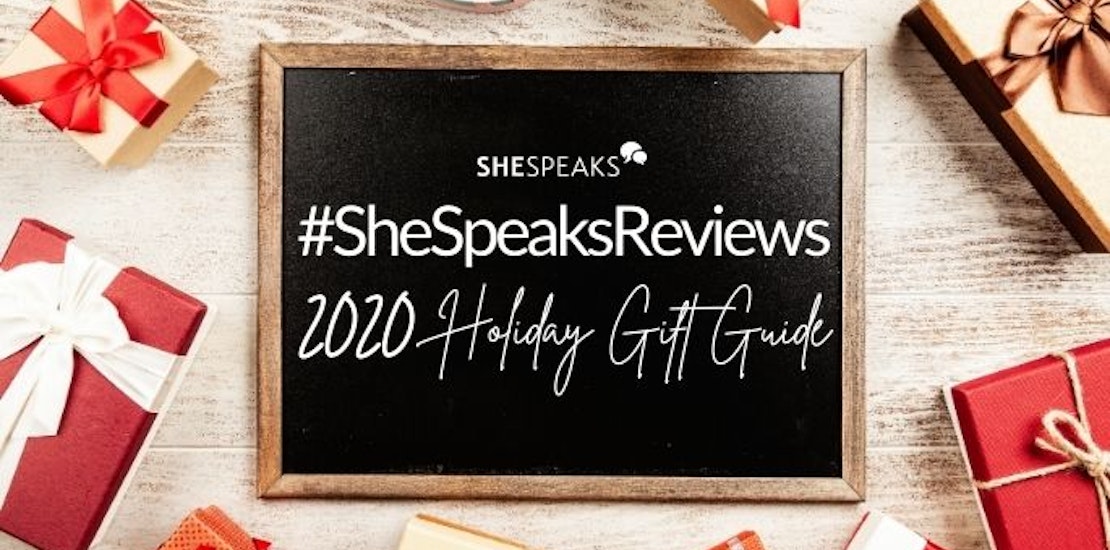 Looking for gift ideas for the holidays? You've come to the right place!

We're excited to showcase our #SheSpeaksReviews 2020 Holiday Gift Guide, a carefully curated list of must-have products, all tried and recommended by our SheSpeaks members! Check it out and enter to win two items of your choosing on the list!

This scarf is the perfect accessory for a friend you want to hang outside with on cool winter evenings. "It's incredible that such a thin piece of fabric can give you so much warmth. I've used it as a scarf, a blanket, a shawl, and even a head wrap. It's so versatile!" - SheSpeaks member
rychepet
For kids, and their parents who care about their world... a Shore Buddies Plush
This is much more than just a stuffed animal. "These have been such a gifting hit! The creators help our oceans by reusing plastic bottles. It takes 6 plastic bottles to make the stuffing and outer material of one Shore Buddies Plush. They are so durable, no lose fibers and help the environment to boot. Always a conversation starter at party gift time." - SheSpeaks member
ParentingHealthy
Show off your eyes this season! "I love how this fills in sparse parts of my brows with tiny little fibers! The color range is great!" - SheSpeaks member
aliciamarie3
Gift a friend a bottle of Torani with other ingredients, such as coffee, cocoa, cocktail ingredients or baking supplies. There are many flavors to choose. Mix the syrup into drinks and desserts, or pour it on top of pancakes, waffles or salads. "My favorite syrup for cocktails, lemonades, and iced teas. This syrup is so good, and it really gives you that quintessential raspberry taste without those pesky little seeds." - SheSpeaks member
Speechiemel
These glitter pens make the perfect stocking stuffer. Or add them to a basket with other art supplies. "These #Arteza pens are so fun to write with. My daughter and I are loving these pens because what can I say - glitter is beautiful." - SheSpeaks member
Jenaemata
Show someone you love them by keeping them warm. "It is ideal for small rooms and allows me to adjust the temperature to ensure I am comfortable in my cold office. Best of all it is whisper quiet, so it does not fill my office with background noise. It is one of my MUST HAVE items as I am WFH permanently." - SheSpeaks member
falu215
What gifts are you buying for the holidays? Tell us and win your favorite item on this list!
#SheSpeaksReviews 2020 Holiday Gift Guide Giveaway
*One lucky contestant will be chosen at random to choose two items on this list to receive. Items include: Vivian & Vincent blanket winter scarf (choice of color that is available), Shore Buddies stuffed animal (choice of animal that is available), Benefit Cosmetics Gimme Brow+ Volumizing Eyebrow Gel (choice of shade that is available), Torani syrup (choice of flavor that is available), Arteza Glitter Gel Ink Pens (another item may be substituted if this item is out of stock), Honeywell 360 Surround Heater (another heater may be substituted if this item is out of stock). Giveaway is open through November 22, 2020 to U.S. residents at least 18 years of age. Entrants must be a member of SheSpeaks. If you are not a member,
click here
to join. Winner will be notified by email.
Update: Thanks to all who entered! Congrats to our winner, SheSpeaks member dragonfly777.