The Glamour, The Gowns, and The Gags of the 2014 Golden Globe Awards

By
SheSpeaksTeam
Jan 14, 2014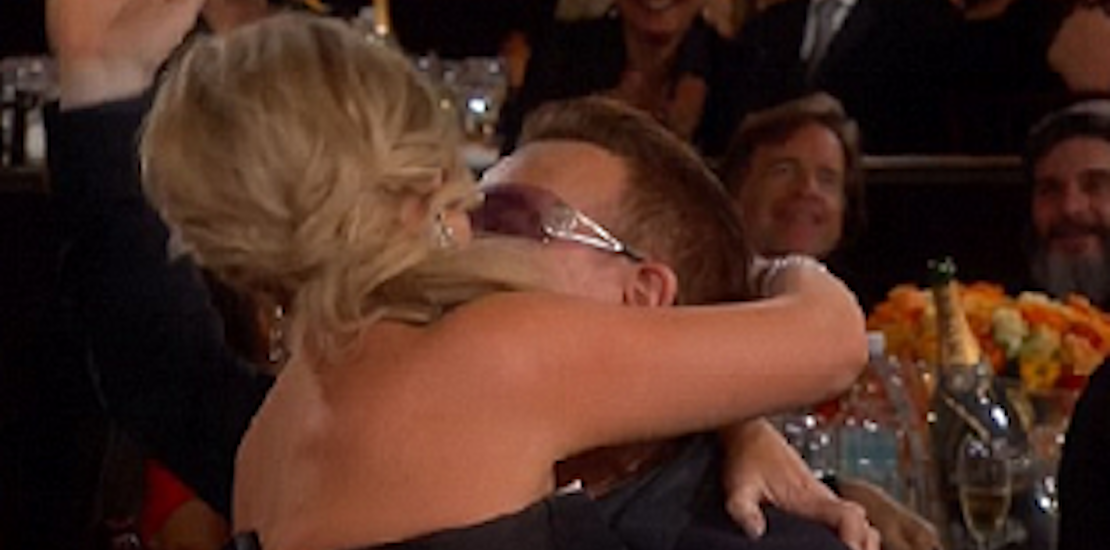 Amy Poehler locked lips with Bono. The Teleprompter Malfunctioned. Diddy interrupted musician Alex Ebert's speech. A boozy Emma Thompson hurled her Louboutins stage right, Matt Damon became a garbage person and there was a horrific train wreck named Jacqueline Bisset. Also, at the conclusion of her tribute to Woody Allen, Diane Keaton actually sang an a cappella chorus of "Make New Friends!" 21 million viewers watched as Hollywood's A-listers wept, cursed, begged to be slapped, and stumbled across the stage during the 71st Annual Golden Globes telecast on Sunday.
The real entertainment was provided by returning comediennes Tina Fey & Amy Poehler as they joked their way through the show with hysterical zingers like:
"Gravity is nominated for Best Film. It's the story of how George Clooney would rather float away into space and die, than spend one more minute with a woman his own age."
"And now, like a supermodel's vagina, let's all give a warm welcome to Leonardo DiCaprio!" (Leo was so flummoxed he mispronounced "Philomena" as "Philomania")
"Matthew McConaughey did amazing work this year. For his role in Dallas Buyers Club he lost 40 pounds, or what actresses call being in a movie."
They also played-up a running gag involving Julia Louis-Dreyfus (another SNL alum) becoming too fancy to sit with the TV crowd.
And lest we forget the GOWNS!
The Best of the Dressed!:
Now it is time to vote for your favorite gorgeous, glamorous gown of the Globes! If you comment below by January 21st - you'll automatically be entered to win a $100 Nordstrom Gift Card! Was it one of these perhaps?
| | | | | | |
| --- | --- | --- | --- | --- | --- |
| Lupita Nyong'o | Zooey Deschanel | Cate Blanchett | Margot Robbie | Taylor Swift | Julianna Margulies |
| | | | | | |
| --- | --- | --- | --- | --- | --- |
| in | in | in | in | in | in |
| Ralph Lauren | Oscar de la Renta | Armani Prive | Gucci | Carolina Herrera | Alexander Gn |
Open to USA residents, 18 years of age or older.