Sneak In Some Veggies: Carrot "Pasta"

By
savvyjulie
Aug 13, 2011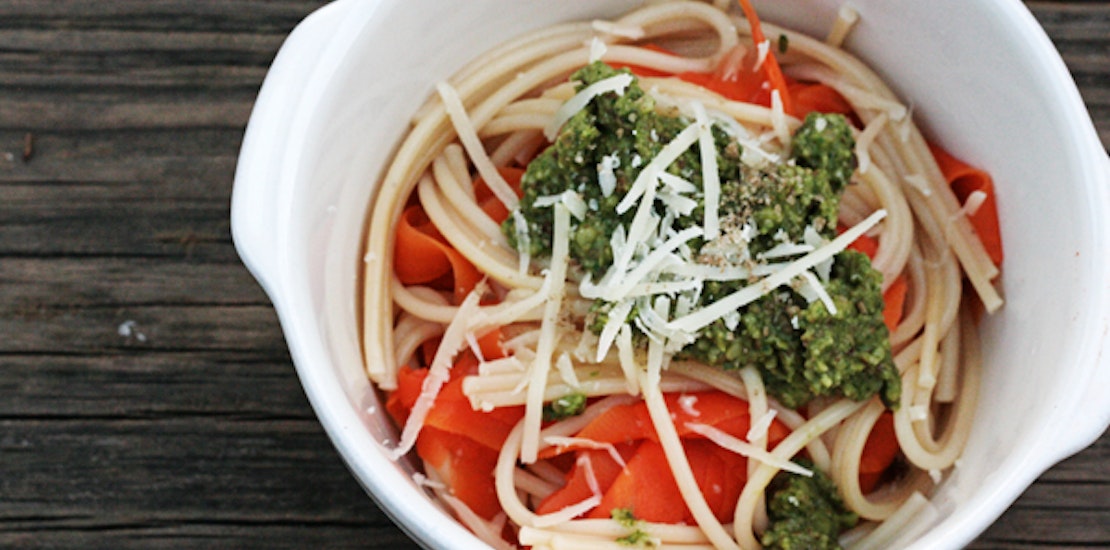 You know those days when you suddenly realize it is dinner time and you've somehow managed to eat exactly zero servings of vegetables?
You know those days when all you want is a big bowl of carbs after a long, hard day, but feel like you should eat something a bit more balanced?
You know those days when you want to work your vegetables into the main course so you don't have to go to the trouble of making a side?
No? Just me?
Well, if you ever do have one of those days, this is the recipe to make. I can't believe I haven't tried this before!
Serve with pesto, tomato sauce or other pasta sauce of your choice.
Spaghetti and Carrot Pasta
4 medium carrots
6 cups water
4 ounces dried whole wheat spaghetti (about ¼ of a 16 ounce box)
Sauce of your choice
Wash and peel the carrots. Thinly slice the carrots into long ribbons using a mandoline or a vegetable peeler. When it gets to be too difficult to keep peeling, either chop the cores to add to the sauce, or eat the cores separately and raw.
Bring the water to a boil in a large stockpot. Add the pasta and cook for 5-6 minutes, stirring occasionally. Add the carrot ribbons to cook for an additional 4-5 minutes.
Drain the pasta, reserving a bit of the cooking water. Toss the pasta, water and sauce together to serve.