Oreo Stuffed Chocolate Chip Cookies
By
jonbonjovious
Aug 15, 2011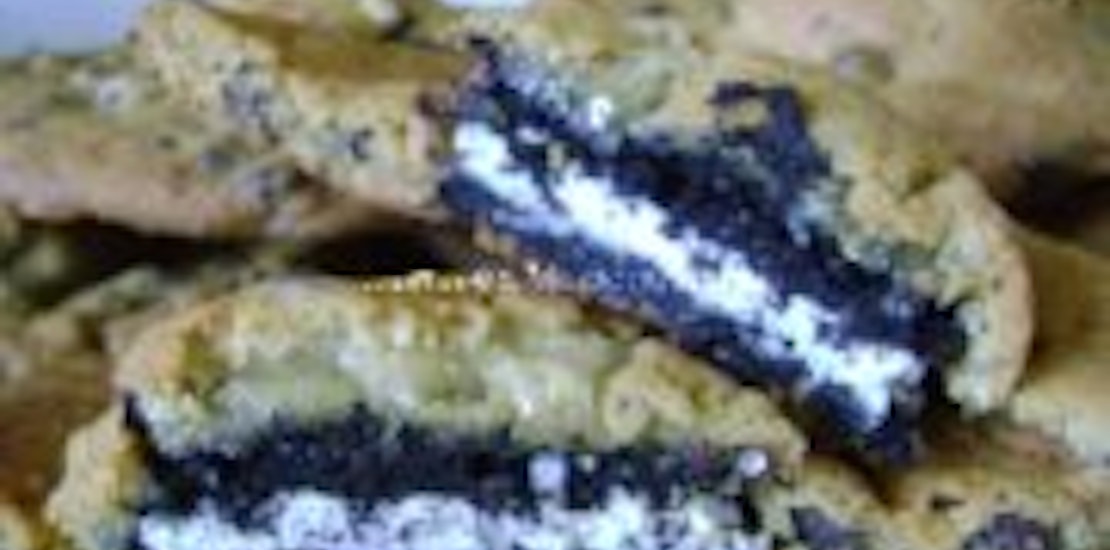 We take the Oreo seriously at our house.
Last night, we ate them straight from the box.
Today, we transformed them into a new kind of deliciousness–stuffing the Oreo inside our favorite Chocolate Chip Cookie.
It was easy and the result was an addicting goodness.
To begin, make your favorite chocolate chip cookie dough. We used the Original Toll House Chocolate Chip Cookie Recipe:
INGREDIENTS:
2 1/4 cups all-purpose flour
1 teaspoon baking soda
1 teaspoon salt
1 cup (2 sticks) butter, softened
3/4 cup granulated sugar
3/4 cup packed brown sugar
1 teaspoon vanilla extract
2 large eggs
2 cups (12-oz. pkg.) NESTLÉ® TOLL HOUSE® Semi-Sweet Chocolate Morsels
1 cup chopped nuts
DIRECTIONS:

PREHEAT
oven to 375° F.
COMBINE flour, baking soda and salt in small bowl. Beat butter, granulated sugar, brown sugar and vanilla extract in large mixer bowl until creamy. Add eggs, one at a time, beating well after each addition. Gradually beat in flour mixture. Stir in morsels and nuts. Drop by rounded tablespoon onto ungreased baking sheets.
Place a ball of dough on the cookie sheet and press an Oreo into it.
Add just enough cookie dough to the top to cover the Oreo.
BAKE for 10 to 15 minutes or until golden brown. Cool on baking sheets for 2 minutes; remove to wire racks to cool completely.
Mmmm…enjoy the delciousness!