Mom Shocked and Furious After Sons Suffer Serious Sun Burn At Day Care

By
SheSpeaksTeam
Jul 31, 2015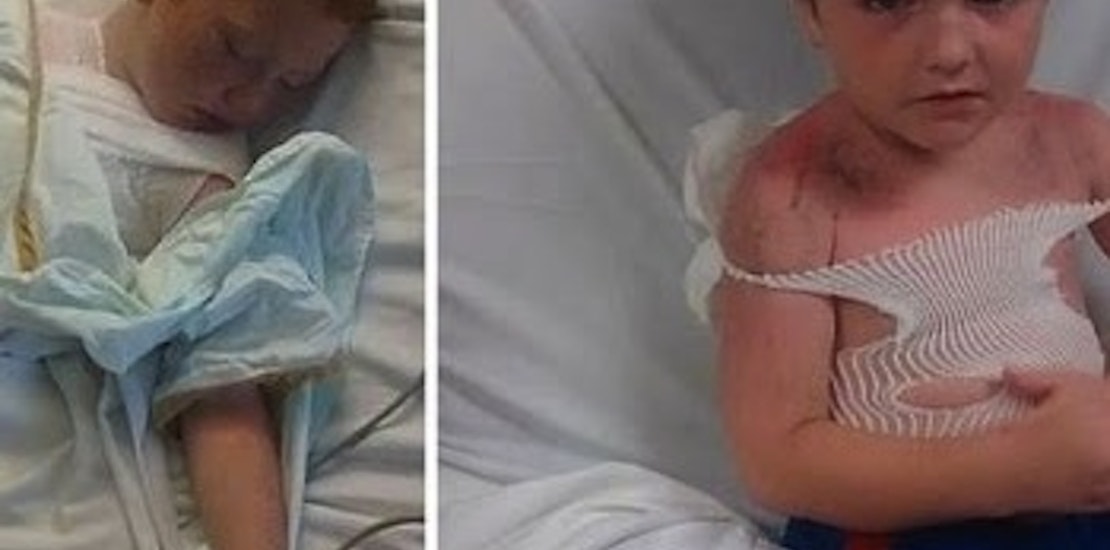 As parents, we know how important it is to protect a child's delicate skin from the harmful effects of the sun. One Oklahoma mom is fuming mad after her sons' daycare failed to apply sunscreen on her boys, causing both (ages 5 and 7) to suffer second and third degree burns.
BuzzFeed reports about mom Shauna Broadway's experience with the Happiness Is A Learning Center daycare in Vinita, Oklahoma that has sent her sons to the hospital with second and third degree burns. Upon picking her sons up after work she noticed that they were sunburned after a long day spent outdoors at a splash park. Broadway explains, "I got off work at 5 p.m. and went to pick them up, and they were clearly burned. [The employees] were actually making fun of my older son, because both boys got sunburns but he was being a 'baby' and crying about it."
Staff at the day care explained to Broadway that they ran out of sunscreen at the waterpark but told the kids to keep their shirts on to avoid sun exposure, but both of her sons did not listen and took their shirts off. With the heat index reaching 118 degrees, Broadway was shocked that the day care even kept them outside all day.
After a long weekend of treating the burns with pain meds and visiting hospitals, her oldest son (who is a red head and more fair) was still in a lot of pain. She explains, "My oldest one's chest started hurting and he said he was having trouble breathing. Apparently the swelling and pain on his back was so bad that he was having pressure on his chest." Both boys ended up having to be airlifted to a hospital in Texas that specializes in serious burns.
In the past, we have heard about conflicts between schools and parents when it comes to policies against applying sun screen at school. But in this case it seems the mother was led to believe the day care staff would be supplying sun screen for her sons. Broadway is quoted in an NBC News report explaining that she trusted the day care to keep her sons protected from the sun that day. She says, "We signed permission slips. I had asked the day care if I needed to bring sunscreen, and they said no. There was no thinking that anything like that would happen." As of now the day care has been closed and investigations of child neglect are underway.
What do you think of this mother's experience with the day care she sent her sons to?
Do you think day cares and schools should be held responsible when children come home with a sun burn?