Model With Genetic Disorder Sends Powerful Message About Beauty

By
SheSpeaksTeam
Sep 07, 2014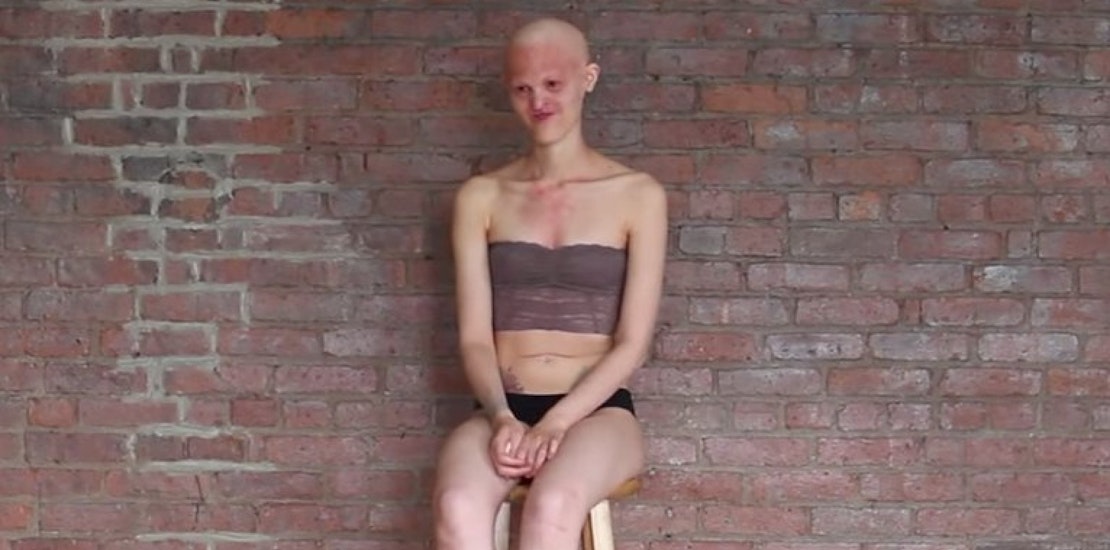 While everyone's idea of beauty may be different, it would be difficult to deny the beauty that exudes from model Melanie Gaydos as she describes her difficult childhood struggling with a genetic disorder as well as abuse at home. Gaydos recently took part in The What's Underneath Project where people sit down for a very personal interview while slowly removing layers of clothing to show that "style is not the clothes you wear".
During The What's Underneath video, the model reveals the struggles she faced as a young woman undergoing between 30 and 40 surgeries. The model suffers from a genetic disorder called ectodermal dysplasia which leaves her without hair and teeth. The disorder also affects her skin, pores and fingernails.
On top of the struggles to remain healthy, Gaydos also reveals how she had to deal with her parent's alcoholism and abuse growing up. Though the model seems to be in a much healthier position right now, she has also been kicked out of her childhood home and been through an abusive relationship. She admits to having suicidal thoughts at a young age that have now disappeared thanks to her current loving boyfriend and modeling career.
She describes how many of her friends in school didn't understand why she wanted to be a model, thinking it was just the easy way out. She explains the joy modeling brings to her life saying, "I love modeling; it's a time for me to be completely open. It's a therapeutic process for me." Gaydos' idea of beauty is simple yet manages to be a truly inspirational message to us all. She says, "For me, beauty is more a feeling and a state of being."
What do you think of The What's Underneath Project?
Do you find Melanie Gaydos' message to be an inspiration?