Matcha Soda {Sparkling Matcha Tea}
submitted by dixya123 {1 Recipe}
Prep Time:
5 Mins
Cook Time:

Total Prep + Cook Time:
5 Mins
Level:
Easy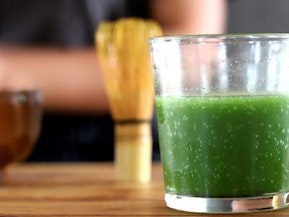 Photo Source: Food, Pleasure, and Health
Makes: 1 serving
Description: Matcha Soda (Sparkling Matcha Tea) is a refreshing drink made using just two ingredients. It's fizzy and perfect as an afternoon pick-me-up drink. I am sharing a version with no sugar but you can add sweetener if you like.
Ingredients:
1/2 teaspoon matcha
2 tablespoon warm water
1 cup Topo Chico or sparkling water

Instructions: *you may need more or less matcha depending on the brand you are using. I am using Adagio brand matcha for this recipe*

1. In a bowl, whisk matcha with 1 tablespoon of water until it becomes a paste. Continue whisking then add another tablespoon of warm water until it gets lightly frothy. There should be no clumps.
2. Pour the matcha mix into a 8 oz glass jar then, top it with Topo Chico or sparkling water. Tilt the glass slightly when pouring.
3. If adding simple syrup, mix matcha with simple syrup in a glass, then pour Topo Chico.
4. Enjoy immediately.
Other recipes in beverages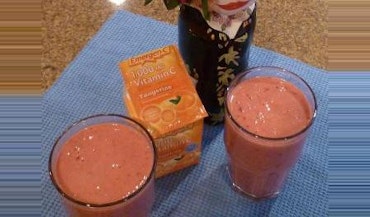 By
dinburg
Feb 07, 2012
A delicious smoothie with Emergen-C! Berries, vanilla yogurt, protein powder, berry powder, banana...YUMM!
Read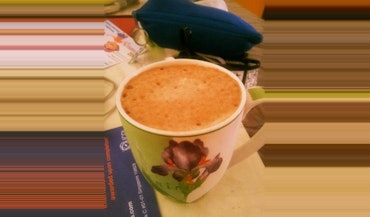 By
alaskataylor
May 01, 2013
Easy banana shake.
Read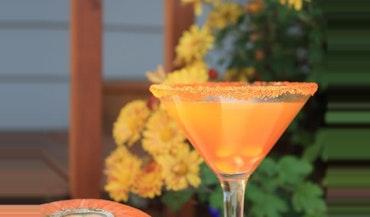 By
Sprinkles68
Oct 22, 2012
To make this delectable looking cocktail ? you need to first infuse your vodka with candy corn. Don?t worry! It?s easy and only takes a little bit of t…
Read