Joan Lunden Goes Bald and Beautiful For Magazine Cover

By
SheSpeaksTeam
Sep 26, 2014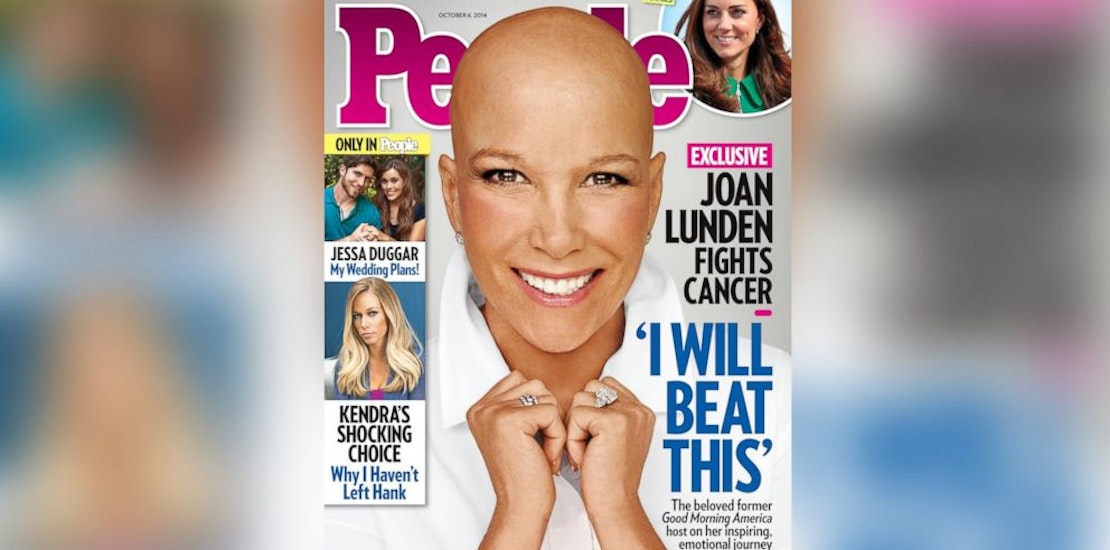 When perusing the covers of magazines at your local grocery store, you may be surprised to see a radiant and bald Joan Lunden gracing People magazine's cover. The former Good Morning America host made a bold decision to remove her wig for her cover shoot and share her story battling triple negative breast cancer.
ABC News reports about the unique People cover and Lunden's decision to share herself in this bold and courageous way. For those who are dealing with a cancer diagnosis and the hair loss that comes from chemotherapy, Lunden thought that putting herself out there bald head and all would maybe encourage others to feel a little better about their situation. She says, "I had to make this big decision about whether or not to do the cover with no hair. It certainly isn't the comfortable way to go, but I decided I was going to try and help others and show women that this isn't the end of the world. You can go on – and that was hugely empowering."
Lunden also recognizes that losing her hair has effected her own perception of herself and beauty. She tells People, "When you lose your hair, it just affects the way that you look at yourself in the mirror. You feel less feminine, pretty or desirable, and it's not an easy thing to go through."
Joan Lunden's friend and fellow GMA colleague Robin Roberts is familiar with her personal battle having fought the disease twice over the last several years. Lunden reveals to People how Roberts' words encouraged her to shave her head during her chemotherapy treatment. Lunden says, "Robin told me waiting for your hair to fall out is excruciating. So I didn't want to wait." She adds, "You know it's going to happen one of these days and you are wondering how and when, so I just owned it."
What do you think of Joan Lunden's People magazine cover?
Do you think she made a pretty bold decision to remove her wig for the photo?