Image of Plus-Size Barbie Sparks Debate

By
SheSpeaksTeam
Jan 07, 2014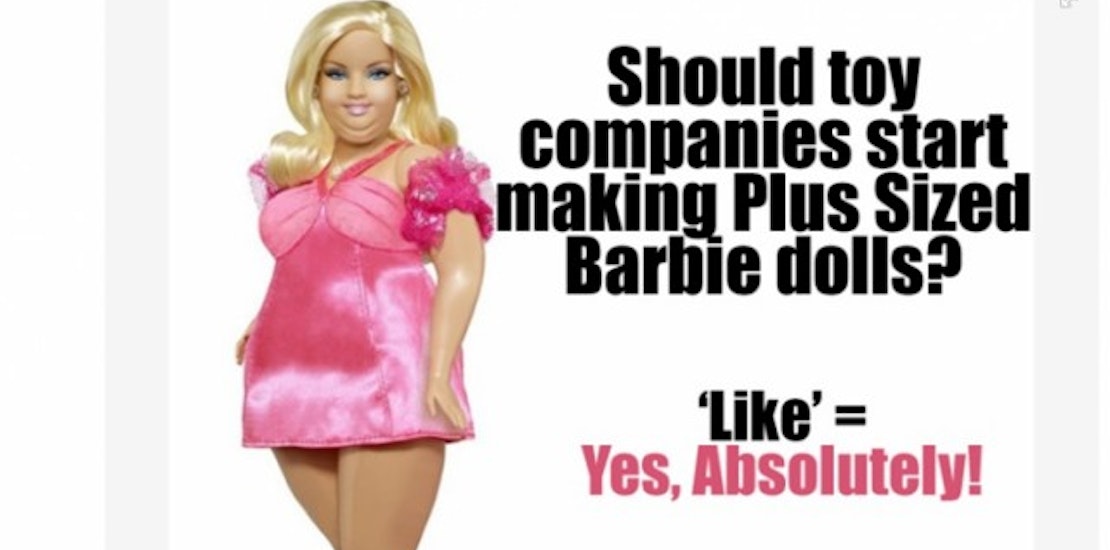 If you ever thought the Barbie doll's impossibly small waist, large chest and long legs was sending a bad message to kids regarding body image, then you will probably be interested in the debate over a photo of the fictional "plus-size Barbie". The controversy began after the Plus-Size Modeling site posted a photo of a plus-size Barbie on Facebook asking the question: "Should toy companies start making plus-sized Barbie dolls?"
HLN reports about the Facebook picture and accompanying message that has caused a stir with more than 40,000 likes. While some feel this plus-size Barbie would be a step in the right direction, others feel the obese doll promotes an unhealthy body image in the same way the current "too thin" doll does.
And still others like the idea of a plus-size Barbie but feel the image went over the top with the addition of a double chin. Facebook user Vanessa M. commented, "Barbie doesn't need a double chin. You can be 'plus size' w/o the double chin. They could make a 'thick' Barbie." And FB user Lisa D. says, "This is not what plus size women looks like. This doll is a terrible impression of a plus size woman."
Whether or not Barbie dolls will ever depict a more realistic body size is still up in the air, but many feel that moms are the ones that influence their daughter's body image more than anything else. Full-figured model and blogger Essie Golden weighed in on the Barbie debate saying, "We are putting way too much blame on a doll, instead of looking at what really creates our body and self-acceptance issues, which would be our families." She adds, "They have the greatest influence on our body images, not Barbie," she said. "The mother who was always on a diet, the grandmother pinching their grandchild's stomach and calling them fat or chubby -- and, of course, fathers who tell their daughters if they are fat they'll never be pretty or have a boyfriend. At the end of the day, a doll is just doll. Barbie is a cultural icon, but she doesn't have to be the only one."
What do you think of the image posted to Facebook of "plus-size Barbie"?
Do you think the makers of Barbie should consider adding a plus-size doll to their line?