Have You Tried These Fun Eye Makeup Trends?

By
SheSpeaksTeam
Aug 31, 2021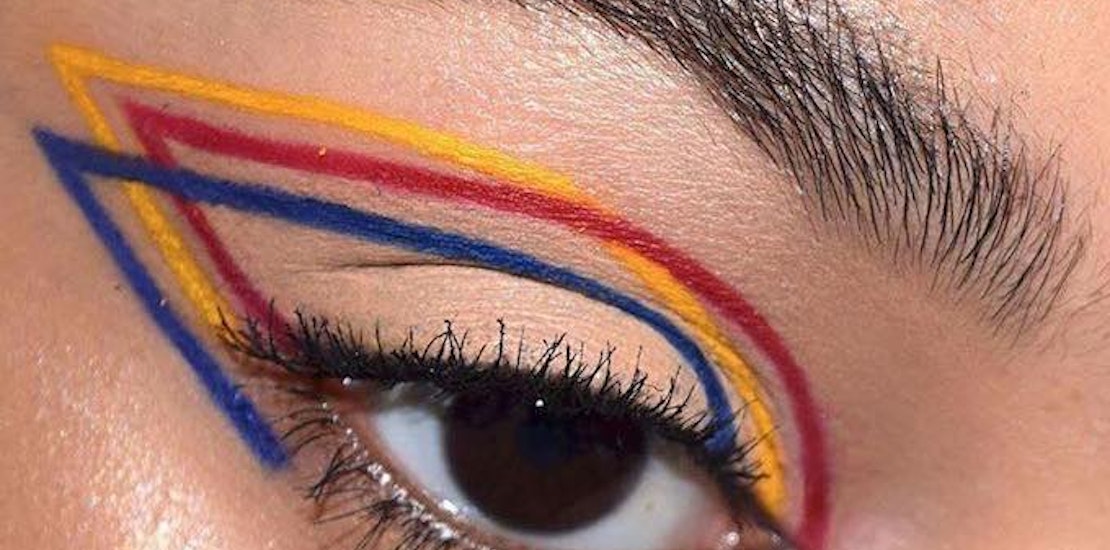 popxobeauty/Instagram
If you've been following the same makeup routine for years, it might be time to add some new techniques to your look. And if the eyes are the window to the soul, why not start there. Here are a few eye trends (some daring) to try today.

The Graphic Lined Eye or Floating Eyeliner

This might be a little too outside the box for those that always color inside the lines, but the graphic eye liner trend in on fire right now and has been seen everywhere from magazines to local sidewalks this year. InStyle recently listed it as one of the "9 Best Makeup Trends" and gave directions to apply liner "by drawing a clean line just above the crease of your eye, then connect it to your wing."

SheSpeaks members turn to the Maybelline Eye Studio Lasting Drama Gel Eyeliner to create a perfect eye line. Member StillGettingReady says of the product, "The formula is really long wearing and stays put even if I rub my eyes on accident. When I first bought the jar I thought I would run through it really quickly but even though I use it daily, one jar can last me upwards of 6-8 months. Just be careful because it may dry out by then. Either way talk about bang for your buck!"


And if you're looking for a variety of colors in your eye pencil, Urban Decay's 24/7 Glide-On Eye Pencils have everything you need. SheSpeaks member Suzi Skaan says, "I recently started using these Urban Decay 24/7 Glide-On Eye Pencils and I am obsessed. They apply so easy, they have such rich and bold colors, and they last all day. I enjoy eye make-up although I am no pro at applying, and these eye pencils really help make it fun to experiment with fun colors and styles. LOVE!"

Colorful Eyeshadows

If you're looking to try something other than a neutral eye shade, a bright eyeshadow can be just the thing to make your eyes pop. We have been seeing a lot of neons take center stage recently and love the bold statement. But if you're not ready to go from beige to neon just yet, the ColourPop Super Shock collection is just the thing to try. SheSpeaks member AngelineMillanes says, "I got the shade Snapdragon. It is a beutiful teal color. Color wise it is actually a dupe for the teal shade in the Morphe X Jaclyn Hill pallete. It blends beautifully, it is vibrant, pigmented and just over all amazing and beautiful."


The Brushed Up Brow
For those that don't like to over-pluck, this no-fuss eyebrow look will make you very happy. Simply adding a little pencil and a quick brush up can create this natural full-brow look. Erin Lukas from InStyle explains the benefits of a brushed upwards brow saying, "...the brushed up brows will enhance your grown-out arches and open up your eyes."


And if you don't exactly have a lot of eyebrow to work with, the Gimme Brow + Volumizing Eyebrow Gel from Benefit Cosmetics can help you attain this brushed up brow look. SheSpeaks member MadisonMorelock uses the product and says, "this is the one eyebrow product that everyone needs!! this brand is amazing and this product makes my eyebrows look so full and i have very light eyebrows and this completely changed the game for me!! it looks so natural! i would recommend this and their other products to everyone!"

Bright & Glowing

This may sound more like a life goal than a current trend, but "Glowy Skin" is listed as one of Cosmopolitan's "10 Best Summer Makeup Trends" and with good reason since just about everyone wouldn't mind a little more glow.

So how do you get your eyes to glisten or glow when you're working on little sleep or possibly dealing with back-to-school stress? SheSpeaks members love the glow their eyes get from Tula Skincare Rose Glow & Get It Cooling and Brightening Eye Balm. Emolie27 says, "I got this as a gift and I LOVE it! As a busy mom, just having the stick format is amazing. I use it day and night on my eyes and it is gentle and refreshing. It has really helped reduce the bags under my eyes."

Do you have any eye makeup tricks you turn to daily?

What are some of your favorite eye products? Share your reviews with us here!