From Window Washers to Superheroes All In an Effort To Make Sick Kids Smile

By
SheSpeaksTeam
Dec 11, 2014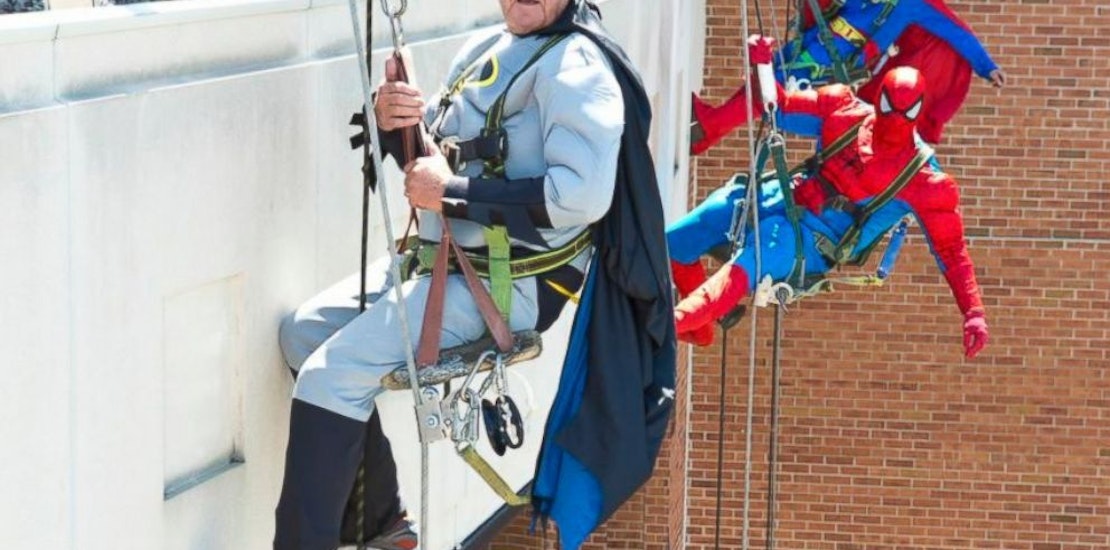 Sick kids who look out their hospital windows at the Mayo Clinic's Children's Center are both surprised and delighted by what they see. The window washers at this hospital are doing a little more than just your average maintenance. Dressed as superheroes like Batman and Spiderman, the window washers rappel down the sides of the hospital building just like in the movies.
ABC News reports about the group of window washers that transform into superheroes to cheer up sick kids. Roger Corcoran, a 61 year old grandfather and window washer for 35 years, dresses as Batman while washing windows at the hospital. He then joins the rest of his co-workers as they rappel down the wall to go inside and meet some of their biggest fans. Corcoran jokingly says, "When a kid wanted to know why I was so old, I told him I played the original batman."
John Carroll plays the part of Spiderman and admits that he gets a lot of joy out of bringing a smile to the kids' faces. Carroll says, "It's one thing I look forward to doing all year." He adds of the kids' reaction upon meeting their favorite superheroes, "The first time it happened, I was kinda crying because it means a lot to those kids."
During the meet and greet the window washers talk to the kids and often learn about the illness they are battling. Claire Atrawman, a 13 year old and youngest heart-lung Mayo Clinic ever transplanted, was there and told them about her recent lung transplant. Carroll says of her story, "She told us what happened to her and everything. We were all standing around her tearing up. That story made you feel so proud to do it for the kids because it means so much to them. It was great."
What do you think of the window washer superhero program at this hospital?
Do you think more children's hospitals should consider taking part in programs like this?