Enter the SheSpeaks Ides of March Giveaway

By
SheSpeaksTeam
Mar 05, 2014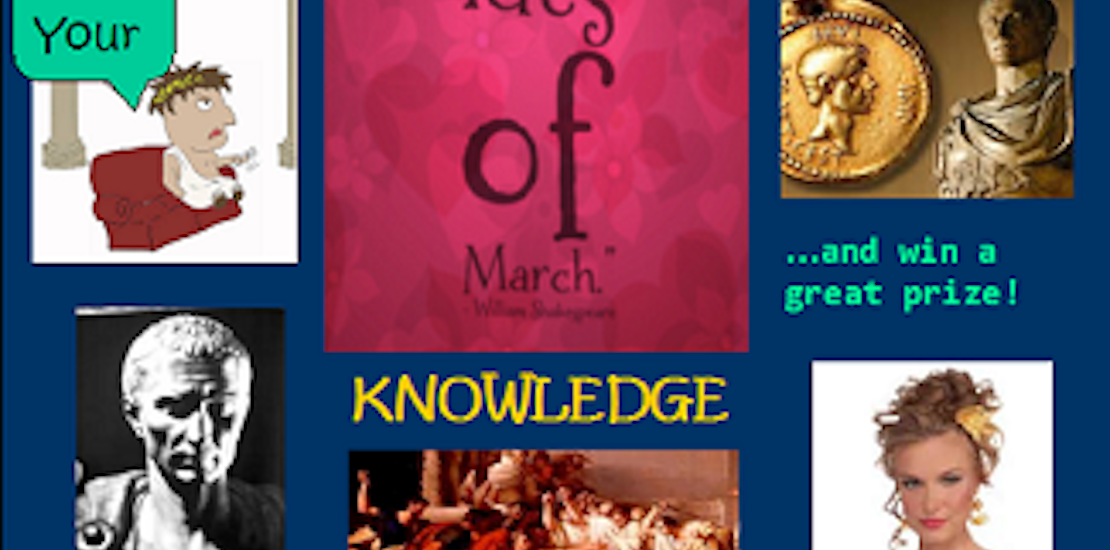 Friends! Romans! Members!
Since we're really not too sure of what an "Ides" even is - we recommend that you disregard all talk of signs & omens and help us praise Caesar by putting on a blingy olive wreath (like Johnny Weir's) and then enter our Ides of March Giveaway!
To enter, test your knowledge of all things Roman by answering these 6 questions in the comments section below - and you could win a trio of high-end beauty products featuring the 110-240V Ultra Clear Cleansing System from TruthInAging.com!
1) Which of these famous people was born on March 15th?

a) Will.I.Am
b) Eva Longoria
c) Andrew Jackson
d) Fabio
e) Bret Michaels
f) Kellan Lutz

2) Julius Caesar put an end to the complex Roman calendar which organized each month around three reference points known as Kalends, Nones, and Ides. He implemented the Julian calendar, which was intended to be in sync with the solar cycle; however, because the actual solar year is 365 ¼ days long, Caesar also added an extra day, called a leap day, every four years to make up the difference. Which month did he name after himself?
3) Caesar's most famous words were "Veni, vidi, vici" (I came, I saw, I conquered) - on which brand of packaging are these featured?
4) True or False - It's believed Caesar was born by surgical delivery - that's why this method of birth became known as Caesarean section.
5) True or False - Caesar Salad is named after Julius Caesar.
6) Who said, in the play Julius Caesar by William Shakespeare in Act III scene II:

Friends, Romans, countrymen, lend me your ears;
I come to bury Caesar, not to praise him.
The evil that men do lives after them;
The good is oft interred with their bones...
And now for the prizes!
You could be one of 3 winners who will each receive a gift trio that includes the Ultra Clear Facial Cleansing System from TruthInAging.com, along with their Royal Nectar Face Lift moisturizer, and their Royal Nectar Face Mask with a total value of $209!*
The Ultra Clear Facial Cleansing System is a machine that can be used alone on dry skin for gentle exfoliation to help renew and replenish your skin
The Royal Nectar Face Lift is a hydrating moisturizer to help your skin feel nourished and supple. The collection uses a soothing blend of antioxidant manuka honey and bee venom (very hot right now because the British Royal Family are devotees!)
T

he Royal Nectar Face Mask gives your skin a youthful re-energized glow and is suitable for all skin types
Note : When using Royal Nectar products, patch tests should be performed as these products contain actual bee venom. Anyone with bee venom sensitivities should avoid these products.
*This giveaway is open through March 16th to US residents over 18 years of age
Congratulations to Winners: ttsmitty, elizdup & TNTIBOS