Easy #SheSpeaksRecipes for Your Potluck or Tailgate Party. Plus a Travel Food Carrier Giveaway

by
SheSpeaksTeam
is this the date @ED : BlogVO [categoryId=70164, blogId=145419, blogTitle=Easy #SheSpeaksRecipes for Your Potluck or Tailgate Party. Plus a Travel Food Carrier Giveaway, publishingDate=August 29, 2018 12:00 AM, maxResponses=null, noOfComments=null, fileId=31617, blogClosingDate=null, blogCommentClosed=null, blogCategoryId=70164, queryId=0, blogCategoryIdIndex=0, sharedCategoriesList=null, blogStatusId=34, commentsClosedFlag=false, categoryIdForLog=0, blogModuleCategoryId=0, blogFileVo=null, latestCommentsList=null, verticalCatSeoURL=null, currentDate=11/27/2022, blogLink=null, authorName=SheSpeaksTeam, authorLognId=SheSpeaksTeam, authorAcctId=67580, vosTypeid=3, searchTestId=0, searchStatusId=0, searchAuthorType=0, authorBlogNumber=0, surveyData1=null, surveyData1Desc=null, surveyData2=null, surveyData2Desc=null, pullQuoteMemberId=null, filePath=null, fileName=null, vosType=0, subhead=null, offerSubhead=null, description=null, creationTime=null, authorFname=SheSpeaks, verticalCategoryId=null, sectionId=0, imageFileVO=FilesVO [fileId=31617, filePath=null, fileName=null, fileLength=0, fileWidth=0, createdBy=0, createByUser=null, creationTime=null, lastModifiedBy=0, lastModifiedByUser=null, lastModifiedTime=null, mimeType=null, fileRef=null, fileSize=0, extension=null, title=null, body=null, completeFilePath=/pages/img/redesign/blogs/buffet-974742__340 - Copy_08172018130905.jpg, height=350, width=350, maxHeight=480, maxWidth=360, displayWidth=350, displayHeight=350, fileStatusId=0, searchKeyword=null, searchFlag=false, queryId=0, isExists=true], seoURL=Easy-Potluck-Tailgate-Recipes-Travel-Food-Carrier-Giveaway, seoTitle=null, pullQuotesList=null, pullQuote=null, pullQuoteId=0, searchFlag=false, authorByLine=null, authorDesc=null, authorLink=null, authorFileVO=FilesVO [fileId=42371, filePath=null, fileName=null, fileLength=0, fileWidth=0, createdBy=0, createByUser=null, creationTime=null, lastModifiedBy=0, lastModifiedByUser=null, lastModifiedTime=null, mimeType=null, fileRef=null, fileSize=0, extension=null, title=null, body=null, completeFilePath=/pages/img/membersnaps/SheSpeaks_Logo_Symbol_Only_10182021080530.jpg, height=1777, width=1777, maxHeight=50, maxWidth=50, displayWidth=50, displayHeight=50, fileStatusId=0, searchKeyword=null, searchFlag=false, queryId=0, isExists=true], authorFileId=42371, authorType=0, storyImgFileVO=null, storyImgFileId=0, videoHtml=, authorImageFileId=0, authorImageFileVO=null, previousCategoryId=null, previousBlogStatusId=0, fromBlogDetails=0, blogCategoryName=Food, blogCategoryUrl=null, blogCategoryDesc=null, defaultImage=false, tags=null, optionIds=null, tagOptionId=null, tagId=null, tag=null, tagID=0, tagDetails=null, tagIds=null, testId=0, extBlogURL=null, extBlogStatus=0, bloggerSince=null, extBlogLimit=0, authorTestsList=[], blogURL=, blogName=, bloggerProfileId=0, sliderBlog=false, eventonHome=false, vosonHome=false, partyAndGiveawayDate=09/16/2018, imageCredit=null, pullQuoteMemId=null, offerSubHead=null, subHead=null, displayOrder=0,includeInGoogleSearch=false]
Aug 29, 2018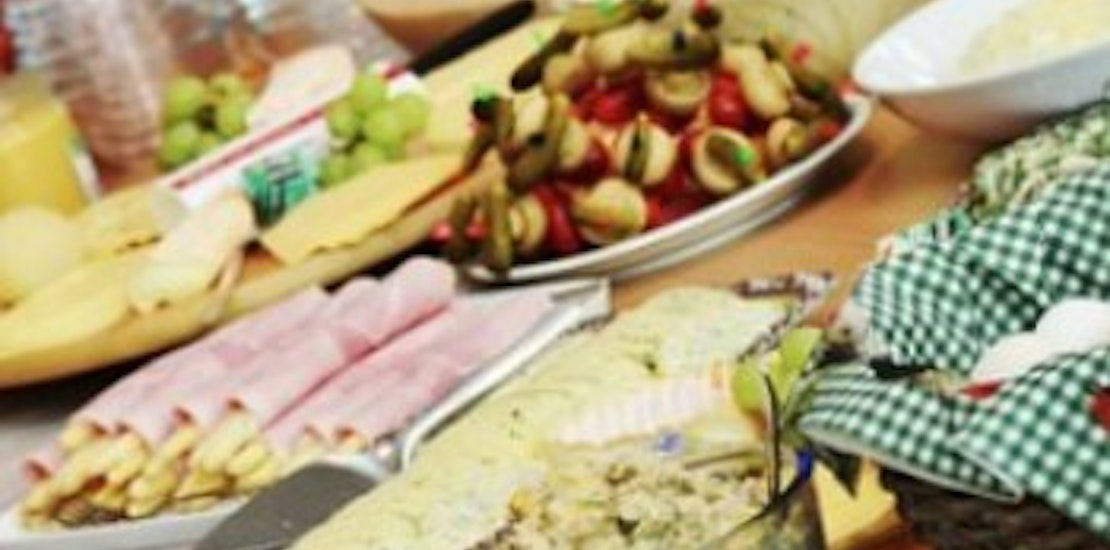 Summer may be ending, but there are still so many reasons to celebrate. Get ready to chill out this weekend at a Labor Day potluck or any fall weekend for a Game Day Tailgate. Of course, you never really need an excuse to party, just make sure there are good friends, lots of laughter, and plenty of yummy eats.
Check out the easy and delicious recipes from our members below - they are perfect to bring to any get-together. Plus, enter to win this travel food carrier with bonus containers (valued at approximately $50) to keep your food the perfect temp, wherever you take it.
Buffalo Ranch Deviled Eggs
Add spice to this party staple with your favorite buffalo or hot sauce, plus ranch dressing. This recipe, from SheSpeaks member Freesocial2011, is a great appetizer or party side. Serve them with your buffalo wings, or dress them to taste more like them, by sprinkling celery chunks, carrot bits, and blue cheese on top.
Hoagie Spread
Get the taste of a classic hoagie without having to order the 6-foot sandwich. Thanks to this recipe from 6grands, this spread is a fun way to make your guests happy. Just dice the meat and cheese, and then mix it with mayo and seasonings. Voila! Delicious!
Mac& Cheese Bites
This is the ultimate party food. Kids will think they are made for them, but adults will love them just as much. Try this recipe from trecib that turns mac & cheese into a finger food.
Southwest Salsa
T
his next dish can be served many different ways. Put it out on its own as a bean salad, with chips as a dip, or on top of burgers as a salsa. We love that you can add or remove ingredients, based on your own taste. Plus, it can be left at room temperature and it won't spoil in the heat. Get the recipe from baseballgal here.
Orzo Salad
This perfect potluck salad is made from orzo, fresh veggies and feta. If you want, add a protein to make it a more hardier side, or even serve it as a main dish option. Thanks go to shaktimom for this versatile recipe. It's simple to make, and you can vary the ingredients to your liking.
Smoky Roasted Chickpeas
If you want something simple that looks special, try these roasted chickpeas. They'll be hard to resist. The recipe by Jwyatt2328 uses smoked paprika, but feel free to add or mix different spices like cinnamon, cumin or curry. Even better - bring a few different versions, and see which one the crowd likes best.
What dish do you love to bring to a potluck or tailgate party? Tell us for the chance to win a travel food carrier!
There are four ways to enter:
Comment below and tell us about your favorite potluck or tailgate recipe.

Tweet about the giveaway: Click HERE to Tweet: "I'm ready for my potluck & tailgate parties, thx to delicious #SheSpeaksRecipes and a travel food carrier giveaway! Check it out from @SheSpeaksUp. #entry bit.ly/2NolXq8"
Submit or comment on a favorite recipe HERE (worth 5 entries).

Post on Instagram a pic showing your favorite potluck or tailgate dish (worth 5 entries). Tag #SheSpeaksRecipes, #SheSpeaks and #entry.
*One lucky commenter, Tweeter, Recipe-writer, Recipe-commenter or Instagrammer will be chosen at random to receive a Thermal Insulated Hot and Cold Food Carrier (approx value $50). Giveaway is open through September 16th, 2018 to U.S. residents at least 18 years of age. Entrants must be a member of SheSpeaks. If you are not a member, click here to join. Winner will be notified by email.
Update: Thanks to everyone for entering! Congrats to our winner, SheSpeaks member jehousel.