Colorful Cooked Spinach
submitted by csherman {19 Recipes}
Prep Time:
5 Mins
Cook Time:
10 Mins
Total Prep + Cook Time:
15 Mins
Level:
Easy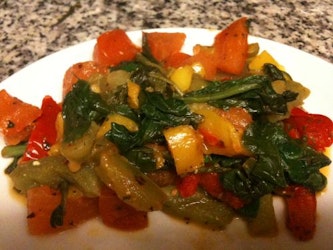 Makes: 3 servings
Description: This is a great way to get in a variety of healthy vegetables and make a pretty side dish.
Ingredients:
8 cups Fresh spinach (1 package)
1/2 Tomato
1 cup Frozen (or fresh) peppers (mixed is great)
2 Sprays Pam Olive Oil
2 tsp Parsley
2 tsp Frank's Red Hot Sauce
2 tsp Pepper (black, flavored or any variety)

Instructions: Spray a medium-large sized pan with PAM. Turn onto high heat. Add spinach, tomato, and peppers. Cook for 5-8 minutes, moving the food around. Make sure the peppers (if frozen) are hot and the spinach has shrunk and cooked down. Add the hot sauce (if you like a kick), parsley and pepper. Makes a great side dish. Feel free to add in whatever vegetables you have around!
Other recipes in side dishes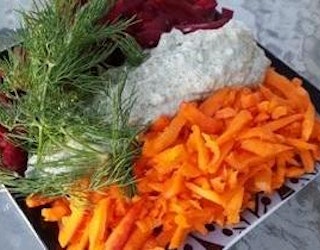 By
BLUSHVancouver
Nov 15, 2017
Vegan spread suitable for sauce, salad dressing, and dip.
Read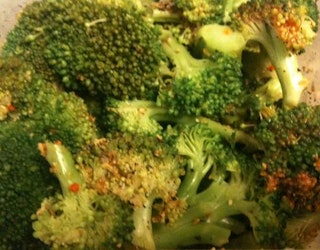 By
csherman
Oct 05, 2011
Have fresh broccoli on your hands? Here's a quick way to make it into a wonderful meal...salt free too!
Read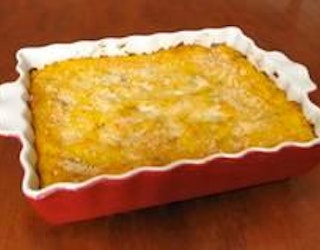 By
daddis73
Oct 22, 2012
Tender squash, gooey cheese and onions make this a memorable side dish. Even the kids will love it. This is soo different than the regular squash casse…
Read