Chrissy Teigen Posts Hilariously Real Post-Partum Pic

By
SheSpeaksTeam
May 24, 2018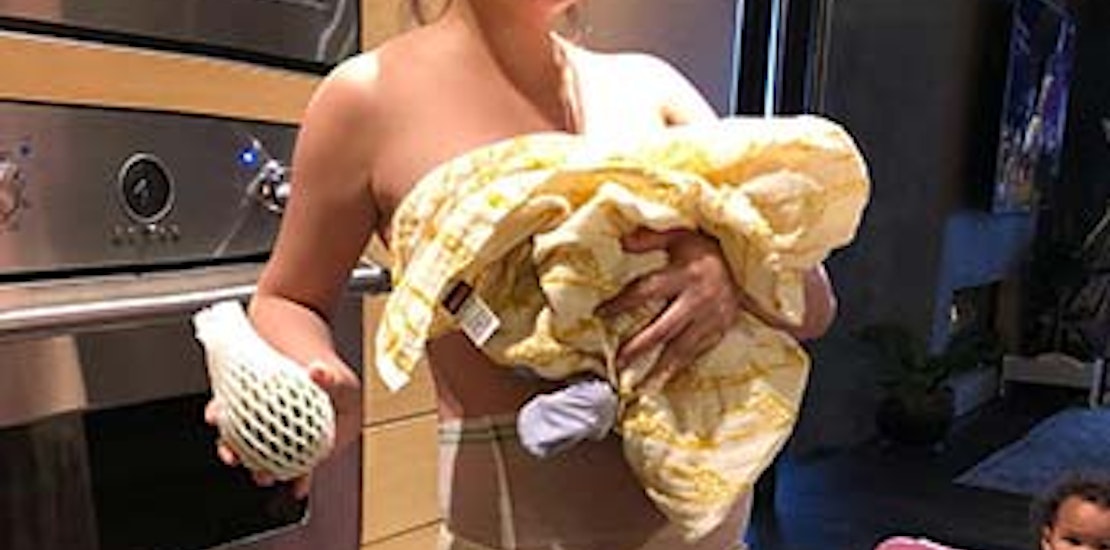 Chrissy Teigen has never shied away from sharing truths about her life, including all of the painfully honest details of motherhood. The supermodel recently gave birth to her second child and shared a very real photo on Instagram that resonating with moms everywhere.
Topless, in the middle of her kitchen, Teigen does the standing breastfeeding hold with her newborn while her toddler daughter plays in the background. Teigen is clearly wearing those not-so-stylish mesh hospital underwear new moms get after giving birth and holding up an asian pear. She captions the photo, "If you haven't seen @aliwong's new Netflix special, you are bad at picking Netflix specials #asianpearunderwear."
Ali Wong's, Hard Knock Wife, Netflix stand-up special is a follow-up to the first one she did two years ago called "Baby Cobra". For both specials, the hilariously honest Wong is very pregnant and sharing extremely relateable life events. In this new special, Wong spends a lot of time discussing the major benefits of the hospital postartum panties that keep everything together after giving birth - saying they are made of the same mesh material asian pears are wrapped in.
Well, looks like moms everywhere agree with Wong and Teigen - those postpartum underwear are a lifesaver. Simplemost reports about some of the reactions on social media to Teigen's photo and shoutout to Wong's asian pear joke. Lauren Dunn tweets a reply to Teigen saying, "My son is nearly 2 and I am STILL HOARDING the extra mesh undies I took from the hospital...in case?? Of something?" Amy Ortega replies, "Real Goddess wear mesh underwear." And Gemma Johns commends Teigan for sharing such a real un-airbrushed look at what it's like to have a new baby at home. Johns tweets, "Oh Chrissy Teigen, I am due in two weeks with my fourth and seeing you like this and normal has made me feel so much better. Thank you for keeping it real."
What do you think of Chrissy Teigen's postpartum photo?
Can you relate?
Photo: Instagram/Chrissy Teigen