Balsamic Okra
submitted by csherman {19 Recipes}
Prep Time:
10 Mins
Cook Time:
15 Mins
Total Prep + Cook Time:
25 Mins
Level:
Medium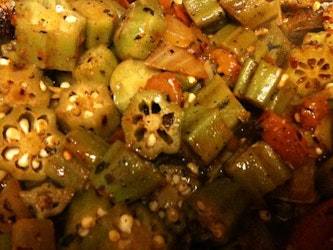 Makes: 4 servings
Description: This is an ultra tasty way to eat your vegetables. Great for reheating too.
Ingredients:
1 package frozen chopped okra
1 medium tomato
1/3 onion
3 cloves garlic
2 tsp cilantro
1/4 c fat free balsamic vinagrette
2 sprays PAM olive oil

Instructions: Cook the frozen chopped okra in the microwave, according to directions (usually it is place in a bowl, with 2 tbsp water, covered with wax paper and heated for 6 minutes). While the okra is cooking in the microwave, chop up the tomato and onion. Mince the garlic. Spray a medium sized pan with PAM and place on the stove at high heat. Add the tomato, onion and garlic. Cook these for 5 minutes, as they should be browning. Take the okra out of the micowave. Do not drain it. Instead, use a large spoon to scoop out the okra from your bowl (this keeps some of the "gooey" quality okra gives, which helps pull the recipe together). Add the scooped okra and parsley to the pan. Stir it all around and cook on medium heat. After 10 minutes, turn the heat off. Stir in the balsamic vinagrette. Serve immediately & hot!
Other recipes in side dishes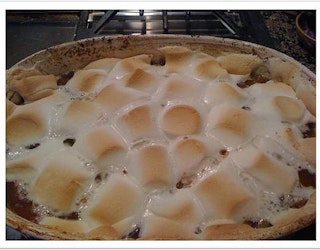 By
redluvspugs
Dec 27, 2011
So easy to make & sure to be a huge hit at your next brunch!
Read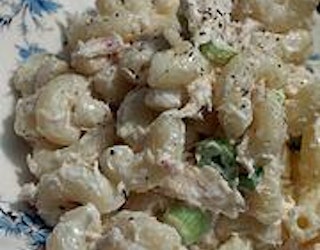 By
klafave
Feb 13, 2012
I have to make this for every function I attend and it goes fast!
Read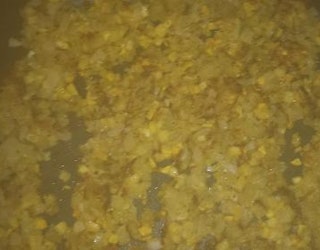 By
DesiredOne
Sep 16, 2014
My husband taught me how to make this delicious recipe. At first I was not going or it until I tried it!
Read