Back to School: The End of Week One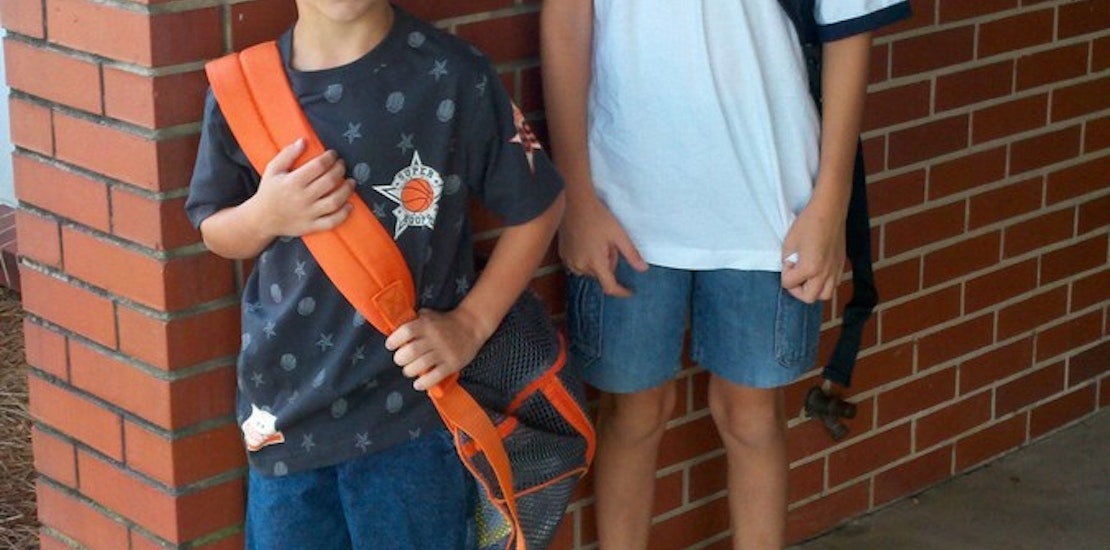 Dear Boys,
You are growing so quickly, the first week of grades 3 and 1 are complete. Don't get me wrong, it wasn't easy. In one week we've already surpassed the meltdown over what to wear, various meltdowns over bedtime, received a discipline note and been asked for yet more classroom supplies. Not only that, you've managed to cry over homework and even complete a reading test, a vocabulary test and a spelling test. Throw in a meltdown or two over what the school serves for lunch and what you deem as appropriate and heck, we may not make it through week two at this rate.
I know I'm being a bit dramatic but when I look back to my own start into third grade, I started a new school, I was left with an alarm clock to get dressed, eat breakfast, make my own lunch and catch the bus without the assistance of an adult at all. I was sent home on a school bus to a brand new babysitter for a large portion of the afternoon. There was no room for meltdowns and hysterics. I turned out ok as I continued down this path for the rest of my life. I handled my own morning woes and afternoon woes as well for that matter.
Am I doing you an injustice by being here for you? Should I back off and let you go to school dressed like you slept in your clothes? What about brushing your teeth? I have to battle you every morning, and night for that matter, to get this done, I didn't have anyone hanging around to force me to do these things, I just did it because I was suppose to before I left for school. I was 8, just like one of you.
And discipline? I never, in my entire school career brought home a note indicating that I had caused trouble during the day. Yet we didn't get past day 2 and one of you had already committed the cardinal sin. Where do we go from here? Do I let you live and learn, make your mistakes and pay for them? Or do I protect you, help you get over the rough patches although I somehow managed to do so without the assistance of a helicopter parent.
We've done our best to see that you understand the rules, both at home as well as at school. Why is it that both of you seem to feel there's some shoulder room for skating around the edges? I wasn't given any special treatment and I certainly wasn't given any room for error. Is the difference about gender? Who am I kidding, you're just two little boys, raised in a totally different generation whose parents function with a completely different style. I just can't decide if that's a good thing or if we are slighting you and leaving you open for failure in the future.
Love,
Your Sincerely Confused Mother