How to Advocate for Your Needs: Podcast Episode + Giveaway

by
SheSpeaksTeam
is this the date @ED : BlogVO [categoryId=70165, blogId=146304, blogTitle=How to Advocate for Your Needs: Podcast Episode + Giveaway , publishingDate=June 14, 2023 12:00 AM, maxResponses=null, noOfComments=null, fileId=47439, blogClosingDate=null, blogCommentClosed=null, blogCategoryId=70165, queryId=0, blogCategoryIdIndex=0, sharedCategoriesList=null, blogStatusId=34, commentsClosedFlag=false, categoryIdForLog=0, blogModuleCategoryId=0, blogFileVo=null, latestCommentsList=null, verticalCatSeoURL=null, currentDate=12/07/2023, blogLink=null, authorName=SheSpeaksTeam, authorLognId=SheSpeaksTeam, authorAcctId=67580, vosTypeid=3, searchTestId=0, searchStatusId=0, searchAuthorType=0, authorBlogNumber=0, surveyData1=null, surveyData1Desc=null, surveyData2=null, surveyData2Desc=null, pullQuoteMemberId=null, filePath=null, fileName=null, vosType=0, subhead=null, offerSubhead=null, description=null, creationTime=null, authorFname=SheSpeaks, verticalCategoryId=null, sectionId=0, imageFileVO=FilesVO [fileId=47439, filePath=null, fileName=null, fileLength=0, fileWidth=0, createdBy=0, createByUser=null, creationTime=null, lastModifiedBy=0, lastModifiedByUser=null, lastModifiedTime=null, mimeType=null, fileRef=null, fileSize=0, extension=null, title=null, body=null, completeFilePath=/pages/img/redesign/blogs/Blog Header (Blog Banner) (4)_06132023113008.jpg, height=1260, width=2240, maxHeight=480, maxWidth=360, displayWidth=360, displayHeight=202, fileStatusId=0, searchKeyword=null, searchFlag=false, queryId=0, isExists=true], seoURL=Advocating-for-Your-Needs-Mara-Glatzel, seoTitle=null, pullQuotesList=null, pullQuote=null, pullQuoteId=0, searchFlag=false, authorByLine=null, authorDesc=null, authorLink=null, authorFileVO=FilesVO [fileId=42371, filePath=null, fileName=null, fileLength=0, fileWidth=0, createdBy=0, createByUser=null, creationTime=null, lastModifiedBy=0, lastModifiedByUser=null, lastModifiedTime=null, mimeType=null, fileRef=null, fileSize=0, extension=null, title=null, body=null, completeFilePath=/pages/img/membersnaps/SheSpeaks_Logo_Symbol_Only_10182021080530.jpg, height=1777, width=1777, maxHeight=50, maxWidth=50, displayWidth=50, displayHeight=50, fileStatusId=0, searchKeyword=null, searchFlag=false, queryId=0, isExists=true], authorFileId=42371, authorType=0, storyImgFileVO=null, storyImgFileId=0, videoHtml=, authorImageFileId=0, authorImageFileVO=null, previousCategoryId=null, previousBlogStatusId=0, fromBlogDetails=0, blogCategoryName=Living, blogCategoryUrl=null, blogCategoryDesc=null, defaultImage=false, tags=null, optionIds=null, tagOptionId=null, tagId=null, tag=null, tagID=0, tagDetails=null, tagIds=null, testId=0, extBlogURL=null, extBlogStatus=0, bloggerSince=null, extBlogLimit=0, authorTestsList=[], blogURL=, blogName=, bloggerProfileId=0, sliderBlog=false, eventonHome=true, vosonHome=true, partyAndGiveawayDate=07/14/2023, imageCredit=Mara Glatzel , pullQuoteMemId=null, offerSubHead=, subHead=, displayOrder=0,includeInGoogleSearch=false]
Jun 14, 2023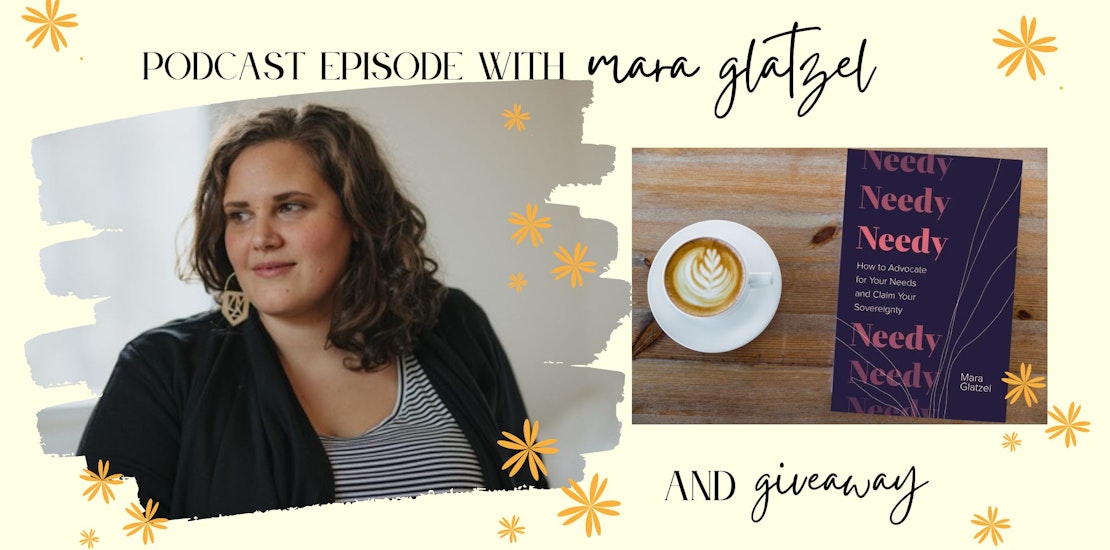 Mara Glatzel
It can be easy to forget our own needs and in the process lose sight of how to advocate for what you need from relationships and from yourself. In our latest podcast episode, we speak with Mara Glatzel, author of Needy: How to Advocate for Your Needs and Claim Your Sovereignty.

Mara shares with us how to reconnect with ourselves again, ask for what you need in a relationships, and how to rebuild a positive connection with your mind and body.

Your needs are important, and this episode will remind you of that.

Some highlights:
You can learn more about Mara by visiting her website: https://www.maraglatzel.com/.

Giveaway
Enter to win 1 of 3 prize packages. Each prize package includes a copy of
Mara's book, Needy
and a $15 Starbucks Gift Card. (Approximate value of each prize package $35.00). Complete the entries below to enter!
Podcast Giveaway: Mara Glatzel
Three lucky winners will be chosen at random to each receive a copy of the the book, Needy, and a $15 Starbucks GC Giveaway is open to U.S. residents 18 years or older. Enter through 7/14/23. Winner will be chosen randomly and notified by email. Entrants must be a member of SheSpeaks. If you are not a member, click here to join.

Thanks to all who entered! Congrats to our winners SheSpeaks members vickimarie2002, medgirl2001, and TheMaven.