13 Sweet & Spooky Ways to Celebrate Halloween #HersheyWalmartHalloween

By
SheSpeaksTeam
Oct 21, 2020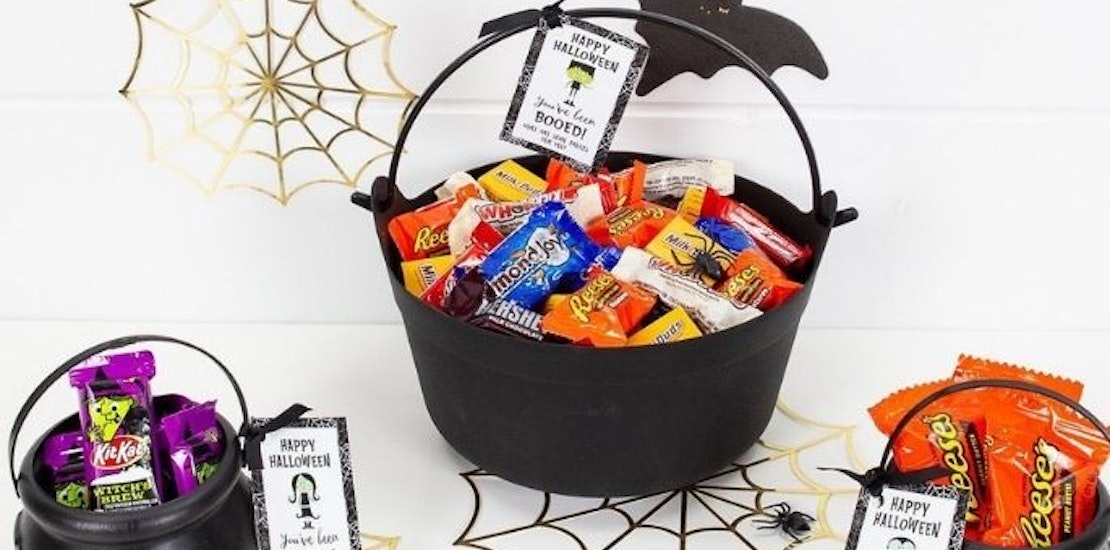 The Party Darling
This is a sponsored post on behalf of HERSHEY®. #HersheyWalmartHalloween

The SheSpeaks team is getting into the Halloween spirit, and we hope you are too! October flies by fast, so we're sharing 13 ways to keep the fun going all month long. Check out these ideas from some of our SheSpeaks influencers, then head to Walmart to stock up on everything you need.

1. Plan a Movie Night Indoor or outdoor, no movie night is complete without snacks. Pick out a few spooky flicks (or not-so-spooky ones!) and set up a tray of candy and popcorn to share. See a movie idea from Amy's Party Ideas.

2. Get Crafty with Your Candy Get creative and transform your candy into these creepy-cute Candy Spiders or 'Let Me Be Frank' brownies with REESE's Frankencups.
3. Boo Your Friends, Family & Neighbors
Ring and run, leaving behind everyone's favorite Halloween treats - HERSHEY candy! Add a little note letting your neighbors and friends know
they've been "Booed!
4. Candy Grazing Boards
A festive and sweet take on the traditional charcuterie display. Cluster candies in a variety of shapes, colors, and sizes to create a delicious
candy grazing board!
5. Countdown Gifts
This is a fun idea for your own kids or those far away. Send a box with 13 small gifts and their favorite Hershey's Halloween candy to
countdown to the big day.
6. Candy Houses
Maybe you've made your fair share of gingerbread houses, but have you tried crafting an
edible Haunted House
yet? Pro tip: KIT KAT® Witch's Brew Bars would make great roof shingles!
7. Spooky Friends & Treat Bowls
Won't be home on the 31st? Take a spooky set up like this to the front porch and let the skeleton make sure your Trick-or-Treaters are taken care of!
8. Candy Milkshakes
Is there ever a more perfect time for over-the-top kitchen creations than Halloween? Try a delicious
candy milkshake
like this one. The overflowing toppings are the best part! Bonus points if you can fit more than one REESE's Peanut Butter Pumpkin!
9. Cookie Decorating Fun
Spend some time as a family or with friends
decorating cookies
. It's not a contest… but that KIT KAT® mummy definitely wins!
10. Make a Creepy Cake
Create the best cake with this
fun, three-tiered split dessert.
It's all about presentation, so decorate with new Hershey's Vampire Kisses, then slice the cake in half to make them ooze red créme!
11. Candy Wreath
Here's a unique way to display candy for trick-or-treaters or for guests… grab one and enjoy! This
wreath doubles as decoration
and is super easy to make.
12. Halloween Gift Baskets
Surprise your kids with
Halloween gift baskets
. Why should Easter baskets get all the fun?
13. Candy Bouquet
Show the one you love how sweet you think they are with a
candy bouquet!
Or put a candy bouquet together for a cute and delicious centerpiece on your Halloween tablescape.
There are so many creative ways to enjoy this spooktacular season. Which one will you try first?