Oreo Truffles
submitted by angiedeak {1 Recipe}
Prep Time:
5 Mins
Cook Time:
20 Mins
Total Prep + Cook Time:
25 Mins
Level:
Easy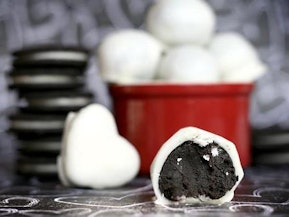 Makes: 36 truffles
Description: Chocolate covered Oreo Cream Cheese balls. YUM!
Ingredients:
1 Package Oreo Cookies (regular or mint)
1 8 oz. package cream cheese softened
1 Block white chocolate bark

Instructions: 1. Finely crush 7 cookies in a food processor or ziploc bag. Reserve for later.
2. Crush remaining cookies, stir in softened cream cheese. Use the back of a large spoon to help mash the two together.
3. Roll mixture into 1 inch balls, place on wax paper covered cookie sheet.
4. Melt chocolate as directed on the package, then dip balls into chocolate, tap off extra and set aside on wax paper covered cookie sheet to dry.
You can sprinkle the tops with the 7 crushed cookies for decoration.
5. Once dry, refrigerate & enjoy!

Notes: It helps to freeze the uncoated balls for a few minutes to get them nice and stiff & to keep the mixture from starting to fall apart in the melted chocolate. If this becomes a problem, dip them in the chocolate, let dry and then dip again.

Also good dipped in regular milk chocolate bark.
OH my goodness I need this in my life! Lol looks so yummy ! Getting hungry ...nom nom nom

By
Babychikie6405
Feb 05, 2017
Edit
These look so good and super easy to make! Can't wait to try these :-)!

By
Prettygirl01
Aug 14, 2016
Edit
Looks like a very good dessert.
These are amazing!
These are so good! There are very sweet, but so yummy and easy to make. Thanks for sharing the recipe!
I make these and a variety of other truffles at Christmas time. These are heavenly. I usually cover with milk chocolate rather than the white chocolate. Only complaint is that you have to be careful to keep them refrigerated since they contain cream cheese. And if you make multiple kinds of truffles you can't mix them or you will lose track of the ones that need to be refrigerated.
When I make this I use milk chocolate instead of white chocolate. I would have taken a picture but they were gone that quick!
I make these all the time! Easy to make and always a crowd pleaser!
Wow!! Thanks so much for sharing this great recipe!! Love it!! IT was simple to make and very tasty!! Everyone enjoyed it!! Thanks!!
these look amazing. I cannot wait to make them
Other recipes in desserts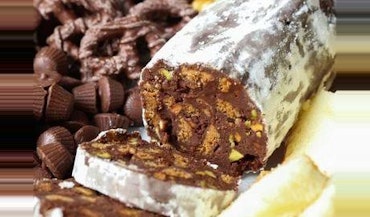 By
SusanHN
Jul 29, 2020
This Chocolate Salami Recipe is the perfect addition to a Dessert Charcuterie Board - it looks just like a real salami but is really a sweet!
Read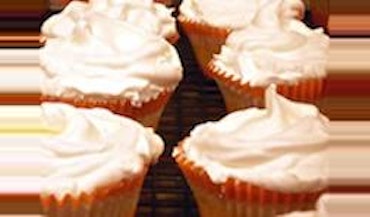 By
e_collins64
Jul 30, 2014
Very good and delicious cupcakes!
Read

By
saifaifox
Jul 01, 2014
A recipe from my grandmother, and a family favorite. Its quick to make, and super yummy.
Read