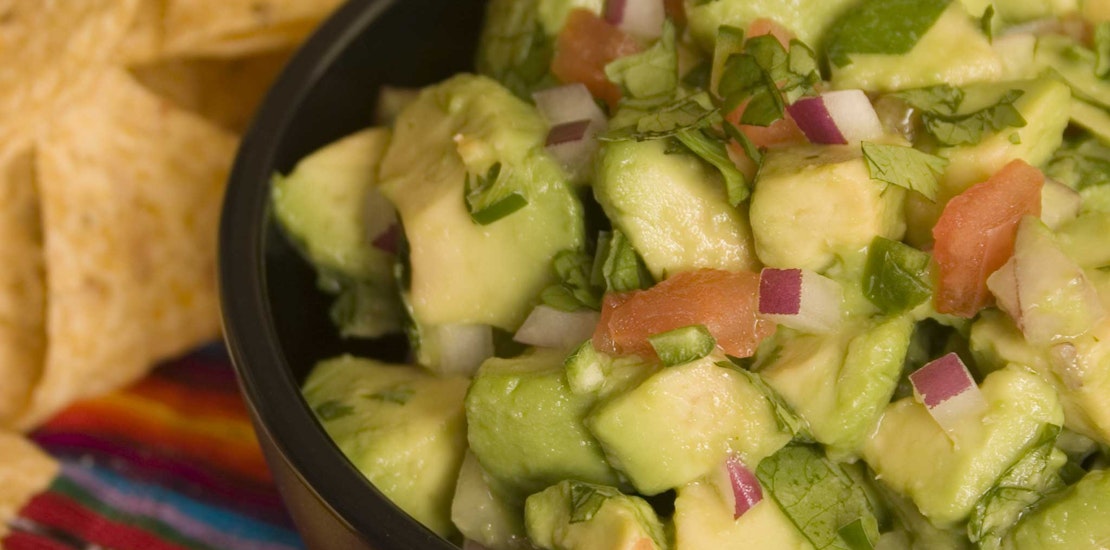 On a recent trip to San Antonio my husband and I were walking along the Riverwalk when we passed a café offering tableside guacamole. A waiter with a cart full of ingredients was chopping an avocado into a bowl of fruit juice and I was sold.
This isn't your typical avocado paste. It's a chunky colorful blend of avocados, tomatoes, and chiles. The twist is a combination of orange and lime juice ? slightly sweet, aromatic, and tangy. It's like summer in a bowl!
I've recreated the recipe for you. It's my new favorite and I hope it will be yours too.
¼ cup freshly squeezed orange juice
2 tbsp freshly squeezed lime juice
1 large or 2 medium avocados
2 roma tomatoes, roasted, peeled, seeded and diced*
½ to 1 serrano chile, roasted, seeded and minced*
¼ cup chopped fresh cilantro
Tortilla chips for dipping
Combine orange juice, lime juice and salt in a medium bowl. Stir until salt is fully dissolved. Halve the avocado(s). Remove the pit and scoop the flesh into the salted juice. Use two butter knives to ruggedly chop the avocado. This guacamole is rustic so don't worry about precise cuts. Next, stir in the diced tomatoes and chile. Add a little chile at a time so that you get just the right amount of heat. Then add the red onion and cilantro and stir to blend. The guacamole has a juicy, coarse texture that is closer to salsa than a paste.
*Roasting Tomatoes and Chiles - Line a cast iron or heavy sauté pan with aluminum foil. Heat the pan over medium high heat. Add the tomatoes and chiles to the pan. Use tongs to turn often until they are charred on all sides and starting to soften, 8 to 10 minutes. Remove from the pan and cool. When the tomatoes are cool enough to handle, peel away most of the charred skin using a sharp pairing knife. Then, slice the tomatoes in half lengthwise, scoop away the seeds and dice. When the chiles are cool, slice in half lengthwise and use the tip of your pairing knife to scrape out the seeds and ribs. Mince.