Enter the #PhilipsSatinShaver Giveaway

by
SheSpeaksTeam
is this the date @ED : BlogVO [categoryId=70163, blogId=145633, blogTitle=Enter the #PhilipsSatinShaver Giveaway, publishingDate=November 15, 2019 12:00 AM, maxResponses=null, noOfComments=null, fileId=36767, blogClosingDate=null, blogCommentClosed=null, blogCategoryId=70163, queryId=0, blogCategoryIdIndex=0, sharedCategoriesList=null, blogStatusId=34, commentsClosedFlag=false, categoryIdForLog=0, blogModuleCategoryId=0, blogFileVo=null, latestCommentsList=null, verticalCatSeoURL=null, currentDate=12/06/2021, blogLink=null, authorName=SheSpeaksTeam, authorLognId=SheSpeaksTeam, authorAcctId=67580, vosTypeid=3, searchTestId=0, searchStatusId=0, searchAuthorType=0, authorBlogNumber=0, surveyData1=null, surveyData1Desc=null, surveyData2=null, surveyData2Desc=null, pullQuoteMemberId=null, filePath=null, fileName=null, vosType=0, subhead=null, offerSubhead=null, description=null, creationTime=null, authorFname=SheSpeaks, verticalCategoryId=null, sectionId=0, imageFileVO=FilesVO [fileId=36767, filePath=null, fileName=null, fileLength=0, fileWidth=0, createdBy=0, createByUser=null, creationTime=null, lastModifiedBy=0, lastModifiedByUser=null, lastModifiedTime=null, mimeType=null, fileRef=null, fileSize=0, extension=null, title=null, body=null, completeFilePath=/pages/img/redesign/blogs/themillennialsahm_73207302_147176166647202_3718253031572091587_n_11132019131417.jpg, height=350, width=350, maxHeight=480, maxWidth=360, displayWidth=350, displayHeight=350, fileStatusId=0, searchKeyword=null, searchFlag=false, queryId=0, isExists=true], seoURL=Enter-the-PhilipsSatinShaver-Giveaway, seoTitle=null, pullQuotesList=null, pullQuote=null, pullQuoteId=0, searchFlag=false, authorByLine=SheSpeaksTeam, authorDesc=Powered by women who love to share what's HOT in reviews, deals & recipes., authorLink=null, authorFileVO=FilesVO [fileId=42371, filePath=null, fileName=null, fileLength=0, fileWidth=0, createdBy=0, createByUser=null, creationTime=null, lastModifiedBy=0, lastModifiedByUser=null, lastModifiedTime=null, mimeType=null, fileRef=null, fileSize=0, extension=null, title=null, body=null, completeFilePath=/pages/img/membersnaps/SheSpeaks_Logo_Symbol_Only_10182021080530.jpg, height=1777, width=1777, maxHeight=50, maxWidth=50, displayWidth=50, displayHeight=50, fileStatusId=0, searchKeyword=null, searchFlag=false, queryId=0, isExists=true], authorFileId=42371, authorType=0, storyImgFileVO=null, storyImgFileId=0, videoHtml=, authorImageFileId=0, authorImageFileVO=null, previousCategoryId=null, previousBlogStatusId=0, fromBlogDetails=0, blogCategoryName=Beauty & Fashion, blogCategoryUrl=null, blogCategoryDesc=null, defaultImage=false, tags=null, optionIds=null, tagOptionId=null, tagId=null, tag=null, tagID=0, tagDetails=null, tagIds=null, testId=0, extBlogURL=null, extBlogStatus=0, bloggerSince=null, extBlogLimit=0, authorTestsList=[], blogURL=, blogName=, bloggerProfileId=0, sliderBlog=false, eventonHome=false, vosonHome=false, partyAndGiveawayDate=12/16/2019, imageCredit=The Millennial SAHM, pullQuoteMemId=null, offerSubHead=null, subHead=null, displayOrder=0]
Nov 15, 2019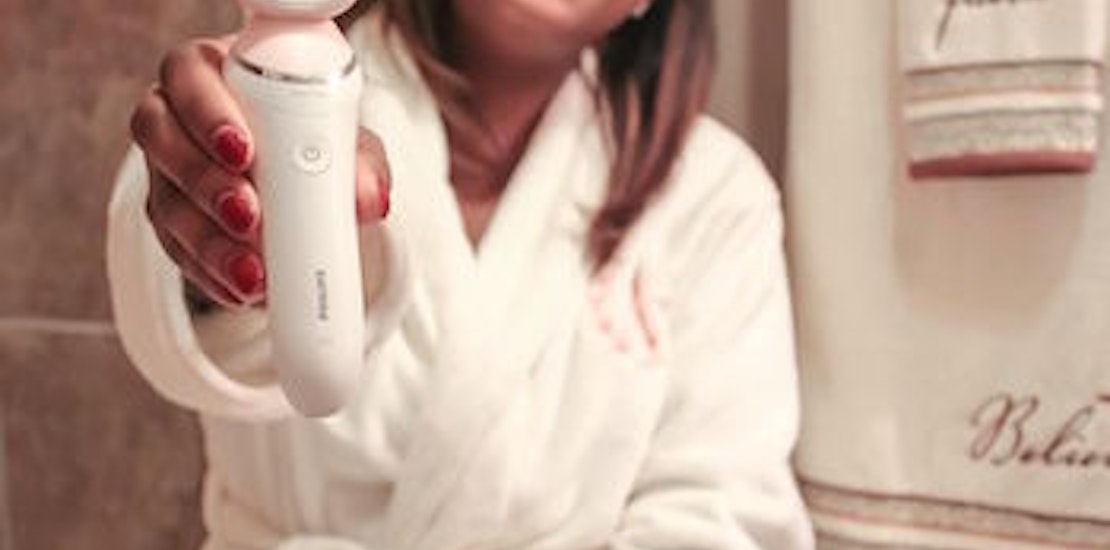 We're so excited to share a new beauty find with you – the Philips SatinShave. If you haven't tried an electric shaver before – here's what you can expect!
Philips SatinShave gives you a smooth shave with less nicks and cuts. It's especially good for sensitive skin (hooray!), because the pearl tip trimmers protect skin from irritation. You can use it wet or dry, in or out of the tub – which makes it perfect for travel (it comes in a cute travel pouch!), or days when you're running too late for a shower, but still need to shave before you're out the door. Plus, it does double duty as a bikini trimmer. We love products that make our grooming routines faster and easier, with smooth skin as a result.
We're putting Philips SatinShave on our holiday shopping lists this year – it's the perfect stocking stuffer for teenaged daughters, and might be the gift your sister or mother didn't know she needed!
You can grab Philips SatinShave here.
Watch the video below to learn why Philips SatinShave is a game-changer for dry, sensitive winter skin.
We're giving you the chance to enter to win a Philips SatinShave below!
One lucky entrant will be chosen at random to receive a Philips SatinShave Wet & Dry Women's Rechargeable Electric Shaver ($39.99 value). Giveaway is open to U.S. residents 18 years or older. Enter through December 16, 2019. Winner will be chosen randomly by Monday, December 20, 2019 and notified by email.
Update: Thanks to all who entered! Congrats to our winner, SheSpeaks member Jennoooo.