Fall Nail Color Trends 2023 + Giveaway

by
SheSpeaksTeam
is this the date @ED : BlogVO [categoryId=70163, blogId=146330, blogTitle=Fall Nail Color Trends 2023 + Giveaway , publishingDate=September 16, 2023 12:00 AM, maxResponses=null, noOfComments=null, fileId=48483, blogClosingDate=null, blogCommentClosed=null, blogCategoryId=70163, queryId=0, blogCategoryIdIndex=0, sharedCategoriesList=null, blogStatusId=34, commentsClosedFlag=false, categoryIdForLog=0, blogModuleCategoryId=0, blogFileVo=null, latestCommentsList=null, verticalCatSeoURL=null, currentDate=10/04/2023, blogLink=null, authorName=SheSpeaksTeam, authorLognId=SheSpeaksTeam, authorAcctId=67580, vosTypeid=3, searchTestId=0, searchStatusId=0, searchAuthorType=0, authorBlogNumber=0, surveyData1=null, surveyData1Desc=null, surveyData2=null, surveyData2Desc=null, pullQuoteMemberId=null, filePath=null, fileName=null, vosType=0, subhead=null, offerSubhead=null, description=null, creationTime=null, authorFname=SheSpeaks, verticalCategoryId=null, sectionId=0, imageFileVO=FilesVO [fileId=48483, filePath=null, fileName=null, fileLength=0, fileWidth=0, createdBy=0, createByUser=null, creationTime=null, lastModifiedBy=0, lastModifiedByUser=null, lastModifiedTime=null, mimeType=null, fileRef=null, fileSize=0, extension=null, title=null, body=null, completeFilePath=/pages/img/redesign/blogs/Blog Header (Blog Banner) (1)_09162023164246.jpg, height=1260, width=2240, maxHeight=480, maxWidth=360, displayWidth=360, displayHeight=202, fileStatusId=0, searchKeyword=null, searchFlag=false, queryId=0, isExists=true], seoURL=Fall-Nail-Color-Trends-2023, seoTitle=null, pullQuotesList=null, pullQuote=null, pullQuoteId=0, searchFlag=false, authorByLine=null, authorDesc=null, authorLink=null, authorFileVO=FilesVO [fileId=42371, filePath=null, fileName=null, fileLength=0, fileWidth=0, createdBy=0, createByUser=null, creationTime=null, lastModifiedBy=0, lastModifiedByUser=null, lastModifiedTime=null, mimeType=null, fileRef=null, fileSize=0, extension=null, title=null, body=null, completeFilePath=/pages/img/membersnaps/SheSpeaks_Logo_Symbol_Only_10182021080530.jpg, height=1777, width=1777, maxHeight=50, maxWidth=50, displayWidth=50, displayHeight=50, fileStatusId=0, searchKeyword=null, searchFlag=false, queryId=0, isExists=true], authorFileId=42371, authorType=0, storyImgFileVO=null, storyImgFileId=0, videoHtml=, authorImageFileId=0, authorImageFileVO=null, previousCategoryId=null, previousBlogStatusId=0, fromBlogDetails=0, blogCategoryName=Beauty & Fashion, blogCategoryUrl=null, blogCategoryDesc=null, defaultImage=false, tags=null, optionIds=null, tagOptionId=null, tagId=null, tag=null, tagID=0, tagDetails=null, tagIds=null, testId=0, extBlogURL=null, extBlogStatus=0, bloggerSince=null, extBlogLimit=0, authorTestsList=[], blogURL=, blogName=, bloggerProfileId=0, sliderBlog=false, eventonHome=true, vosonHome=true, partyAndGiveawayDate=10/01/2023, imageCredit=null, pullQuoteMemId=null, offerSubHead=, subHead=, displayOrder=0,includeInGoogleSearch=false]
Sep 16, 2023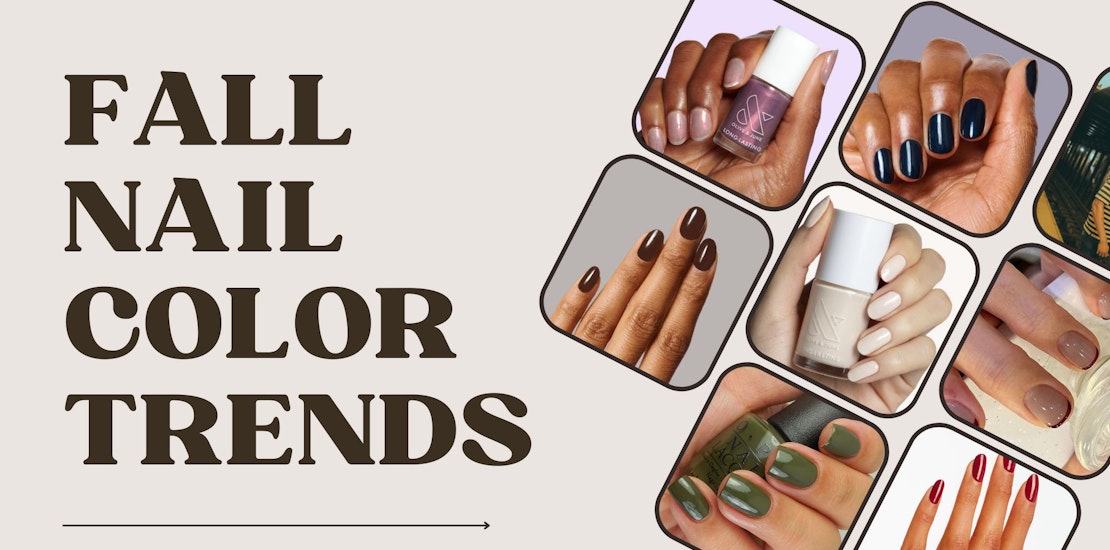 If you're ready for fall and want to swap your summery hues for some autumn-inspired shades, keep reading! To help navigate the fall 2023 nail trends, we've rounded up our favorite shades of the season. There's something for everyone. Plus, one lucky winner will have the chance to receive one of the nail colors we recommend below!

Trending shades this fall include warm and rich tones that help bring out the cozy mood of the season. You'll be seeing fun colors like olive, berry, blue and gray coming back into style.

Olive & Sage Shades
Any colors in these subtle green & earthy hues will be a hit this fall. We love OPI - Suzi The First Lady of Nails. This olive shade makes a fantastic neutral for fall and winter.

Going Gray
Shades of gray are making a comeback this fall. Gray tones look great on so many skin tones and also go with any outfit. We are loving
Deborah Lippmann - Grey Day
and
OPI Clean Slate
Shades of Red Wine
While this isn't exactly a new trend, deep red wine shades seem to be always come around at this time of year! Wine tones tend to be easier for everyone to pull off than a true red. We suggest
OPI Malaga Wine
as a great go-to this fall.
Rich Brown Shades
From chocolate browns to latte hues, you can't go wrong with shades of brown. A great neutral on my skin tones, you should look to add one of these rich shades to your fall nail shade lineup. We love
CN from Olive & June
. Coincidentally, named for
Candace Nelson, founder of Sprinkles Cupcakes and SheSpeaks podcast guest
-
listen here!
Milky Whites
This trend isn't going anywhere and you can pick a color that works well with your skin tone - true white, off-white and shades that lean into beige. We love
OPI Funny Bunny
and
Olive & June It's Chilly!
Midnight Blues
Trade the spring and summer light blues for an inky shade of navy or deep blue.
Olive & June HJ
works well with most skin tones and fall wardrobe palettes.
Nearly Naked
While not a shade, these nude, sheer shades are really popular right now. You can go for a glossy, chrome or matte finish, but they work well with all palettes, are long-lasting, wear well and transcend seasons. We LOVE
Olive & June's Mermaid Hair.

Which shade is your favorite for Fall? Tell us in the comments below and be sure to enter to WIN your choice of any of the nail polish shades featured in this article.
Fall Nail Color Trends 2023
One lucky winner will be chosen at random to receive their choice of nail polish shade featured in the article (valued at between $5-20 depending on selection) Giveaway is open to U.S. residents 18 years or older. Enter through October 9, 2023. Winner will be chosen randomly and notified by email. Entrants must be a member of SheSpeaks. If you are not a member, click
here
to join.