Bakery Style Chocolate Chip Cookies
submitted by Aquariun {2 Recipes}
Prep Time:
15 Mins
Cook Time:
15 Mins
Total Prep + Cook Time:
30 Mins
Level:
Easy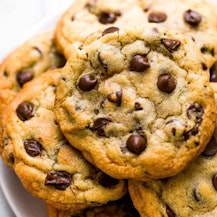 Photo Source: https://www.handletheheat.com/bakery-style-chocolate-chip-cookies/
Makes: 26 26
Description: I love to bake chocolate chip cookies with my kids using the following recipe. It's easy and delicious.
Ingredients:
3 cups All purpose flour
1 teaspoon Baking soda
1 teaspoon Fine sea salt
2 stick Unsalted butter at room temperature
1/2 cup Granulated sugar
11/4 cup Brown sugar
2 teaspoon Vanilla
2 Large eggs
2 cups Semi sweet Chocolate chips

Instructions: Preheat oven to 350ºF. Line baking sheets with parchment paper.

In a medium bowl combine the flour, baking soda, and salt.

In the bowl of an electric mixer beat the butter, granulated sugar, and brown sugar until creamy, about 2 minutes. Add the vanilla and eggs. Gradually beat in the flour mixture. Stir in the chocolate chips.

If time permits, wrap dough in plastic wrap and refrigerate for at least 24 hours but no more than 72 hours. This allows the dough to ?marinate? and makes the cookies thicker, chewier, and more flavorful. Let dough sit at room temperature just until it is soft enough to scoop.

Divide the dough into 3-tablespoon sized balls using a large cookie scoop and drop onto prepared baking sheets.

Bake for 12-15 minutes, or until golden brown. Cool for 5 minutes before removing to wire racks to cool completely.
Other recipes in desserts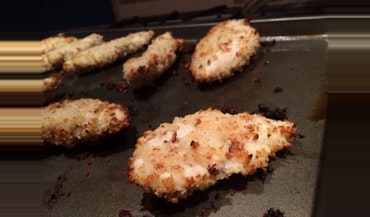 By
TheNativeLoon
Apr 02, 2015
A healthier take on a kid-friendly classic! The panko/almond breading mixture gives the chicken a light yet satisfyingly crunchy texture.
Read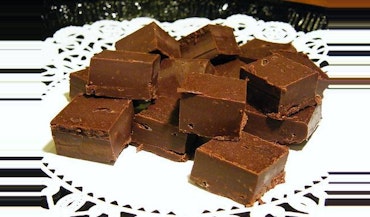 By
satrntgr
Dec 27, 2011
An easy and yummy fudge for any time of year, and a great one to give as a gift!!
Read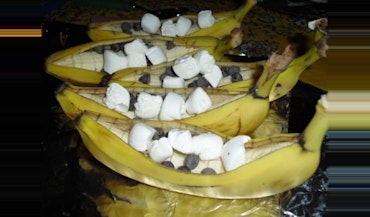 By
DarkhHorseDesigns
May 29, 2012
Finish off your meal with this foil wrapped dessert that is quick and easy. All you have to do is lay out some foil, assemble the recipe, seal the foil p…
Read