#Basic | OGX Tsubaki Blossom Haircare Review + Giveaway! #SheSpeaksTV

by
SheSpeaksTeam
is this the date @ED : BlogVO [categoryId=70163, blogId=144783, blogTitle=#Basic | OGX Tsubaki Blossom Haircare Review + Giveaway! #SheSpeaksTV, publishingDate=July 07, 2016 12:00 AM, maxResponses=null, noOfComments=null, fileId=27502, blogClosingDate=null, blogCommentClosed=null, blogCategoryId=70163, queryId=0, blogCategoryIdIndex=0, sharedCategoriesList=null, blogStatusId=34, commentsClosedFlag=false, categoryIdForLog=0, blogModuleCategoryId=0, blogFileVo=null, latestCommentsList=null, verticalCatSeoURL=null, currentDate=01/27/2023, blogLink=null, authorName=SheSpeaksTeam, authorLognId=SheSpeaksTeam, authorAcctId=67580, vosTypeid=3, searchTestId=0, searchStatusId=0, searchAuthorType=0, authorBlogNumber=0, surveyData1=null, surveyData1Desc=null, surveyData2=null, surveyData2Desc=null, pullQuoteMemberId=null, filePath=null, fileName=null, vosType=0, subhead=null, offerSubhead=null, description=null, creationTime=null, authorFname=SheSpeaks, verticalCategoryId=null, sectionId=0, imageFileVO=FilesVO [fileId=27502, filePath=null, fileName=null, fileLength=0, fileWidth=0, createdBy=0, createByUser=null, creationTime=null, lastModifiedBy=0, lastModifiedByUser=null, lastModifiedTime=null, mimeType=null, fileRef=null, fileSize=0, extension=null, title=null, body=null, completeFilePath=/pages/img/redesign/blogs/ec49c17e-0c3e-4e51-937c-882aeef15fcd_07062016161206.jpg, height=350, width=350, maxHeight=480, maxWidth=360, displayWidth=350, displayHeight=350, fileStatusId=0, searchKeyword=null, searchFlag=false, queryId=0, isExists=true], seoURL=-Basic-OGX-Tsubaki-Haircare-Review-Giveaway-SheSpeaksTV, seoTitle=null, pullQuotesList=null, pullQuote=null, pullQuoteId=0, searchFlag=false, authorByLine=null, authorDesc=null, authorLink=null, authorFileVO=FilesVO [fileId=42371, filePath=null, fileName=null, fileLength=0, fileWidth=0, createdBy=0, createByUser=null, creationTime=null, lastModifiedBy=0, lastModifiedByUser=null, lastModifiedTime=null, mimeType=null, fileRef=null, fileSize=0, extension=null, title=null, body=null, completeFilePath=/pages/img/membersnaps/SheSpeaks_Logo_Symbol_Only_10182021080530.jpg, height=1777, width=1777, maxHeight=50, maxWidth=50, displayWidth=50, displayHeight=50, fileStatusId=0, searchKeyword=null, searchFlag=false, queryId=0, isExists=true], authorFileId=42371, authorType=0, storyImgFileVO=null, storyImgFileId=0, videoHtml=, authorImageFileId=0, authorImageFileVO=null, previousCategoryId=null, previousBlogStatusId=0, fromBlogDetails=0, blogCategoryName=Beauty & Fashion, blogCategoryUrl=null, blogCategoryDesc=null, defaultImage=false, tags=null, optionIds=null, tagOptionId=null, tagId=null, tag=null, tagID=0, tagDetails=null, tagIds=null, testId=0, extBlogURL=null, extBlogStatus=0, bloggerSince=null, extBlogLimit=0, authorTestsList=[], blogURL=, blogName=, bloggerProfileId=0, sliderBlog=false, eventonHome=false, vosonHome=false, partyAndGiveawayDate=07/19/2016, imageCredit=null, pullQuoteMemId=null, offerSubHead=null, subHead=null, displayOrder=0,includeInGoogleSearch=false]
Jul 07, 2016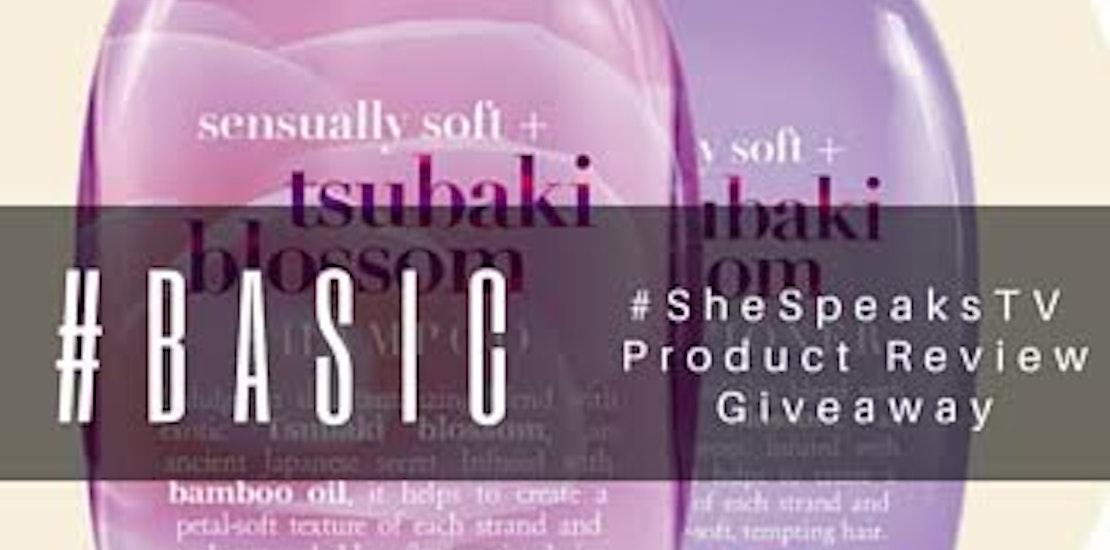 #Basic alert! We all have those everyday products that make our lives a little easier. Check out our review of one of our favorite haircare products, OGX Tsubaki Blossom shampoo and conditioner! The exotic Japanese OGX Tsubaki Blossom shampoo combines the rich elements of Tsubaki Blossom and bamboo oil to leave your hair feeling silky and touchably-soft. With visible results after just a few washes, this product repairs damaged hair and maintains natural oils that leave your hair looking and feeling better with each use. Fruity & floral scented hair is an extra perk too! Curious and looking for some new haircare for the dry summer heat? Try Tsubaki Blossom shampoo and conditioner & be sure to tell us all about it in the comments below!
Enter for a chance to win an OGX Tsubaki Blossom shampoo and conditioner!
How to enter:
STEP 1: Watch the video here!
STEP 2: Comment on the video and let us know what your favorite haircare product is!
(only comments on the YouTube video will count as entries, not comments on this post)
OR
Share the video with your friends!
Click here to tweet: "I entered the #SheSpeaksTV Giveaway for a chance to win @OGXBeauty Tsubaki Shampoo and Conditioner! #TsubakiBlossomReview bit.ly/29jtxyI"
About SheSpeaksTV: Our videos are created by women, for women. At SheSpeaksTV, we're handing you the microphone to talk about issues that are important to you and to provide you with lifestyle tips on everything from beauty to parenting. Stay for awhile & join the conversation!
One lucky YouTube Commenter (or Tweeter) will be chosen at random to recieve OGX Tsubaki Blossom shampoo and conditioner. Giveaway is open to U.S. residents 18 years or older. Enter through 7/19, winner will be chosen randomly by 7/21 and notified through email.