Would You Survive the Zombie Apocalypse?

By
SheSpeaksTeam
Sep 16, 2012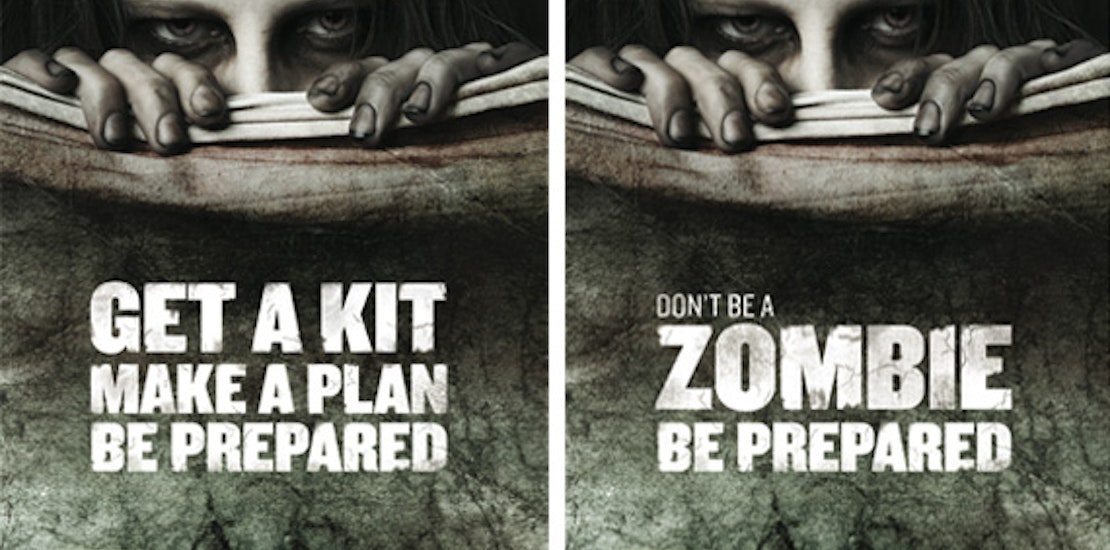 If watching too many zombie movies has ever led you to wonder what you would do during an actual zombie apocalypse, the CDC has some helpful tips to keep you safe. In an attempt to reach out to a younger audience, the tongue-in-cheek campaign teaches all about emergency preparedness and how important it is to have a few things on hand in case the unexpected happens.
Danta Randazzo, of FEMA's individual and community preparedness division, was recently quoted by ABC News explaining why the CDC's zombie apocalypse campaign is a genius way to teach massive audiences about how to be prepared during an emergency. Randazzo says, "Zombie-preparedness messages and activities have proven to be an effective way of engaging new audiences, particularly young people who are not familiar with what to do before, during or after a disaster. It's also a great way to grab attention and increase interest in general."
$PullQuote$The CDC's zombie apocalypse campaign offers tips to keep you prepared like always keep an emergency kit with food, water, medications, and an extra change of clothes. They also advise to have an evacuation route planned out in case you need to leave spontaneously and also choose a place to regroup after the chaos has settled. As it turns out, the zombie apocalypse tips work with a lot of different types of emergencies we hope to never face.
Since the CDC launched the campaign last year, a number of zombie apocalypse copycat campaigns have sprung up in health departments, universities, libraries, and Canada's version of the CDC. One of the creators of the original CDC zombie campaign, Maggie Silver, explains why the idea has spread and been so successful. Silver says, "People were starting to realize they need to work outside the box a little bit and try some new ideas. They saw the CDC as an example of something that worked. We're all trying to get our message out there."
What do you think of the zombie apocalypse emergency preparedness campaign originally launched by the CDC?
Have you taken any steps to keep you and your family safe during an unforeseen emergency?