Four Tips for Decorating Your Holiday Table - Enter our Jennifer Convertibles #DiningGiveaway

by
SheSpeaksTeam
is this the date @ED : BlogVO [categoryId=70165, blogId=144490, blogTitle=Four Tips for Decorating Your Holiday Table - Enter our Jennifer Convertibles #DiningGiveaway, publishingDate=October 28, 2015 12:00 AM, maxResponses=null, noOfComments=null, fileId=24641, blogClosingDate=null, blogCommentClosed=null, blogCategoryId=70165, queryId=0, blogCategoryIdIndex=0, sharedCategoriesList=null, blogStatusId=34, commentsClosedFlag=false, categoryIdForLog=0, blogModuleCategoryId=0, blogFileVo=null, latestCommentsList=null, verticalCatSeoURL=null, currentDate=06/10/2023, blogLink=null, authorName=SheSpeaksTeam, authorLognId=SheSpeaksTeam, authorAcctId=67580, vosTypeid=3, searchTestId=0, searchStatusId=0, searchAuthorType=0, authorBlogNumber=0, surveyData1=null, surveyData1Desc=null, surveyData2=null, surveyData2Desc=null, pullQuoteMemberId=null, filePath=null, fileName=null, vosType=0, subhead=null, offerSubhead=null, description=null, creationTime=null, authorFname=SheSpeaks, verticalCategoryId=null, sectionId=0, imageFileVO=FilesVO [fileId=24641, filePath=null, fileName=null, fileLength=0, fileWidth=0, createdBy=0, createByUser=null, creationTime=null, lastModifiedBy=0, lastModifiedByUser=null, lastModifiedTime=null, mimeType=null, fileRef=null, fileSize=0, extension=null, title=null, body=null, completeFilePath=/pages/img/redesign/blogs/thanksgiving-dinner-istock_10262015120948.jpg, height=300, width=450, maxHeight=480, maxWidth=360, displayWidth=360, displayHeight=240, fileStatusId=0, searchKeyword=null, searchFlag=false, queryId=0, isExists=true], seoURL=Win-Dining-Furniture-from-Jennifer-Convertibles-Enter-our-FurnitureGiveaway, seoTitle=null, pullQuotesList=null, pullQuote=null, pullQuoteId=0, searchFlag=false, authorByLine=null, authorDesc=null, authorLink=null, authorFileVO=FilesVO [fileId=42371, filePath=null, fileName=null, fileLength=0, fileWidth=0, createdBy=0, createByUser=null, creationTime=null, lastModifiedBy=0, lastModifiedByUser=null, lastModifiedTime=null, mimeType=null, fileRef=null, fileSize=0, extension=null, title=null, body=null, completeFilePath=/pages/img/membersnaps/SheSpeaks_Logo_Symbol_Only_10182021080530.jpg, height=1777, width=1777, maxHeight=50, maxWidth=50, displayWidth=50, displayHeight=50, fileStatusId=0, searchKeyword=null, searchFlag=false, queryId=0, isExists=true], authorFileId=42371, authorType=0, storyImgFileVO=null, storyImgFileId=0, videoHtml=, authorImageFileId=0, authorImageFileVO=null, previousCategoryId=null, previousBlogStatusId=0, fromBlogDetails=0, blogCategoryName=Living, blogCategoryUrl=null, blogCategoryDesc=null, defaultImage=false, tags=null, optionIds=null, tagOptionId=null, tagId=null, tag=null, tagID=0, tagDetails=null, tagIds=null, testId=0, extBlogURL=null, extBlogStatus=0, bloggerSince=null, extBlogLimit=0, authorTestsList=[], blogURL=, blogName=, bloggerProfileId=0, sliderBlog=false, eventonHome=false, vosonHome=false, partyAndGiveawayDate=11/15/2015, imageCredit=null, pullQuoteMemId=null, offerSubHead=null, subHead=null, displayOrder=0,includeInGoogleSearch=false]
Oct 28, 2015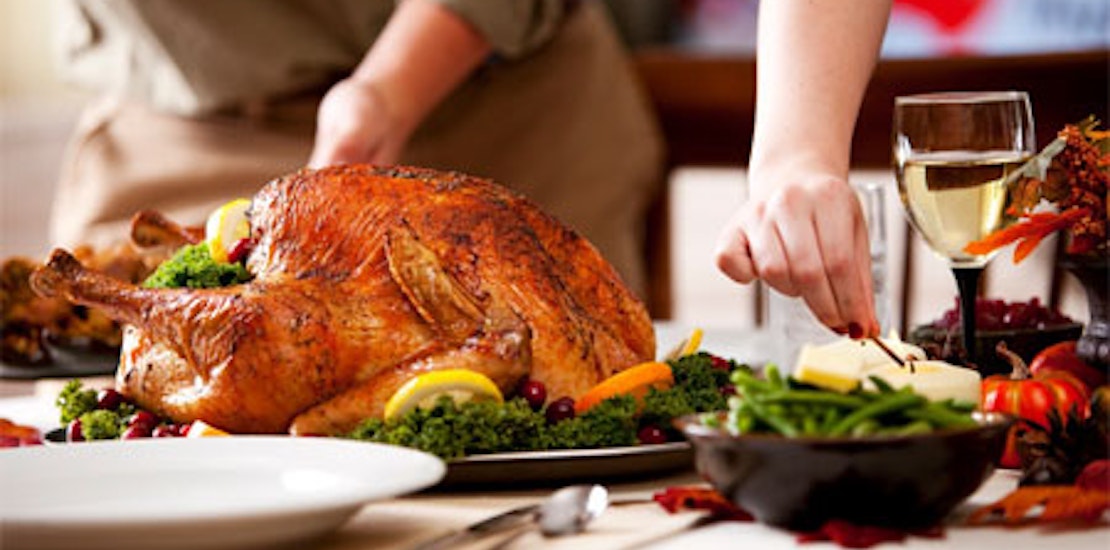 With the holidays around the corner, it's time to start thinking about how you're going to decorate the table. Better yet, sharing the tips below offers the chance to win a dining set of your own from Jennifer Convertibles!
Whether you're hosting Thanksgiving, Christmas or Hanukkah dinner, there are simple things you can do to create a festive energy. Here are four easy tips from Oprah.com that we think are pretty great:
Step 1: Punch up the centerpiece
"Save money on flowers & table decorations by combining the bar and the centerpiece. Set up a beautiful punch bowl in the center of the table - it makes a great-looking decoration, and people can serve themselves drinks. Put fruit, edible flowers or large frozen chunks of ice in it, and surround with votives." (Linnea Johannsson, Perfect Parties: Recipes and Tips from a New York Party Planner)
Step 2: Mix and match your china
"Pair your fancier dishes with vintage plates, to have a colorful, fun look that doesn't feel too stuffy." (Cheryl Najafi, You're So Invited: Panic Less, Play More and Get Your Party On) If you're using disposable, feel free to combine patterns or vary colors!
Step 3: Find quirky things to put flowers in
Instead of traditional vases, recycle quirky bottles to put flowers in like - mustard jars, glass beer or tequilla bottles - "Soak the labels off and they become the perfect thing to hold flowers because they're low and your guests can still talk over the arrangements." (Cornelia Guest, Cornelia Guest's Simple Pleasures: Healthy Seasonal Cooking and Easy Entertaining)
Step 4: Don't just decorate the table
Think about the whole dining room: "Greenery, autumn leaves, twigs, pumpkins and squash, accented with strings of tiny white lights, can adorn the top of china cabinets, bookcases or the mantel over the hearth. They create an overall effect that is both seasonal and hosptible!" (Christy Rost, Celebrating Home: A Handbook for Gracious Living)
Ready to decorate your own holiday table? We are so excited to announce another fabulous giveaway with Jennifer Convertibles exclusively for SheSpeaks members!
In partnership with Jennifer Convertibles, a leader in the home furnishings industry, we're giving away one of three beautiful dining sets, valued from $299 to $769 including delivery (surcharges may apply). Options include three contemporary designs, one of which you are sure to find perfect for your home.
The three sets of dining furniture featured in our lastest giveaway include:
The "Walnut" dining table with 4 chairs is modern and chic, offering a removable 18" extension leaf to accommodate extra space when you have guests.
The "Lacey" dining room collection features faux marble combined with a rustic tone that is sure to add a sophisticated style to any dining room. It comes with four upholstered chairs with stitching and a button tufting to compliment the design.
The "Cimeran" dining collection features a stepped table top design grid style chair back that creates a contemporary look and is perfect for a family of four.
How to enter:
- Comment below telling us which dining set you want to win and why.
- For a bonus entry: Click here to Tweet: "I'm entering the @SheSpeaksUp & @JenniferConvNY #DiningGiveaway bit.ly/1k7kLId"
One lucky winner will be chosen at random on November 15th. Entrants must be a member of SheSpeaks to login and comment.
Rules of giveaway: Jennifer Convertibles will provide delivery, based on availability and can take up to 8 weeks once winner is notified and dining set is selected, depending on location/availability - surcharges may apply (disassembly for small entryways.) Continental U.S. only. Winner can not choose monetary value - furniture only.
Congrats to winner emolie27!