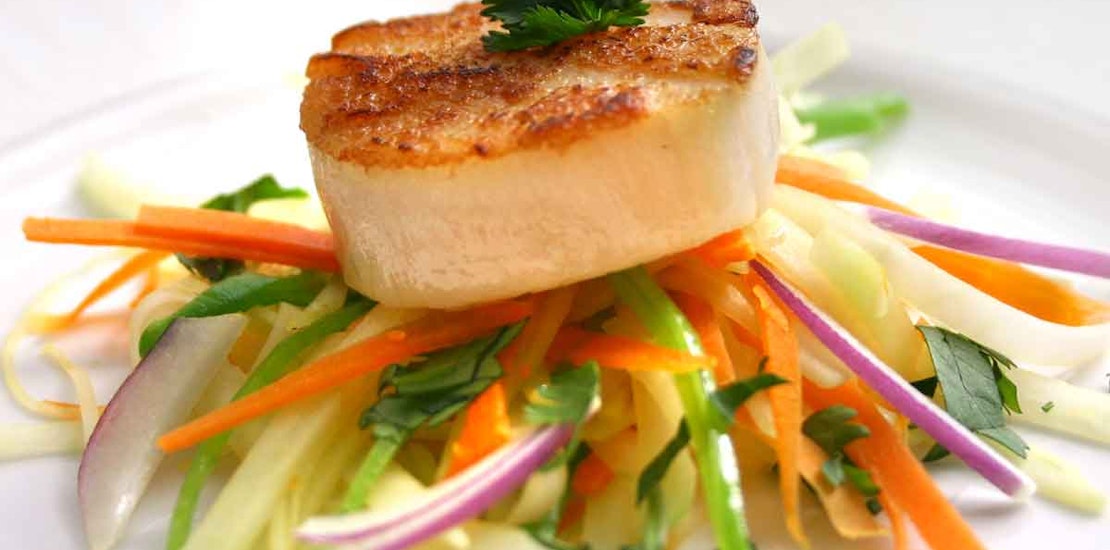 Pan-seared scallops are a quick and elegant dinner option for hot summer nights when you don't want to heat up the kitchen. I have paired them with a lively and colorful Green Papaya Slaw. I love this combination, especially when I pair the dish with a crisp glass of Sauvignon Blanc.
Years ago while working on a conference in Hawaii I was introduced to green papaya. Our chef would prepare delicious salads with Thai-inspired dressings almost every night. It was exotic and refreshing, really unlike anything I had tried before. From that point on, I was hooked.
Green papaya is just that, unripe papaya. The texture is crisp and chewy, like a cross between a firm seedless cucumber and an unripe melon. The flavor is mild and slightly vegetative; nothing like the musky-sweet flavor of the ripe version.
To prepare green papaya, peel the skin away with a paring knife, then halve the papaya lengthwise and scoop out the immature white seeds. You should be able to find it in most Asian markets but if you don't have one nearby you can try substituting jicama or even honey dew melon for the green papaya in this recipe.
Pan Seared Scallops with Green Papaya Slaw
For the Green Papaya Slaw
2 cups grated or fine julienne green papaya
½ cup grated or fine julienne carrots
½ cup blanched, refreshed and fine julienne snow peas
¼ cup thinly sliced red onion
¼ cup coarsely chopped fresh cilantro
2 tablespoons white balsamic vinegar or rice vinegar
4 tablespoons lime-flavored olive oil*
2 tablespoons peanut or canola oil
salt and black pepper to taste
fresh cilantro sprigs for garnish (optional)
lime zest for garnish (optional)
To make the slaw, combine green papaya, carrots, snow peas, red onion and cilantro in a mixing bowl. Add vinegar and olive oil, toss to combine. Season with salt. Refrigerate for 1 hour.
In a large frying pan over medium-high heat, warm the peanut oil. Season scallops with salt and black pepper. Add scallops to pan and sear, turning once, until golden brown, about 2 to 3 minutes per side.
Divide slaw between 4 chilled salad plates. Divide the scallops among the plates, placing them on the slaw. Garnish with cilantro sprigs or lime zest.
I originally created this dish for Buscador Wine's 2008 Sauvignon Blanc but it would pair well with almost any Sauvignon Blanc that has good acidity and bright citrus flavors.
*
The lime flavored olive oil is what really makes this dish come together. If you can't find it in your local market, try steeping a tablespoon of lime zest in olive oil over medium-low heat for 10 minutes. Strain out the zest before making the slaw.
Have you ever tried green papaya? What is your favorite way to prepare scallops?