Shrimp Veracruz = 'Vera' Delicious Cinco de Mayo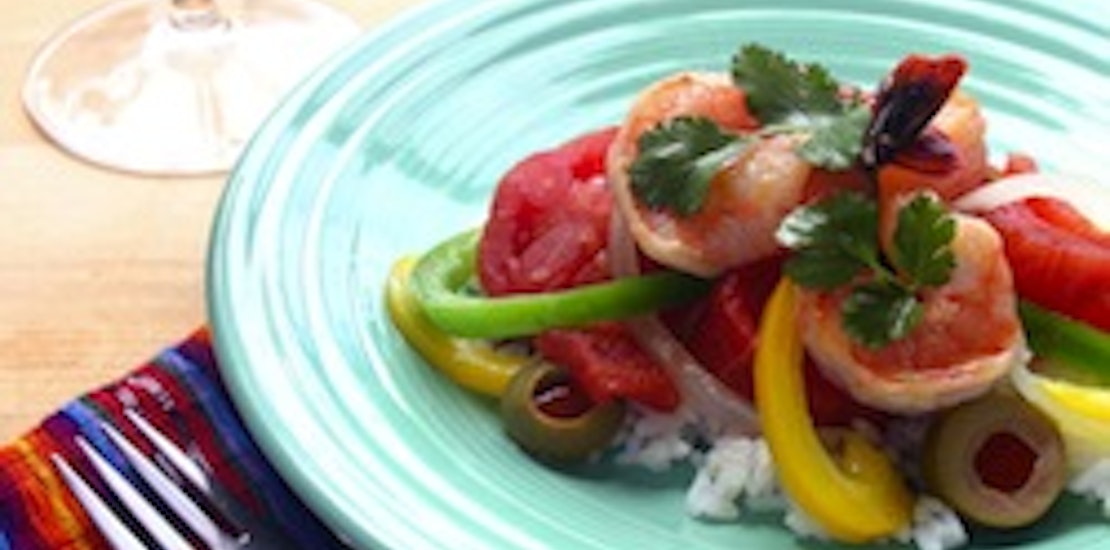 I've just returned from a visit to Arizona so my taster is up for Mexican food. With Cinco de Mayo just around the corner, I thought it would be a perfect time to share one of my favorite Mexican dishes ? Shrimp Veracruz.
Veracruz, located on the gulf coast, is one of Mexico's oldest and largest port cities. Hernán Cortés established it as the first Spanish colony nearly five hundred years ago. Known for abundant seafood and a rich culinary history, Veracruz is a melting pot with influences from Spain to the Caribbean.
Huachinango a la Veracruzana (Snapper Veracruz), a signature dish of the area, demonstrates these influences with its blend of local fruits and vegetables (tomatoes, chili peppers) and Spanish ingredients (olive oil, garlic and olives). I've substituted shrimp for the traditional red snapper, but this sauce is so vibrant that you could serve it with chicken or without the shrimp as a vegetarian dish.
Shrimp Veracruz is a gorgeous dish filled with color and texture, and you want to know the best part? You can make in no time at all! The whole thing takes about 20 minutes. So, ask a friend to have a margarita ready for you because you'll be ready to celebrate Pronto! Happy Cinco de Mayo.


Camarones a la Veracruzana (Shrimp Veracruz)
Ingredients:
2 tbsp olive oil
1 large green bell pepper, cut into thin strips
1 large yellow bell pepper, cut into thin strips
1 medium white onion, cut in half and sliced (about 1 ½ cups)
1 clove garlic, crushed
2 (14.5-oz) cans stewed tomatoes
1/4 cup sliced pimento-stuffed olives
1/4 green jalapeño pepper sauce or green taco sauce
1/2 tsp Mexican Oregano
2 tbsp lime juice
1/2 tsp salt
1 pound medium shrimp, peeled and deveined
1/4 cup chopped cilantro
3 cups cooked white rice
cilantro sprigs for garnish
Method:
Heat oil in a 12-inch skillet over medium heat; add bell peppers and onion and cook until tender-crisp, about 5 minutes. Stir in garlic and cook 2 minutes.
Add tomatoes with their liquid, olives, green sauce, lime juice, salt and bring to a boil. Add shrimp, reduce heat to low, cover, and simmer 3 to 5 minutes, until shrimp is pink, stirring occasionally.
Stir in chopped cilantro. Serve with rice and garnish with cilantro sprigs.