Should Your Cheese Come With a Breast Cancer Warning Label?

By
SheSpeaksTeam
Oct 16, 2019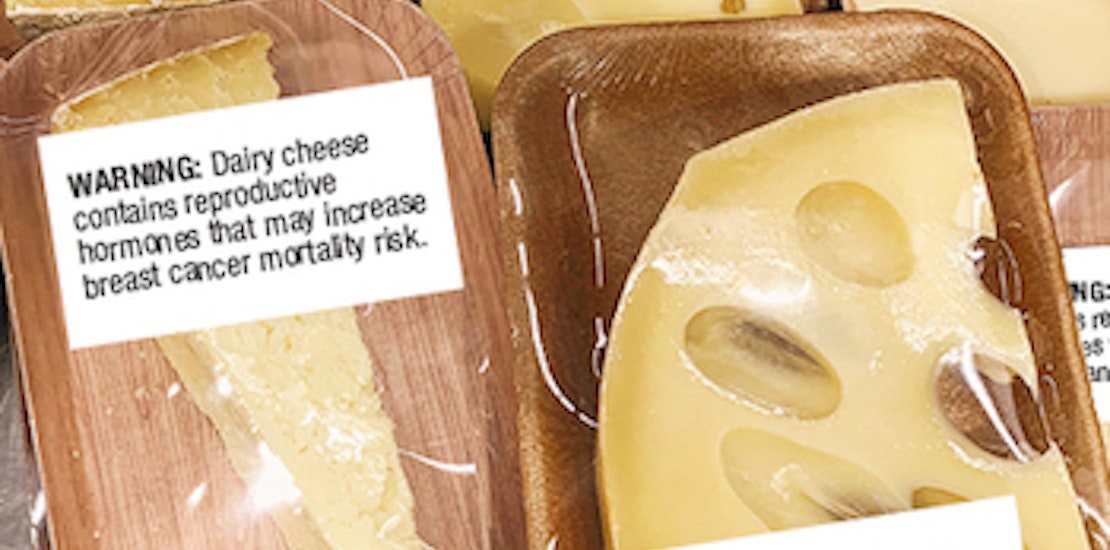 Physicians Committee for Responsible Medicine
National Breast Cancer Awareness Month often comes with the benefit of new tips, research and studies to help women detect and prevent breast cancer early. A well-known and easy prevention route is to maintain a healthy lifestyle and eat foods that are rich in anti-oxidants. One of the foods that experts are now recognizing as high-risk is something beloved by many...cheese. (Cue sad face emojis everywhere).
Consumer Affairs reports about a new push from scientists to have breast cancer risk warning labels placed on cheese products as a way to let women know that the food has been linked to higher breast cancer mortality rates. A group of about 12,000 medical professionals, known as The Physicians Committee for Responsible Medicine (PCRM), has petitioned the FDA to provide the warning labels on cheese that would read something like this: "Dairy cheese contains reproductive hormones that may increase breast cancer mortality risk."
What is becoming more clear within the breast cancer research community is that those who have been diagnosed with breast cancer in the past have a much higher mortality rate if they eat a lot of cheese. A study titled Life After Cancer Epidemiology that looked at women recently diagnosed with breast cancer, found a 49% higher risk of death from the disease when a woman ate one or more servings of high fat dairy products per day (like cheese, ice cream and whole milk).
PCRM president Neal Barnard, MD explains that many women are unaware of these risks and would benefit from having the information displayed directly on the product. Barnard says, "Instead of cheese manufacturers like Kraft slapping a pink ribbon on products like Philadelphia Cream Cheese and Macaroni & Cheese, as they have done during previous Breast Cancer Awareness Months, they should be adding warning labels." He adds, "We want women to be aware that dairy cheese could put them at risk of dying from breast cancer."
What do you think of the new push from experts to have breast cancer warning labels placed on cheese products?
Do you think this new information can help reduce the rate of women dying from breast cancer?