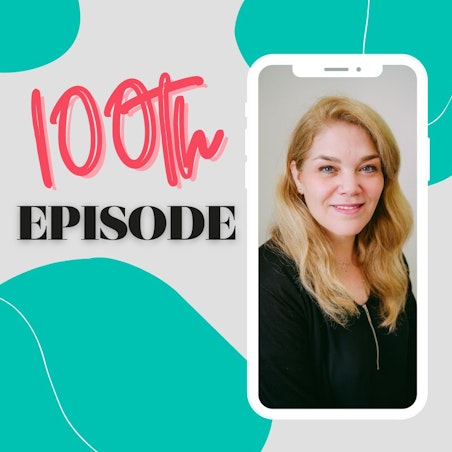 SheSpeaks
We're Celebrating 100 Episodes!

by
SheSpeaksTeam
Oct 06, 2022
SheSpeaks launched in 2008 as a platform to amplify women's voices, and in 2020, our community reached out to tell us that they felt isolated - alone - and in need of a space where they could feel seen and heard, and the SheSpeaks Podcast came out of a desire to fill that need and hand over the microphone to inspiring women everywhere so they could Be Heard.

These last two years, we have had conversations with women from all walks of life who have shared their stories, advice, and insights about navigating careers, balancing life, and achieving goals. To celebrate our 100th episode, I'll be talking to our awesome SheSpeaks team about their favorite guests on the show, as well as who they'd like to hear from in the future. In this episode, we're celebrating 100 episodes of the podcast by chatting with the SheSpeaks team about their favorite guests and who they'd like to hear from in the future. Here's to 100 more!


Some Episode Highlights:
3:21
- Beginning of conversation with the SheSpeaks Team
6:52
- The desire for our message is inclusivity
9:07
- The podcast is an echo of our tagline "Be Heard"
11:06
- Emily's favorite episode with Eve Rodsky
15:11
- Missy's favorite episode with Jordyn Wieber
18:27
- Taylor's favorite episode with Dr. Akua Boateng
22:00
- Madison's favorite episode with Nataly Kogan
26:51
- Zoe's favorite episode with Gigi Robinson

Have a guest suggestion for the podcast? We want to hear from you!
Email us or message us on Instagram, Facebook, or Twitter @shespeaksup.

Want to join a thriving community?
Sign up to be a part of the SheSpeaks community and get in on the latest giveaways!


You can find our full episodes wherever you listen to your favorite podcasts:
Apple | Spotify | Google Podcasts | Stitcher