Raisin Filled Cookies
submitted by vanessamarie {1 Recipe}
Prep Time:
15 Mins
Cook Time:
10 Mins
Total Prep + Cook Time:
25 Mins
Level:
Easy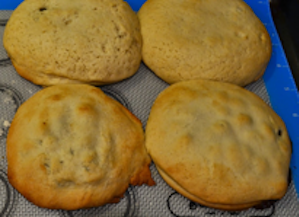 Makes: 10 10
Description: Raisin-Filled Cookie Recipe
Ingredients:
1 1/2 cup sugar
3/4 cup butter
3 eggs
3 3/4 cup flour
1/2 tsp baking soda
1/2 tsp salt
3 tbsp milk or cream
1 1/2 tbsp vanilla
1 1/2 cup raisins
1 1/2 cup sugar
3 tbsp flour
1 1/2 cup hot water

Instructions: 1. Cream butter and sugar until light and fluffy
2. Next add the 3 eggs
3. Put flour, baking soda and salt in a separate bowl mix until all combined
4. Add the flour mixture to the creamed butter and sugar
5. Next add milk and vanilla to the mix
6. Mix it well until it turns into a dough
7. MOST IMPORTANT step. . PUT IT IN THE FRIDGE. This will make it easy to roll and fill

While it chills make the filling.
1. Put raisins in hot water (chopping is optional)
2 Add sugar
3. Add flour (this will thicken the mixture)
4. Cook until the sugar and flour dissolve
5. COOL before using

Now to finish the cookie!
1. Remove the dough from the fridge
2. Roll out the dough
3. Cut out the dough into circles. I recommend using a glass
4. Put them on the BakeItFun Mat and drop a little of the filling in the center
5. Then take another circle and put on the top and REPEAT for each cookie
7. Lastly, bake at 375 until golden brown 13 minutes.
via http://accidentlydomescitcated.blogspot.com/2014/08/raisin-filled-cookie-recipe-sponsored.html
Other recipes in desserts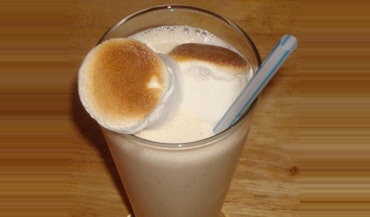 By
Lumica
Jul 02, 2014
This tasty treat that can cool the fires of even the worst summer heat.
Read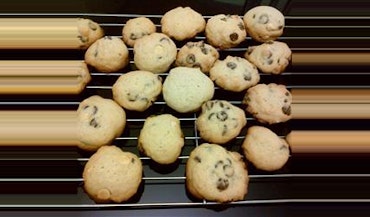 By
Leilani93
May 01, 2013
Soft and delicious chocolate chip cookies. no brown sugar required.
Read

By
kimarketing
Jan 05, 2012
These "fun" cookies are a big hit at our house! And super easy to make!
Read