Best of SheSpeaks Podcast 2022

by
SheSpeaksTeam
is this the date @ED : BlogVO [categoryId=70162, blogId=146192, blogTitle=Best of SheSpeaks Podcast 2022 , publishingDate=December 28, 2022 12:00 AM, maxResponses=null, noOfComments=null, fileId=46076, blogClosingDate=null, blogCommentClosed=null, blogCategoryId=70162, queryId=0, blogCategoryIdIndex=0, sharedCategoriesList=null, blogStatusId=34, commentsClosedFlag=false, categoryIdForLog=0, blogModuleCategoryId=0, blogFileVo=null, latestCommentsList=null, verticalCatSeoURL=null, currentDate=03/29/2023, blogLink=null, authorName=SheSpeaksTeam, authorLognId=SheSpeaksTeam, authorAcctId=67580, vosTypeid=3, searchTestId=0, searchStatusId=0, searchAuthorType=0, authorBlogNumber=0, surveyData1=null, surveyData1Desc=null, surveyData2=null, surveyData2Desc=null, pullQuoteMemberId=null, filePath=null, fileName=null, vosType=0, subhead=null, offerSubhead=null, description=null, creationTime=null, authorFname=SheSpeaks, verticalCategoryId=null, sectionId=0, imageFileVO=FilesVO [fileId=46076, filePath=null, fileName=null, fileLength=0, fileWidth=0, createdBy=0, createByUser=null, creationTime=null, lastModifiedBy=0, lastModifiedByUser=null, lastModifiedTime=null, mimeType=null, fileRef=null, fileSize=0, extension=null, title=null, body=null, completeFilePath=/pages/img/redesign/blogs/Podcast Giveaway Headers_12222022112258.jpg, height=550, width=1110, maxHeight=480, maxWidth=360, displayWidth=360, displayHeight=178, fileStatusId=0, searchKeyword=null, searchFlag=false, queryId=0, isExists=true], seoURL=Podcast-Best-of-2022, seoTitle=null, pullQuotesList=null, pullQuote=null, pullQuoteId=0, searchFlag=false, authorByLine=null, authorDesc=null, authorLink=null, authorFileVO=FilesVO [fileId=42371, filePath=null, fileName=null, fileLength=0, fileWidth=0, createdBy=0, createByUser=null, creationTime=null, lastModifiedBy=0, lastModifiedByUser=null, lastModifiedTime=null, mimeType=null, fileRef=null, fileSize=0, extension=null, title=null, body=null, completeFilePath=/pages/img/membersnaps/SheSpeaks_Logo_Symbol_Only_10182021080530.jpg, height=1777, width=1777, maxHeight=50, maxWidth=50, displayWidth=50, displayHeight=50, fileStatusId=0, searchKeyword=null, searchFlag=false, queryId=0, isExists=true], authorFileId=42371, authorType=0, storyImgFileVO=null, storyImgFileId=0, videoHtml=, authorImageFileId=0, authorImageFileVO=null, previousCategoryId=null, previousBlogStatusId=0, fromBlogDetails=0, blogCategoryName=Entertainment, blogCategoryUrl=null, blogCategoryDesc=null, defaultImage=false, tags=null, optionIds=null, tagOptionId=null, tagId=null, tag=null, tagID=0, tagDetails=null, tagIds=null, testId=0, extBlogURL=null, extBlogStatus=0, bloggerSince=null, extBlogLimit=0, authorTestsList=[], blogURL=, blogName=, bloggerProfileId=0, sliderBlog=false, eventonHome=true, vosonHome=false, partyAndGiveawayDate=01/19/2023, imageCredit=null, pullQuoteMemId=null, offerSubHead=, subHead=, displayOrder=0,includeInGoogleSearch=false]
Dec 28, 2022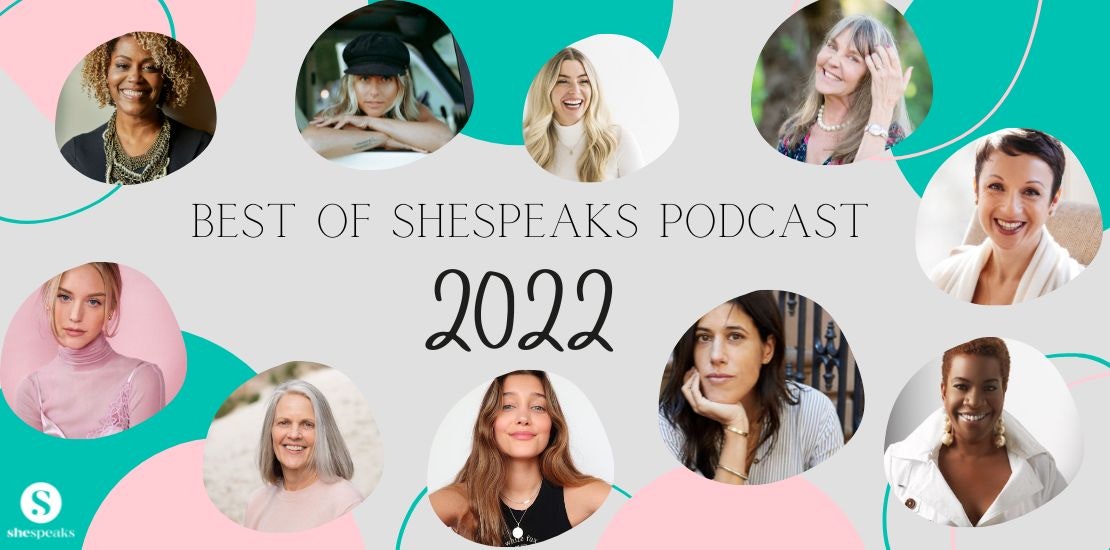 2022 has been an exciting year for the SheSpeaks Podcast! We reached 100 episodes, rebranded our show and continue to bring the community the stories of women who are doing amazing things and have something to share. We are proud of each and every episode we had the opportunity to share this past year and thank all all of our guests for these conversations and YOU the community for listening and giving us your feedback!
Read on to see how you can win a pair of Beats Solo3 Wireless Headphones so you can listen to all of your favorite podcasts!
In our
latest episode,
we're bringing you the best of 2022 - highlights from ten episodes chosen by our staff and audience feedback:
Episode Highlights:
Ep 68: Elizabeth Kush (Anxiety)
Ep 74: Tracy Moore (Lifestyle, Motivation)
Ep 75: Nataly Kogan (Happiness)
Ep 81: Stephanie Raffelock (Aging)
Ep 94: Marisa Lee (Grief)
Ep 101: Heather Chauvin (Motherhood & Growth)
Ep 106: Lucy Osinski (Community, Purpose)
Ep 107: Alessandra Olanow (Creativity & Art)
Ep 109: Hailey Sani (Girl Talk)
Ep 110: Paige Mobley (Creativity, Women in Business)
You can catch the full episodes and more by visiting https://shespeaks.com/Best-of-2022-she-speaks-podcast
Once you listen to this latest episode leave a review or rating of our podcast on Apple or your preferred platform and be entered to WIN a pair of Beats Solo3 Wireless Headphones! See below to enter!
Best of 2022 Podcast Giveaway

One lucky participant will be chosen at random to win one (1) Beats Solo3 Headphones. This giveaway is open through 1/19/23 to U.S. residents at least 18 years of age. Entrants must be a member of SheSpeaks. If you are not a member, click here to join. Winner will be notified by email.

Thanks to all who entered! Congrats to our winner SheSpeaks member crboyd.