Mini Cream Cheese Cup Cakes
submitted by brendeary {1 Recipe}
Prep Time:
25 Mins
Cook Time:
10 Mins
Total Prep + Cook Time:
35 Mins
Level:
Easy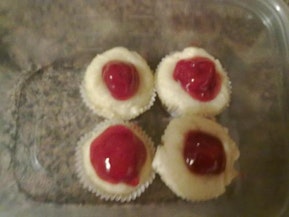 Makes: 48 mini cupcakes
Description: These little holiday cupcakes are sure to be a big hit at your party. Top them with any fruit or chocolate chips of your choosing. Enjoy! For an easy crust I substituted vanilla wafers with Cinnamon Toast Crunch Cereal.
Ingredients:
1 8oz package cream cheese
1 stick butter or margarine
2 cups flour
2 teaspoons baking powder
2 teaspoons vanilla
2 eggs
1 cup cinnamon toast crunch cereal
1 1/2 cups sugar

Instructions: Preheat over to 325 degrees. Line mini muffin trays with paper liners and place 1 to 2 pieces of cinnamon toast crunch cereal at the bottom of the cups. Set aside.

In a medium to large bowl cream cream cheese,butter,sugar,vanilla and eggs together until smooth. Add the two cups of flour and baking powder and mix until you form your dough. The dough will be sticky.

Place a teaspoon of dough into each muffin liner over the cereal. Bake 10-12 minutes or until tops are no longer shiny. They maybe light brown.

Top with a cherry or whatever fruit or chocolate chips you desire. Chill and enjoy!
Other recipes in desserts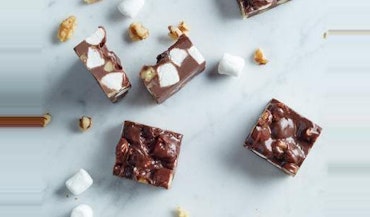 By
emma0420
Oct 10, 2017
This is always a hit at the holidays. I make the whole block goodie boxes with all the best cookies. It helps build a great community relationship.
Read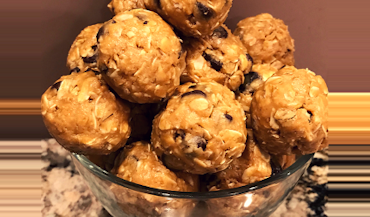 By
talesofatiredmom
Apr 20, 2018
These peanut butter snack bites are so easy and so delicious. I also love them as a healthy dessert option. Perfect grab and go snack for breakfast, snac…
Read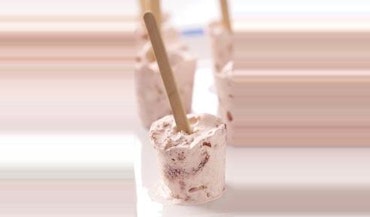 By
Kristilee
Jul 07, 2014
Sliced fruit mixed into yogurt. Then frozen to make a refreshing summer treat!
Read